Tres bien! The inimitable Escentual French Pharmacy promotion is back! Throughout the month of March, you can score up to a third off all your favourite French fancies from brands such as La Roche-Posay, Vichy, Caualie, etc. I love this promo, and every time Escentual run it I pick up backups of my favourite skincare bits and more often than not, chuck something new into my basket to try as well. I've come across some absolute corkers in the last year or so, so here are my ultimate French Pharmacy must haves.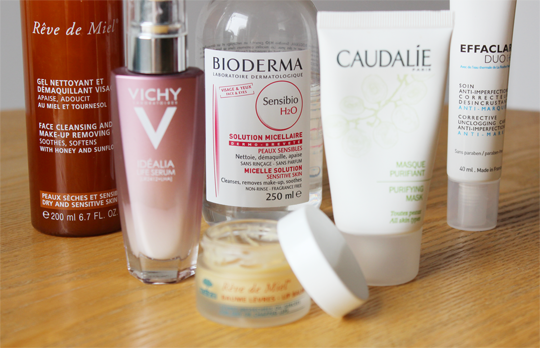 :: Nuxe Reve de Miel Cleanser – I have extolled the virtues of this little wonder several times since its initial review almost exactly a year ago. I'm on bottle number 4 now. While I flirt with other cleansers and change things up depending on what I feel my skin needs on any given day, I always come back to this one as my old faithful. And the even better news: you can pick it up for just £9 at the moment with 33% off!
:: Vichy Idealia Life Serum – There's not been one product from Vichy's Idealia range that I haven't loved, but the Life Serum is by far and away my favourite of the bunch. It's worked a treat at brightening up my dull and sallow skin (don't smoke, kids) and I'm now so very close to finishing this bottle off. This month is definitely the right time for me to get a new one, at 33% off it's now £19.96 rather than £30.
:: Bioderma Sensibio H20 – Unfortuantely Bioderma isn't included in the promotion this time around. If memory serves, Escentual weren't allowed to include them in one of last year's promotions either for reasons unknown! But frankly, it would be wrong to place an order on Escentual without including a cheeky backup of everyone's favourite micellar water. The price varies depending on the size you buy, but naturally the bigger bottle ends up better value at £14.99 for 500ml. A 250ml bottle lasts me about 3-4 months, and I wear a lot of eye makeup, so to me this is great value.
:: Nuxe Reve de Miel Lip Balm – I first tried this at the same time as the cleanser, and while I've gone through several bottles of that I'm still on my original jar of the Reve de Miel lip balm. That's a whole year of use every single night and I haven't even hit the bottom of the jar yet. That's how potent this stuff is, and I couldn't recommend it more highly. Even with 33% off it still seems a little pricey for a lip balm at £6.33, but I'll reiterate: I've been using it for a year.
:: Caudalie Purifying Mask – Always a sucker for clay based face masks, I usually get on superbly with budget versions but this offering from Caudalie is a real delight. With its beautiful herbal scent it feels very therapeutic to use, and actually works spectacularly well as a targeted treatment for problem areas as well as an all-over mask. It's got 20% off at the moment, meaning you can snag it for £17.20.
:: La Roche-Posay Effaclar Duo [+]* – The original Effaclar Duo reached something of a cult status among bloggers yet I never got around to trying it out. Instead I've been using this new 'plus' version, which is essentially a more hardcore version of the original. It's raison d'etre is to target acne marks (which I don't have) on oily and blemish-prone skin (which I do have), but I've seen some truly incredible results on active breakouts on the very lovely Amy Alaska. You have to see this – it's amazing. You can pick this up for an unmissable £10.33 with its current one third off.
So, there's my top picks that you should definitely be considering adding to your Escentual basket this month. Are there any Francais classics that I'm missing out on?