Since overcoming my hideous makeup snobbery regarding Superdrug bargain brand 2True last year with their Prime Perfect Primer and Sequins Nail Polish, and having recently once again begun to embrace a statement lip, I was very excited to try out the brand's latest release. Check out the 2True Pro 8 Hour Power Lip Colours*!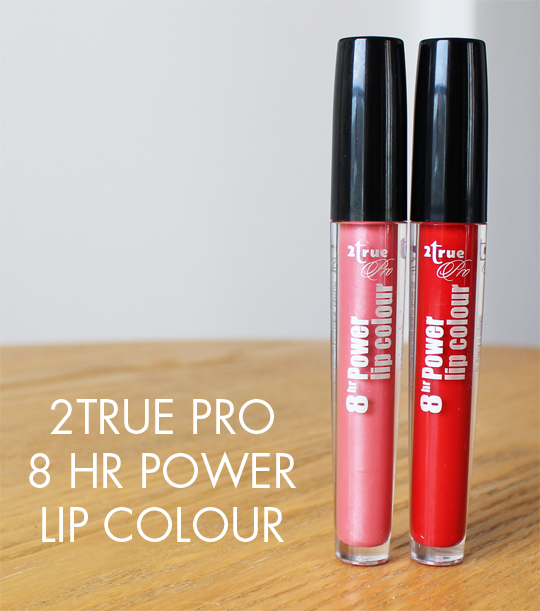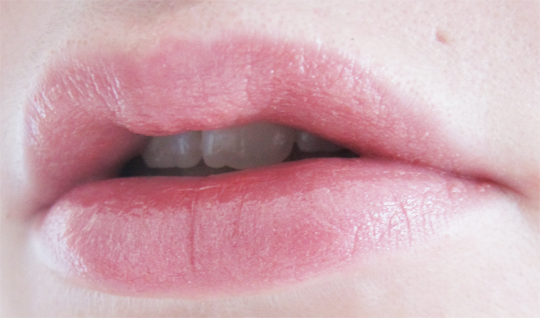 Uma

Angelina
Much like the Sequins Nail Polishes were named after supermodels, these are named after actresses – the two shades I have are inspired by the lovely Angelina and Uma, with other shades in the range paying homage to Kate (I assume Winslet), Gwyneth and Natalie. The apricot-tinted hue of Uma is nude and natural enough that it goes with pretty much anything, and red-hot Angelina looks killer paired with some simple winged liner – maybe with a topping of black glitter liner if you want to add a little somethin' somethin'.
These super-pigmented liquid lipsticks have an extremely lightweight formula which gives them a weightless feeling on the lips and makes them extra easy to apply with no dragging or stickiness. Uma is such a forgiving shade that application is a doddle and any slip-ups won't be a disaster. Angelina is a little trickier simply because it's such a bold colour; in the swatches above I did apply with the doefoot wand but you might want to consider going at it with a lip brush for extra precision because once these are on, they're really not going anywhere. Having given both shades a thorough road test, I can definitely confirm that the 8 hour claims are true and in fact can be easily surpassed. They both hold up well even through eating and drinking, which is no mean feat and doubly impressive when you consider the sheer bargainosity of them (yes, that's a word now, alright?).
One thing worth noting is that due to having such a hardcore long lasting formula, they will inevitably start to dry out your lips after a few hours. No problem – just balm up sufficiently before applying and top up if you feel its necessary. They come off just fine with a bit of micellar water, but be aware that Angelina can leave behind a stain. A pretty cherry-red stain at that, so it's not a problem on the lips themselves, just be mindful that you don't smear it all around your mouth when you remove it lest you end up looking like that proper scaggy girl from my primary school who always had cherryade stains around her gross mouth… Ugh *shudder*.
Not in terms of shades, but definitely in terms of formula, 2True Pro 8 Hour Power Lip Colours are a pretty much perfect dupe for Stila's Stay All Day Liquid Lipsticks (which it appears I've actually never blogged about – shame on me). Considering the Stila ones cost £15 whereas these are just a third of that price, I think it's a bit of a no-brainer budget buy, don't you?
2True Pro 8 Hour Power Lip Colour costs £5 and is available in Superdrug stores and online – where they're actually on offer for £4 at the moment so go, go, go!