From a skincare nightmare in my last post straight to utter skincare heaven in this one.. how the tides have turned! I've been using The Body Shop Vitamin E Overnight Serum-in-Oil* (crikey, that's a mouthful and a half) for a few weeks now so I think it's time to tell you why I am so utterly in love with it, and why you definitely need it in your life too.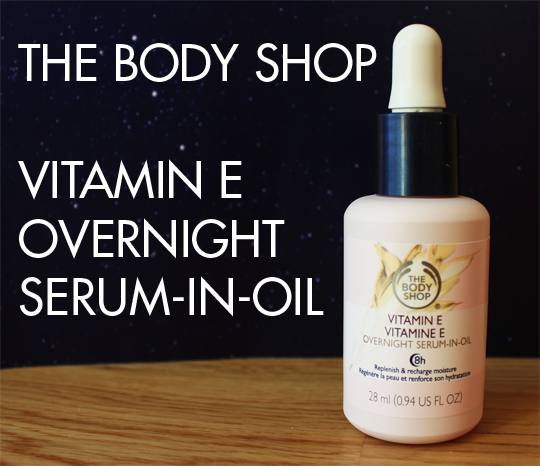 This unassuming little bottle is so full of awesome that I don't even know where to start. It's supposed to be 'like an 8 hour beauty sleep for your skin' – and boy is it. The Vitamin E Serum-in-Oil is The Body Shop's latest clever innovation that combines the potent hydration of a serum with the indulgent luxuriousness of an oil to give the skin a serious overnight moisture hit.
The Vitamin E range is one of The Body Shop's most popular selections, and the star of the show in these formulas is one of nature's best sources of the antioxidant Vitamin E – Community Fair Trade wheatgerm oil. The Serum-in-Oil contains the highest concentration of wheatgerm oil across the whole Vitamin E range along with a blend of oils including sunflower, jojoba, marula, sesame and soya… the list goes on. If you've used anything from the Vitamin E range before, you'll probably already know how superbly moisturising the products are but this new little gem takes that hydration to a whole new level.
During trials for this product, testers said that even after just one night of use, their skin felt replenished, recharged and softer. As for appearance, skin looks fresher, well rested and more radiant. We all know that during sleep is the optimum time for skin cells to repair themselves (which is why getting enough sleep is paramount to good skincare), so it makes sense that the Serum-in-Oil works such wonders in that time. I happen to agree with all of the statistics from the trial; I don't remember the last time my bare skin looked so awake and youthful first thing in the morning – I know I'm only 22 but the early morning is usually the best time to witness the aging effects of smoking (!). Surprised Colin never wakes up in the morning and thinks 'who the f**k is this middle aged wench in my bed?'. It's nice to wake up and actually look my age!
I just absolutely love the feeling of applying this. You know that my skin is very oily, and I have tried facial oils in the past but not absolutely loved them. This, however, is so super lightweight and non-greasy and thoroughly absorbent – it's a delight to smooth over the face and the best part is that it sinks right in within a few minutes. My skin has honestly never felt smoother to the touch, I can't keep my hands off it. That's a habit I definitely need to break toot suite otherwise I'll be undoing all the hard work this delightful product has done!
Following up the Serum-in-Oil with TBS bestseller Vitamin E Moisture Cream is a dream. The moisturiser is lightweight and easily absorbed making it an ideal partner – you certainly don't need a heavy duty night cream on top of the intense hydration from the Serum-in-Oil. A weekly dose of Vitamin E Sink-In Moisture Mask makes a great finishing touch to my new regime and I have to say, for the first time in a long while I'm not experiencing any dryness at all. I think this winning little combination is finally sorting out the underlying dehydration in my skin once and for all… time will tell, and fingers crossed!
The Body Shop Vitamin E Overnight Serum-in-Oil costs a super affordable £12 and is out now in store and online. Will you be checking it out? You DEFINITELY should. Love, love, LOVE it.
Vitamin E Overnight Serum-in-Oil (£12)
Vitamin E Moisture Cream (£10)
Vitamin E Sink-In Moisture Mask (£12)