Well, I had one hell of a day on Friday. Work was full-on all day, then as it came to the end of the day the horrible realisation dawned on me that while I'd managed to remember my camera, my memory card was in my other camera at home… ARGH. With no time to dash home before hotfooting it to Freemasons Hall, I managed to find an SD card to borrow in a cupboard at work. Slotted it into my camera, dashed out the door and promptly got soaked and blown about on the short work from the office to Covent Garden. Well, that's a good start.

Determined to squeeze all my Fashion Week activity with The Body Shop for this season into one evening, I was due to see two catwalk shows and squeeze in a backstage visit to Lan Nguyen as she worked her makeup magic. Timings meant that I didn't make it backstage – big sad face, that's my favourite part! The first show I saw was Pam Hogg – everyone speaks very excitedly about Pam's shows each time Fashion Week rolls round so I was excited to witness it this season. With an eclectic front row including the likes of Rankin and Bobby Gillespie and a fashionably late start, tension had built to some serious levels by the time the first model stepped out. Pam's collection was brilliantly batshit, but rather similar to her collection from last season. I'm not sure how any of her avant garde designs really translate to something wearable, and to be honest I'm not worried about seeing her show again – but it definitely was worth the experience just the once! Everyone in the room was so desperately clamouring to snap the outfits that I didn't manage to get any good shots of this show, but there's plenty floating around t'internet if you want to have a look.

The highlight for me was Pinghe – I was a BIG fan of her last collection and couldn't wait to see what she had in store this season. Well, she certainly didn't disappoint. It helped that I had a great front row view opposite the likes of Daisy Lowe, Brix Smith-Start and Ashley Roberts.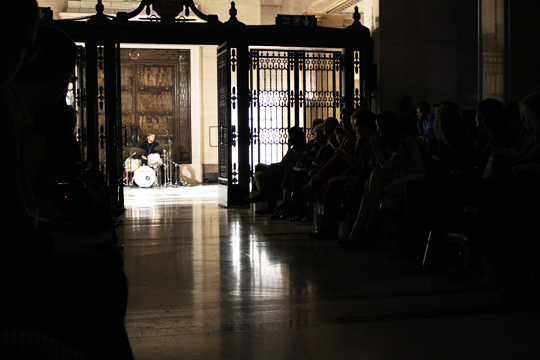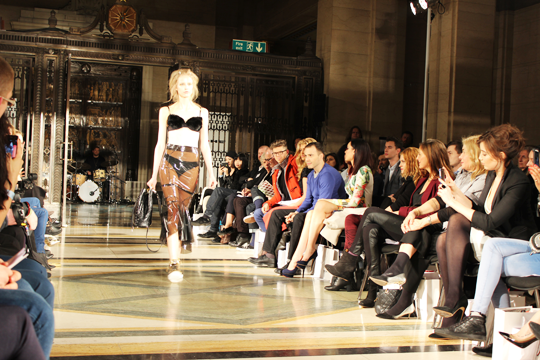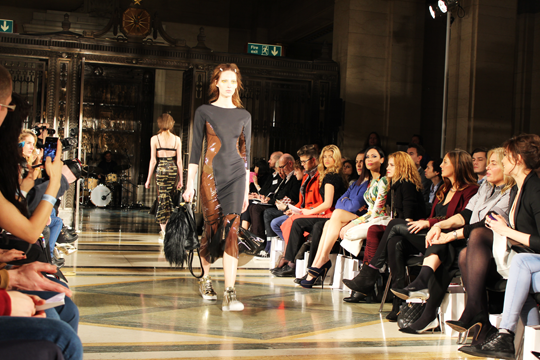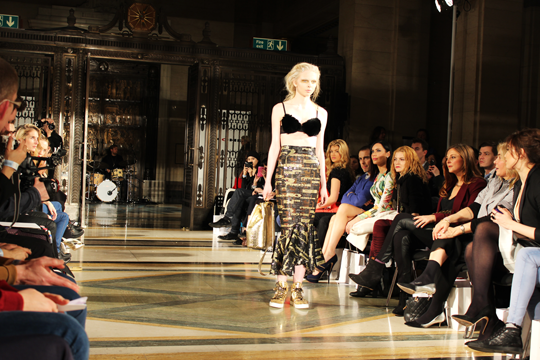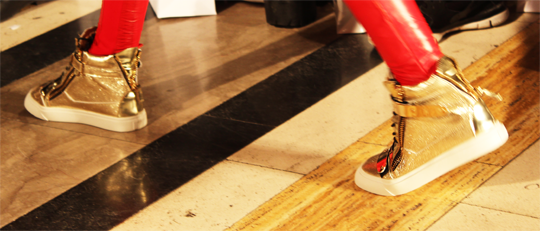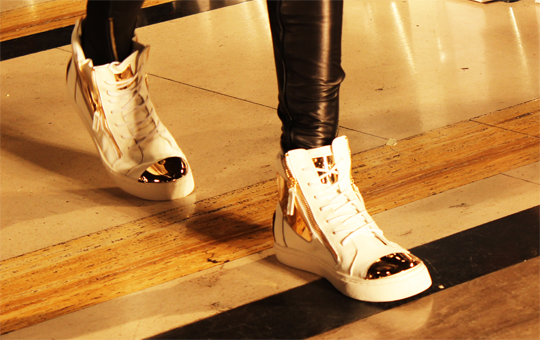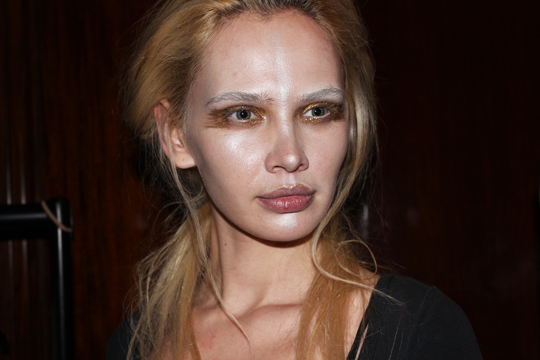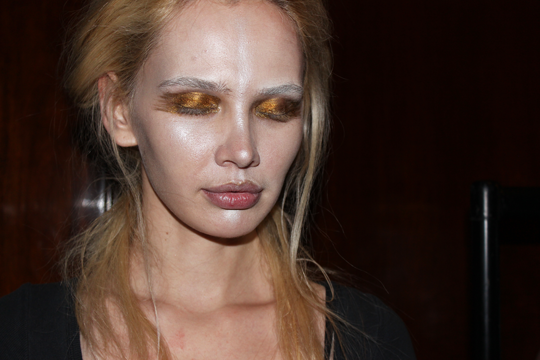 Even though I didn't get backstage before the show, I managed to steal 30 seconds with a model afterwards!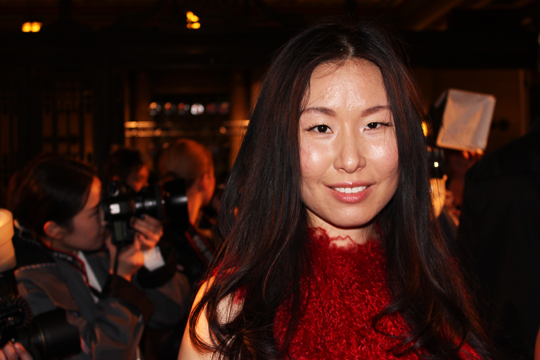 Ping herself was kind enough to stop for a snap, too.
Ping's ambition for the AW14 collection was 'creating peace' and 'slowing things down'. A slow, live drum beat at the back of the catwalk built anticipation and models walked almost in slow-motion. Transparent PVC, leather, bouffant lace, Pinghe branded panelling, royal reds and sumptuous golds were splashed across the garments. And the SHOES. Oh my god, the shoes – I paid more attention to these than anything else, I could barely take my eyes off them – high top sneakers in creamy white with gold panels, or all-over gold – they were incredible. I am absolutely dying for the high street to crack on with some trainers inspired by these beauties. Models skin was super dewy and drastically highlighted, with antique gold smeared across the eyelid and feathered out. It also looks like there's a hint of the same antique gold shade adorning the cupid's bow which ties the look together nicely. All in all, fab show and will definitely be back for my bi-annual Pinghe fix next season.