The one downside to your nearest pharmacy being a massive Boots store is that there is a lot of temptation in your way when you go to pick up a prescription. I had to do just that yesterday, the consequence of which was the purchase of all four of Maybelline's new-ish Street Artist top coats. I saw this one over pink by Emma from Imagination in Colour (which is actually what inspired me to go looking for these polishes in the first place!) so that's exactly what I did the minute I got home. Say hello to Maybelline Street Artist Boom Box Black.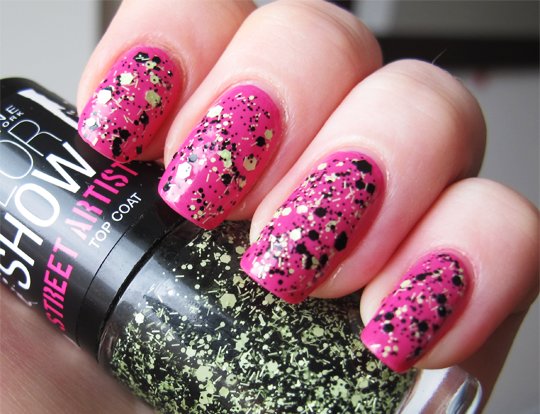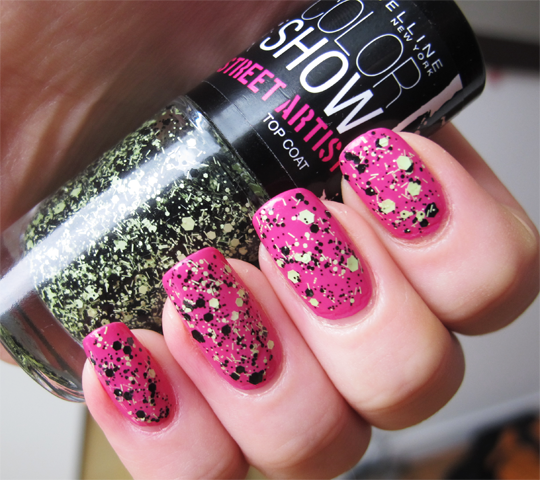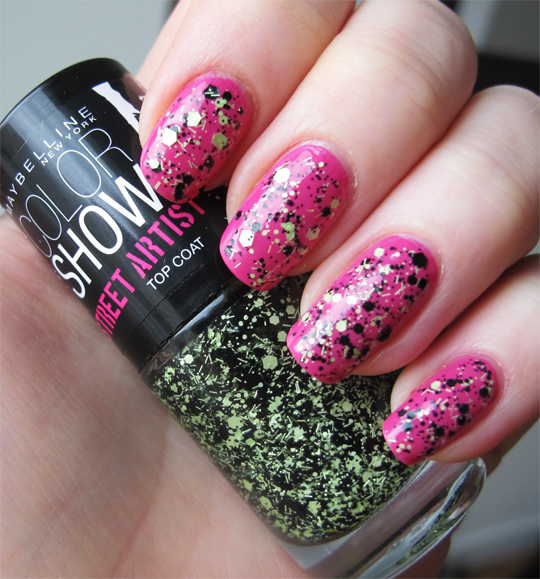 ARRRGGHH IT'S SO AWESOME I LOVE IT. I'm wearing one coat of Boom Box Black over Nails Inc Downtown and am loving the combination of hot pink and pastel green. It does require a bit of the ol' dabbing motion to evenly spread the glitters, but not much effort at all especially in comparison to some other polishes like this.
I'm so excited about the whole Street Artist collection; graffiti style top coats are one of my absolute vices when it comes to nail polish. I only caught wind of it a few weeks ago via Emma's blog, I haven't seen much else said about them which puzzles me as if I worked for Maybelline I'd be ALL OVER getting these out there. They're a lot more exciting than the other stuff we're seeing promoted now, like the Barry M Satins or Models Own Hyper Gels. They are fab, and I can't wait to show you the other three – I just need to decide which of my fifty bajillion polishes to apply them over!
Maybelline Street Artists Top Coats cost £3.99 each and are out now in Boots and Superdrug – I'd go to Boots though, since they've got a 3 for 2 on cosmetics, skincare and haircare at the moment. Go, go, go!