As a mostly optimistic person, I don't really like giving bad reviews (although I still laugh when I think about how angry I got over Batiste Gold Sparkle back in the day), especially when it's a brand I usually like a lot. Until now, I've never tried a product from skincare brand Good Things that I haven't been thrilled with – but hey, I suppose there's a first time for everything. I'm sorry to say it, but I hate the Good Things Blemish Control Gel Mask*.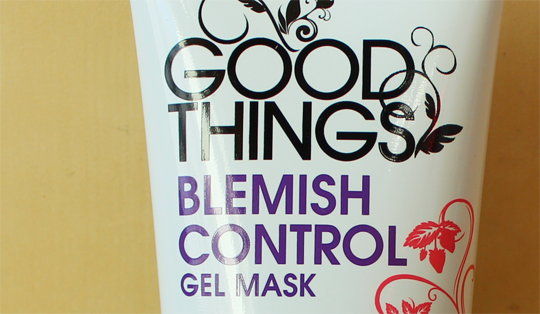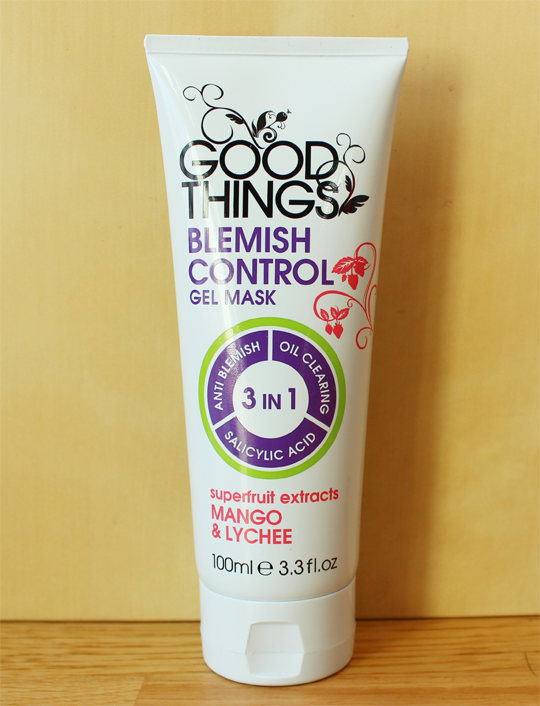 The last thing I tried from Good Things was their Five Minute Facial Clay Mask, which I loved. In that review, I said that this Blemish Control Gel Mask was next on my hitlist – check. I also said of the Five Minute Facial that 'like all Good Things products, this smells divine!'. COMBO BREAKER. The Blemish Control mask smells absolutely foul. I'm not sure what it is that makes it smell so horrid – the superfruit-packed ingredient list sounds pretty pleasant with hero ingredients mango and lychee, salicylic acid and willow bark extract. Perhaps it's the witch hazel, or the menthol – whatever it is, I hate it. Medicinal and horrible. You might remember that I had complaints about a product from high-end French skincare brand Yon-ka last year, that it smelled just like Tixylix. Well, so does this. Face masks should not smell like children's medicine! Well, maybe Calpol wouldn't be so bad. But I have sworn since the tender age of 6 that Tixylix is extracted directly from the putrid glands of Satan's arsehole to punish the young for having the audacity to get sick, and I stand by that statement now. Ok, I probably didn't say 'Satan's arsehole' when I was six but you get the gist.
Now, if the smell was the only problem with this then I might be able to look past it, but my complaints don't end there sadly. I followed the directions – apply an even layer to cleansed skin, leave on for 10 minutes (during which time it tingled to the point of mild discomfort), remove with warm water and a flannel. Fine. Then when I looked in the mirror – WHAT FRESH HELL?!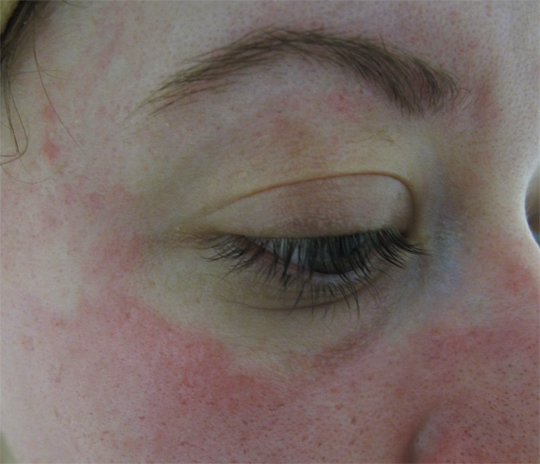 WHAT HAVE YOU DONE TO MY FACE?! As I'm sure you know, my skin is tough as nails and never sensitive to anything. The extreme redness and slight swelling in my mug immediately after using this was frankly nothing short of alarming. It took about six hours to go away, during which time I did start to panic that I was having some sort of allergic reaction to something and that I might wake up in the morning with a face like one of Nina's 99 Red Balloons. Bloody lucky I wasn't going anywhere soon after trying this out.
Now, the sad thing is that the couple of active blemishes I had when trying this had actually improved to a noticeable extent the following morning which suggests that this mask actually works when it comes to its claims of unblocking clogged pores and preventing future breakouts. If it was only the smell I had to contend with, I would persevere. But that puffy redness does NOT look like a good sign to me, so this has been filed under B for Bin It Right Now.
Naturally everyone's skin will react differently to different products, but just in case you fancy taking the risk of your face turning into a bloated red spacehopper then you can go right ahead and purchase it for £4.99 from Boots (where they seem to be listing it under the wrong name, but it's definitely the same product).
Very, very disappointed. I still love you Good Things, just please don't ever do this to me again or we're through.