Installment number two – here are my favourite polishes of 2013. There's definitely a bit of a blue/green theme going on here, isn't there?!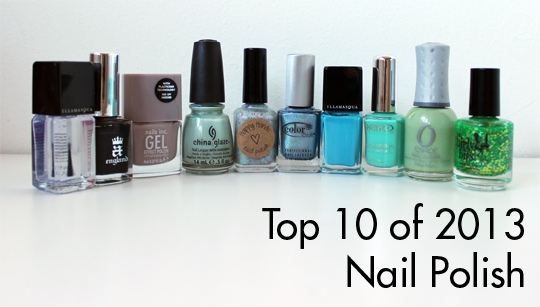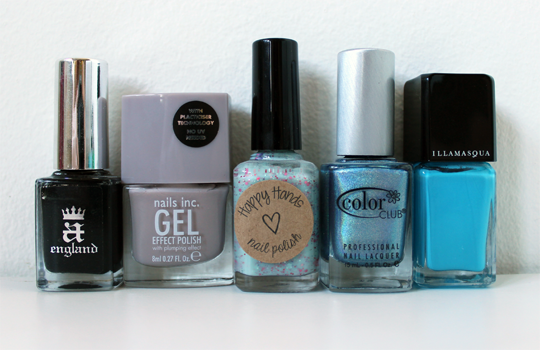 a-england Camelot – This is, quite simply, the best black nail polish I've ever come across. Perfectly opaque and easy to apply, it's just wonderful. Anywhere you see me use black polish, there's a 99.9% chance that I've used this; here, here and here for example. Available from a-england for £9.
Nails Inc Gel Effect in Porchester Square – I featured this polish in September, then a few months later when I tried some more shades I boldly declared that the Nails Inc Gel Effect was one of my favourite nail polish formulas ever. I mean it! Available from Nails Inc for £14.
Happy Hands B for Butterflies – 2013 was the year of indie polish for me – I tried a nice handful of different brands and discovered some real gems. This is quite possibly the most unique of the lot, and certainly the most adorable polish in my entire collection. It has BUTTERFLIES in it, for goodness sake! Full post here to see it in all its cutesy glory. Available from Happy Hands for $7.50 (about £4.50 – bargain!).
Color Club Over The Moon – I bought a grand total of 8 of the Color Club Halo Hues polishes at the Professional Beauty Show back in February. It took a good few months to actually christen any of them because the UK was suffering a serious sunshine deficiency, but once I did finally get around to using them I fell HARD. The Halo Hues are seriously the most holographic damn holo polishes I have ever used – even more so than my beloved China Glaze OMG collection. This blue shade, Over The Moon, is probably my favourite of the shades I picked up but it appears I haven't actually posted about it before. Mental. It is pretty similar to Harp On It, which I have featured before, just more blue. Available from RW Beauty for £11.99.
Illamasqua Noble – When this stunning shade and its cornflower counterpart Cameo were first released, they were supposed to be a US/Sephora exclusive so I begged and pleaded my friend Danielle from New Jersey to grab them for me. Not long after she sent them over, they were released in the UK… go figure! Either way, this is a BEAUTIFUL blue. A one-coater with serious shine – featured here. Could well be one of my favourite Illamasqua shades ever (and I have about 50 of them). Available from Illamasqua for £14.50.
Orly Coachella Dweller – It's quite hard to find a shade that is truly unique among my collection, but Orly's Coachella Dweller from this Spring's Hope & Freedom Fest collection is just that. I do love a good mint green, but this one is totally different, I wouldn't even call it mint. Most mint green colours lean very blue, but this one is more yellowy in the undertones. Maybe I'd call it an apple green? Either way, I bloody love it and it works fab as a base for speckled topcoats which were probably the hottest instant nail art trend of 2013 – see it here. Available from Beauty Bay for £10.25 (currently on sale for £7.18).
China Glaze Keep Calm Paint On – I'm not too sure I'd describe this one as mint green either – seafoam, maybe? Another Spring 2013 offering, this time from China Glaze's Avant Garden Collection and one that I absolutely had to have when I saw it at the Professional Beauty Show. Again it works really well under interesting topcoats – I wore it with Razzle Me Dazzle Me from China Glaze's Glitz n Pieces collection and I think it looked pretty fab, if I do say so myself. Available from Beauty Bay for £6.95.
Kiko 442 – THIS is definitely mint green. And blimey, is it bright! Absolutely love it to pieces – Kiko's nail polishes have a brilliant formula. This particular shade has enough true green tones in it to give me a bit of the old lobster-hands syndrome (that is, it makes my fingers look a bit red), but I don't even care because the colour is so in-your-face awesome. You can see it in an NOTD here, but sadly it was limited edition and doesn't seem to be available any more.
Girly Bits Erin Go Bragh-less – Another indie wonder with another great name. It was a shot of this exact polish on Instagram that initially sparked my interest in indie nail brands and was part of my first ever indie order. It's SO special – and I think it makes the perfect Halloween polish, too. Full post here. Girly Bits' online store is closed until the 6th January, but off the top of my head I think it costs $10.
Illamasqua Geist UV Topcoat – With their Paranormal collection for Summer 2013, Illamasqua released 3 coloured UV polishes and this UV topcoat. While I'm certainly not a clubbing type person and am rarely in an environment with UV light to fully appreciate the effect, I did have a lot of fun creating some secret nail art with it. Pretty cool, huh? Available from Illamasqua for £13.
Aaaand there's my top 10 polishes of 2013. The final installment will be coming on Sunday, where I'll share my favourite skincare and hair products of the year.