First of all, a very Happy New Year to you all. Let's hope this is the best one ever!

2014 will mark the five year anniversary of Do Not Refreeze. In all earlier years, I've done posts for my favourite products of the previous year. In I did Top 10 of 2009, Top 10 of 2010… then Top 11 of 2011 and Top 12 of 2012. If I carry on that tradition it's going to get a bit out of control (Top 20 of 2020, anyone?), so this time I'm scaling it back to a Top 10. Although if you want to get technical, it's still a Top 30 as there'll be separate posts for makeup, nail polish and skin/haircare. Well, I like a lot of things!

So to start it off, here are my Top 10 Makeup products of 2013.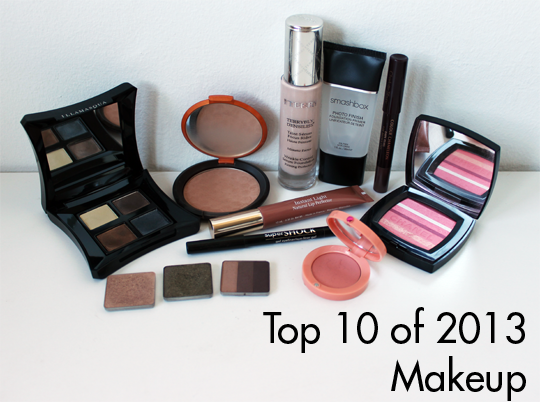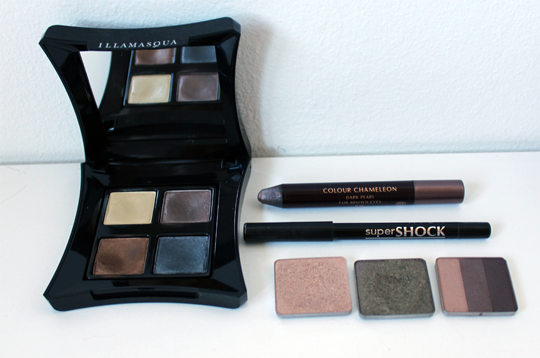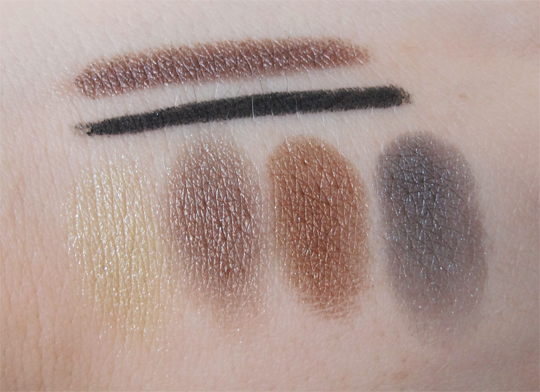 Charlotte Tilbury Eyeshadow Pencil in Dark Pearl, Avon Supershock Gel Pencil in Black, Illamasqua Reflection Palette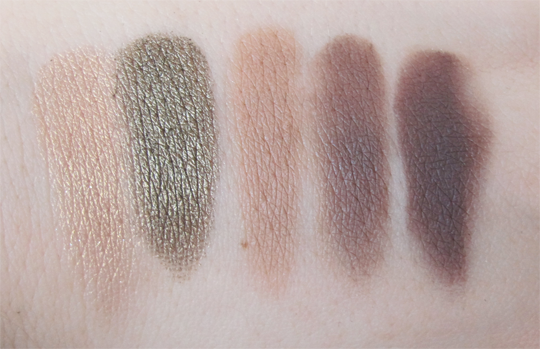 Inglot Eyeshadows in AMC11, 419, 112R
Illamasqua Reflection Palette – The bizarre but lovely creamy waterproof eyeshadow formula was released this year and currently is available in the forms of the Paranormal Palette and this one, the Reflection Palette. It's a very difficult texture to describe, so if you haven't tried it I would definitely urge you to get down to a counter and do so. I've reviewed it in full here. Available from Illamasqua for £34.
Charlotte Tilbury Colour Chameleon Eyeshadow Pencil in Dark Pearl – I LOVE this thing. This is honestly the best eyeshadow pencil I've ever tried, with an incredible formula that delivers in all the areas you would want it to; high pigmentation, ease of application and blending, crease-free even without setting… it's pretty bloody fabulous, actually. I reviewed it in full here (where I also warn of one particular shade in this range which truly SUCKS). Available from Selfridges for £19.
Avon Supershock Gel Pencil in Black – I think that overall, Clarins still make my ultimate favourite black eye pencil but the one they did which shows up so perfectly in the waterline was a limited edition last year (which I also included in my 2012 favourites) so it feels wrong to include it here. The Avon Supershock pencils come a close second though – the formula of these is very, very reminiscent of the cult classic Urban Decay 24/7 liners, with serious colour payoff and a few seconds of smudgy blendability before setting fast and not budging for the rest of the day. Available from Avon for £6 – but they're currently on sale for a ridiculous £3 so if you haven't got one of these yet, seriously, go go go!
Inglot Eyeshadows – Never in my life will I get over how much I love Inglot eyeshadows. These three in particular have been my most frequently reached for this year – the light gold AMC11, forest green shimmer 419, and matte three-in-one 112R. I cannot recommend Inglot enough for eyeshadows. I have two Z palettes filled with these badboys, yet STILL don't feel like I have enough. There's a previous post here but my Inglot collection has doubled since then. Perfect eyeshadows. For reals. Available from Inglot where the regular shadows cost £4.50 (currently on sale for £3.60) and the Rainbow shadows cost £6 (currently on sale for £4.80).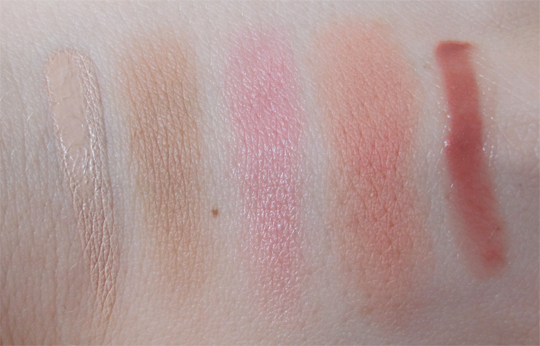 By Terry Terrybly Densiliss Foundation, The Body Shop Honey Bronzer, Chanel Blush Horizon de Chanel, Bourjois Cream Blush 01, Clarins Instant Light Natural Lip Perfector Rosewood Shimmer
By Terry Terrybly Densiliss Foundation – Okay, so, I REALLY didn't want to love this. When I was reviewing it, I found myself hoping and praying that I'd hate it because no one in their right mind wants to fall in love with and rely upon a £75 foundation. The price still makes my bank balance cry just thinking about it, but I have fallen for it so hard that I am seriously considering shelling out for a replacement when I start coming to the end of my current bottle. What is wrong with me?! It is bloody lovely… and it's available from Space NK for a shocking £75.
Smashbox Photo Finish Primer – When I started blogging in 2009, this was a bit of a favourite among other bloggers but it took me until midway through 2013 to actually try it. Again, I didn't think I was going to like it since silicone based primers aren't my kinda thang. Turns out though, that this one really does what it's supposed to do and doesn't clog my skin, which is the general bone of contention I have with silicone primers. It also works fantastically well with Terrybly Densiliss. Available from Boots for £25.
The Body Shop Honey Bronzer – To this day I still have a smidgen of my beloved Illamasqua Rumour blush left which only gets cracked out on special occasions. Since Rumour was discontinued, I'd been on a long hard search for something which could fill the void it left – something with a matte finish, no orange tones and generally suitable for pale girls, that works equally well for precision contouring as it does for soft-focus bronzing. I found exactly that earlier this year in the form of The Body Shop's Honey Bronzer – full review here. Available from The Body Shop for £13.
Chanel Blush Horizon de Chanel – Never thought I'd see the day I'd spend £46 on a blush. Well, technically speaking I didn't. I bought it from the company I work for, Buyapowa, back when we were a retail destination in early 2012 and I think I paid about £35 or so for it. It sat in its box for a really long time before I could bring myself to use it, but it's probably been my single most frequently used blush in 2013. Sadly limited edition, and as pretty as it is I couldn't recommend scouring eBay as you'll end up paying something ridiculous!
Bourjois Cream Blush in 01 Nude Velvet – Undoubtedly one of, if not the, best cream blush formulas on the high street. The Bourjois Cream Blushes totally blew my away when I reviewed them back in May and have remained a frequent fixture in my makeup routine. My personal favourite shade is Nude Velvet – this one even came away with me when I went to Venice! Available from Boots for £7.99.
Clarins Instant Light Natural Lip Perfector in Rosewood Shimmer – Lost count of the amount of times I've banged on about this, but it really is my absolute holy grail lip product. I'm on tube number 3, with back ups in my desk at work and in my bag at all times. It's bloody PERFECT. Original review here – and available from Escentual for £13.60.
So there we go – my ultimate favourite makeup products in 2013. What were yours? Polish coming up on Friday!