Yes, yes, I know, I'm about five million years late with this since everyone else did their sales posts around Boxing Day. But to be honest, none of the beauty sales have really grabbed me this year and I haven't bought a single thing (although the fact that I'm moving in a couple of weeks has probably got a lot to do with it!). Illamasqua have got some great bits and pieces in their sale, although I already own most of them! I know I'm a bit biased as they're my favourite brand, but I do think this is one of the better sales on at the moment so here's my top picks.

UPDATE: Not even 5 hours after I posted this, Illamasqua have gone and added a bunch more lines to the sale. A lot of the new additions are some of my very favourite Illamasqua products, so naturally I've had to give this post a little update!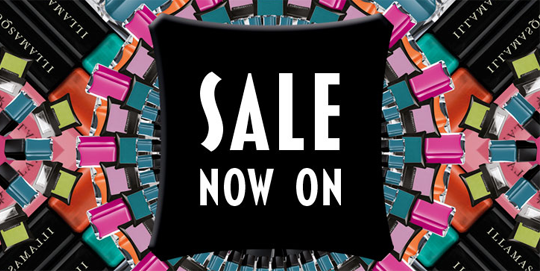 Nail Varnishes in Loella and Load (£5 each): You know I'm a big fan of Illamasqua's nail polish formula (and the one that I own most of in my stupidly vast collection), and these are my two favourite shades from the ones on sale. Loella is a beautiful candy pink with subtle shimmer which I've used many times in nail posts – including my last one, actually, along with this leopard print manicure. Load is an opaque, creamy off-white shade – with a delightfully coarse name. Sometimes I find pure white polish to be a little too stark and Tippex-y looking, particularly when used as the base colour of a nail art design so Load makes a really good replacement. I used it in this kimono inspired design, another leopard print one and it also featured in my galaxy nail art tutorial.
Sheer Lipgloss in Culminate (£7.50): This was created by my friend and one of my favourite bloggers Milly as part of the #Creators collection last year. 99 times out of 100 I will shy away from a bold lip in favour of something at the nude end of the spectrum, and Milly's lipgloss fits the bill perfectly with its sheer wash of barely-there colour and smattering of rose gold shimmer. Beautiful stuff – I have swatches of this and the other #Creators products here.
Cream Blusher in Rude (£10): This was my first Illamasqua blush, I picked it up in the Summer of 2010 when they ran their product amnesty. Basically, you could bring any finished/unwanted makeup item from any brand to their counter and swap it for a 25% discount on Illamasqua products. It was amazing – guys, you need to do this again! Anyway, Rude is a gorgeous peach shade which due to its warm tones is probably better suited to Summer than this time of year. If you're oily skinned like me, you might find the Cream Blushers to fade easily but this is easily remedied by layering with another product. May I suggest the following…
Powder Blusher in Hussy (£10): Again, this one was my first Powder Blusher from Illamasqua and definitely has a special place in my heart. A warm toned candy pink shade, it complements Rude so well and also fixes the fading problem. The formula of these powders are so, so pigmented (the most pigmented of any brand I've ever tried, in fact) so remember that you only need the tiniest touch of product on your brush.
Precision Inks in Wisdom and Havoc (£10 each): I own *all* of the Illamasqua Precision Inks, and still maintain that they are the best liquid liners ever. For swatches of all of them, check this post. Once upon a time, the shimmering nude Glister and golden Alchemy shades were my favourite but now, these two shades pip them to the post for me. Wisdom is probably my ultimate favourite – Illamasqua describe it as a antiqued gold but I think it's more of a blackened olive green. Whatever it is, it's stunning. Havoc is a deep aubergine shade that could be mistaken for black at first glance but adds a welcome hint of warm colour. If you only get ONE thing from the sale, make it Wisdom Precision Ink.
Pure Pigment in Static (£10): This one is different from Illamasqua's other pigments in terms of texture – it's a little chunkier, I find – but bloody hell, it's beautiful. Iridescent, multichrome pinkish-opal-silvery in colour, it's basically fairy dust in a pot. The ultimate in party makeup, for sure.
Nail Varnish Duo with Throb & Spartan (£10): Throb is one of my favourite red creme polishes – a proper primary red shade without noticeably blue or orange undertones so it should suit pretty much any skintone. The gold glitter finish of Spartan is easy to build up to opacity in 2-3 coats, but I prefer to use it in a more spartan manner (har har har); like this glitter gradient manicure. Also, how frigging disgusting are my nails in that post? Vom.
Liquid Metal in Surge (£10): I have almost every shade of Liquid Metal that Illamasqua have ever created. The formula can vary a little bit between shades, but Surge is one of the better ones. These super pigmented metallic creams really do look like molten metal on the skin and are very versatile when you know how to use them. I have swatches of all my Liquid Metals (and cream pigments), but to learn how to best to use them you should definitely check out Rose's fab tutorial.
Light Liquid Foundation in various shades (£10): I've been fortunate and never had to buy this at full price – I first picked it up at IMATS 2012, then again in a sale at the end of 2012. Having said that, I'd be more than happy to pay full whack for it because it works really nicely for my skin. I do think Skin Base is my favourite foundation, but this is definitely a good one when you fancy a lighter coverage. Previous review here! My shade is 120, which doesn't seem to be available at the moment but there are lots of shades there.
Eyeliner Cake in Mislead (£10): This was the product that helped me, if not *master* eyeliner, at least get the hang of it. I've always used it in conjunction with Illamasqua's sealing gel, but it's just as effective with water. Simply add a drop of water to the pan, mix to create a paste of the texture and opacity you're happy with, and paint. It's awesome. So my 2010 makeup skills were pretty atrocious, but I did give winged eyeliner a go with this.
Freak Eau de Parfum 75ml (£25): The Freak fragrance embodies all the gothic glamour of Illamasqua. It's very unusual and really quite special. I've not smelled anything else quite like it – and it's an absolute bargain in the sale (if you don't want a big bottle, they've got the smaller 30ml size for £15). I have a feeling this may be being discontinued to make room for a new fragrance, so if you're a Freak fan now's the time to stock up. The notes themselves sound as bewitching as they smell – black davana, opium flower and belladonna in the top; poison hemlock, datura and queen of the night blossom in the heart; and frankincense, oud and myrrh in the base. A pretty hypnotic combination, I'm sure you'll agree.
So overall, with a few exceptions like this one, I think the sales have been pretty rubbish this year. Have I just not been looking hard enough? Anything that I REALLY shouldn't miss out on?