A sweet little Christmas present from the lovely team at Balance Me brought a much needed smile to my face during a stressful day at the office a couple of weeks ago. Inside was this Balance Me Shine On Tinted Lip Salve*!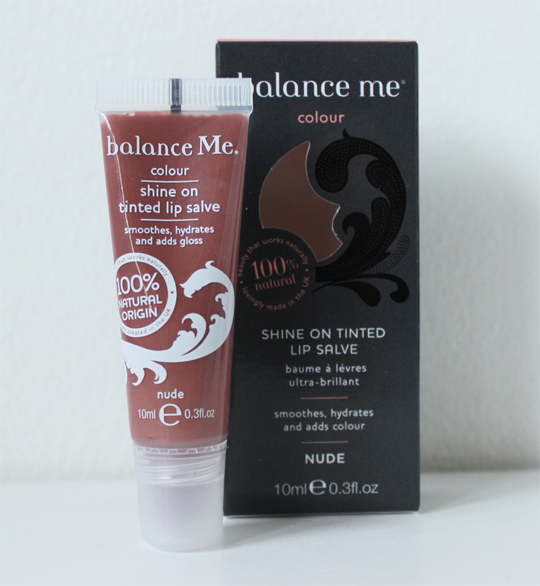 The ingredients inside are 100% naturally derived, which is always nice – including a trio of shea, mango and cocoa butters for softening and protecting the lips and a hat-trick of rosehip, jojoba and virgin coconut essential oils for some more than welcome soothing hydration. Peppermint leaf oil offers a refreshing but gentle minty tingle.
The shade I have is Nude, which imparts the ol' my-lips-but-better tint to the lips but if you'd rather a different hint of hue the range also includes Rose Blush, Ruby Red and Sheer Raspberry. I have to say, the feel of this on the lips (aside from the hint of mint) is very, very similar to my beloved Clarins Instant Light Natural Lip Perfectors – and this Nude shade is a dead ringer for my favourite Rosewood Shimmer Clarins shade. We're definitely in dupe territory here, but it only offers a little monetary saving. The Clarins ones cost £17 for 12ml, and this one is £12 for 10ml. Balance Me does work out slightly cheaper gram-for-gram, so I suppose the decision rests on A) whether you're prepared to pay another few pounds for a higher-end brand, and B) whether or not you like a minty tingle!
All in all, a really lovely product that I'm already getting a lot of use out of. Recommended!
Balance Me products are available online, and also from John Lewis, Waitrose, LookFantastic and, I'm pretty sure they're also in some Debenhams stores now too.