This post is entirely inspired by (and the name stolen – with permission!) by one of my favourite bloggers Kate. As any other beauty blogger will know and empathise with, the sheer amount of different brands and products we get through in the name of keeping a healthy flow of fresh content is absolutely obscene. Despite that, I think we all have a good handful of faithful favourites that we come back to again and again. With many products, if I run out I'll try something new. But these babies never fail to let me down, and have all been repurchased multiple times.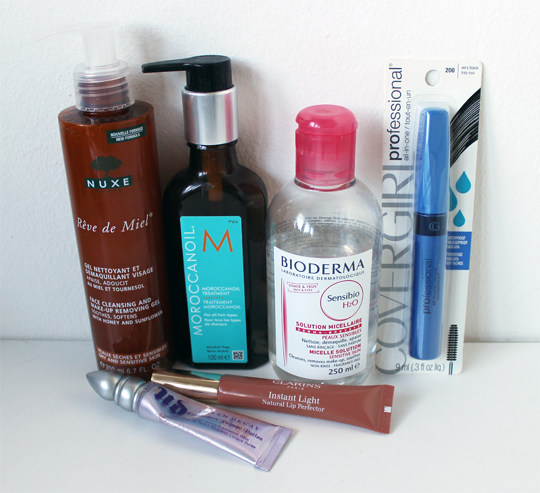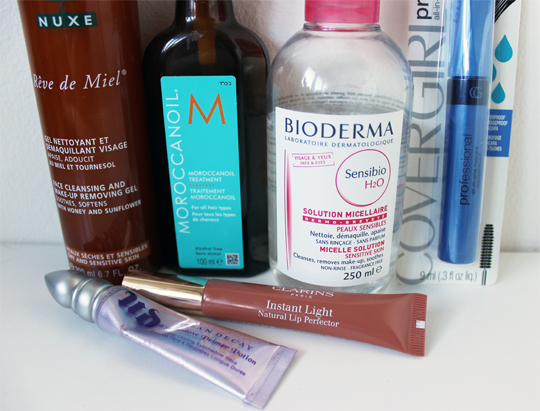 :: Nuxe Reve de Miel Cleanser (Escentual, £12) – I first got my hands on this in February this year (original review here) and loved it so much I have picked up a new bottle each time Escentual run one of their beloved French Pharmacy promotions. I constantly flirt with various masks, serums and moisturisers but I find it hard to stray from this cleanser too often. Quick, fuss free, effective and smells delicious. What more could you want?
:: Moroccanoil Treatment () Fabriah, £31.85) – The original Moroccanoil Treatment featured in my 2012 Favourites and has remained in the top spot for haircare ever since. I've tried nearly a dozen other hair oils and serums, but none of them do the job quite like this one for me. Tames the frizz in my masses of hair without weighing it down or making it greasy, and a little bit goes a long way. The original and the best!
:: Biodermia Sensibio H20 (Escentual, £9.99 – Another very popular one, and for good reason too. I actually took part in Escentual's micellar water blind trials earlier this year and even in that blind, unbiased test this still came away as my favourite by a mile. I wear a lot of eye makeup, and this removes every single molecule of it with no effort required. This is my sixth bottle, I think, and I have two more backups sitting in my drawers. Frankly I am frightened of ever being without it.
:: Covergirl All-in-One Waterproof Mascara (eBay, £8.80) – Pictured above is my last backup of this mascara, but my current tube (the fifth one) is looking pretty battered with all the writing worn off. This remains to this day to be the only mascara that holds a half-decent curl in my lashes while provided added volume and good separation. In America, which is the first place I tried it, it costs less than five dollars but I am happy to pay over the odds to get it shipped over here since Covergirl is stupidly not available in the UK.
:: Clarins Instant Light Natural Lip Perfector in Rosewood Shimmer (Escentual, £13.60) – I have blathered on about this time and time again (a href="http://donotrefreeze.com/2013/03/clarins-instant-light-natural-lip-perfector.html">original review here), but just for the record this is my absolute holy grail lip product. 9 times out of 10, this is the lip of choice that I reach for to tie everything together once I've applied the rest of my makeup. A true 'my lips but better' shade, I can't tell you how much I love it. I have one in my makeup drawers, one in my desk at work and one in my bag at all times. That's how much I love it. They usually cost £17, but you can get a few quid off at Escentual.
:: Urban Decay Primer Potion (Debenhams, £15) – I uhmm-ed and ahh-ed over whether or not to include this after my epic rant at the brand last summer. However, they did backtrack on their truly moronic decision due to the huge backlash they received, and to be honest it's been long enough that I no longer feel bitter. I haven't actually repurchased this since before the hoo-ha, and have been trying tons of other eyeshadow primers in the meantime to find something to replace it but I just can't. Nothing else works as well as this does, simple as that. I have resigned myself to the fact that I am going to have to repurchase this once again, which only seems right as this is the one product that has been with me since the very beginning of my makeup journey, back it when it was in those stupid genie bottles. Urban Decay… I think you're forgiven, but I've not forgotten.
So, what products are your most faithful products that you always come back to?