There have been SO many pretty nail launches I've wanted to share with you lately, so here's another one to add to the pile. And it's for a good cause, too! This is Nails Inc Pinkie Pink*.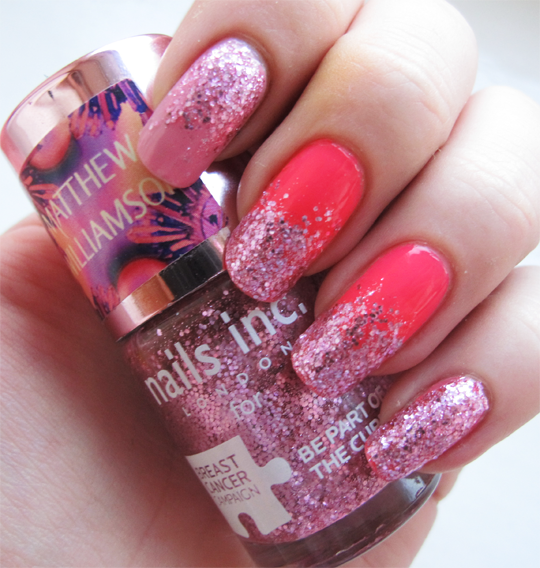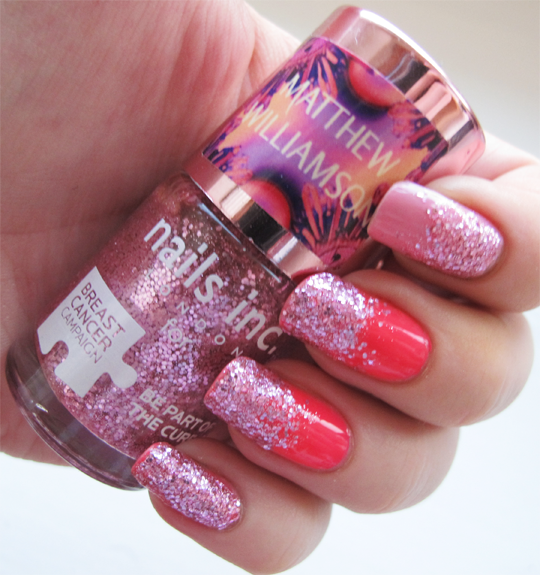 The rapid onset of Winter has reminded me how bloody difficult it is to take blog photos when there's no good daylight before or after work!
As we all know, October is Breast Cancer Awareness month. Nails Inc have come up with a way to keep your talons on trend while raising money for the cause with the release of their mega-glittery Pinkie Pink polish. There are two different cap designs too, designed by Matthew Williamson and Poppy Delevigne (did I tell you I met Poppy at London Fashion Week? Well, I did. We had a chat about the new Nails Inc Monogram Manicure, incidentally!).
Here's the really cool part: Nails Inc will donate £1 from the sale of every bottle of this to Breast Cancer Campaign, and donate 10p to Breast Cancer Campaign for every Tweet mentioning @NailsInc in the month of October featuring a photo of Pinkie Pink polish and the hashtag #SpotThePinkie.
I've worn it here teamed with two of my favourite pink polishes, Loella and Collide by Illamasqua. I sponged Pinkie Pink down the tips on the Collide nails, and sponged it from the cuticle upwards on the Loella nails just to mix it up a bit. True to its name, Pinkie Pink is worn solo on my pinkie nails!
Will you be picking up a bottle of Pinkie Pink, and tweeting a photo to show your support for Breast Cancer Campaign?