Would you believe that I've been meaning to write this post since January?! Well, better late than never I guess, and perhaps with today being Halloween it's even more fitting. Now, there are few things in the world that I love more than a good musical. There are no musicals that I love more than Hedwig and the Angry Inch. Epic glam punk soundtrack, incredible drag makeup, there's nothing not to love.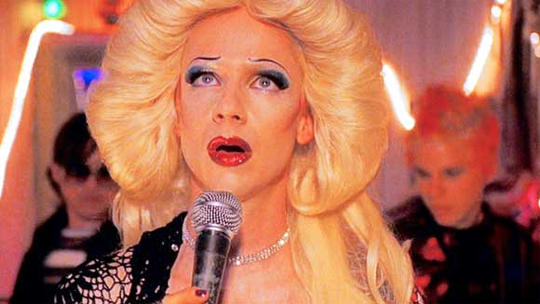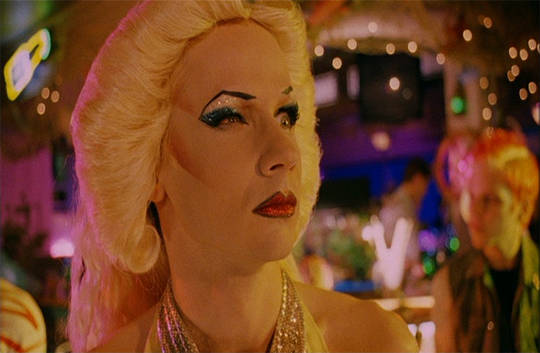 I don't know if you're familiar, (I don't think too many people are, it's a bit niche), but it tells the story of Hansel, a 'young slip of a girly-boy' from East Berlin who, for the purposes of marrying an American GI and leaving Germany undergoes a botched sex-change operation to become Hedwig. The message of the musical is very much open to interpretation, but I like to think of it as a journey to self-acceptance and the notion that you must love yourself before you can love anyone else, or anyone else can love you. But that's not what I'm here to talk about – let's talk makeup!
Above you can see Hedwig's signature look as depicted in the 2001 film adaption. Harsh contouring, overdrawn red glitter lips, sharpie style brows, the Farrah Fawcett wig and BIG glittery eyes. I love it more and more every time I watch the film (which I have probably seen more than 50 times, I shit you not). Mike Potter, head of makeup on the film has said "I was inspired a little by Marlene Dietrich in the way her face was painted. With the glitter, we definitely wanted her to be rock and roll, and with the red glitter lips, my take on it was that she wanted people to watch her mouth, and to see what was coming out of it. That was a way to gather attention". John Cameron Mitchell, the genius who created Hedwig and the whole musical (and plays her in the film adaption), wanted a tragic element to Hedwig's look so Mike designed her eyebrows with that saddened curve. I just love how elements of Hedwig's personality are reflected so profoundly in the makeup.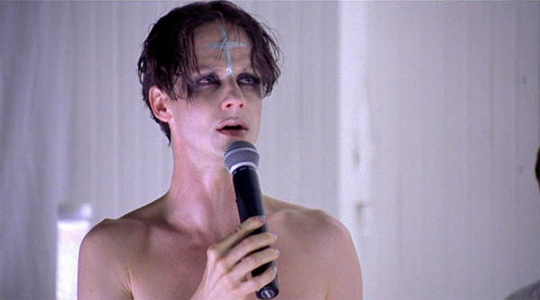 At the end of the film, Hedwig/Hansel comes to terms with what has happened to her/him and embraces the androgyny. The song that accompanies this look never fails to make the hairs on the back of my neck stand up, I'm not even sure what it is I love so much about it.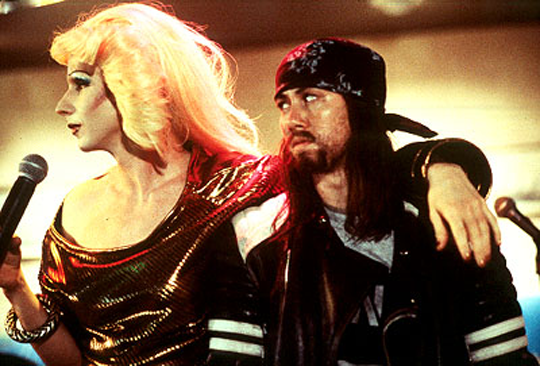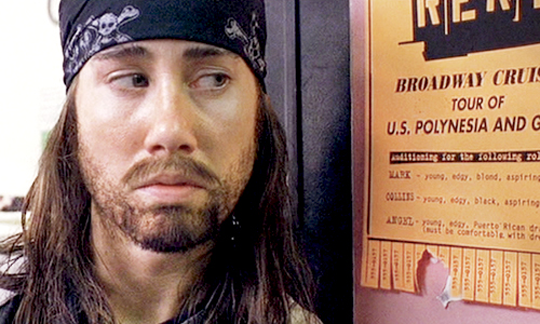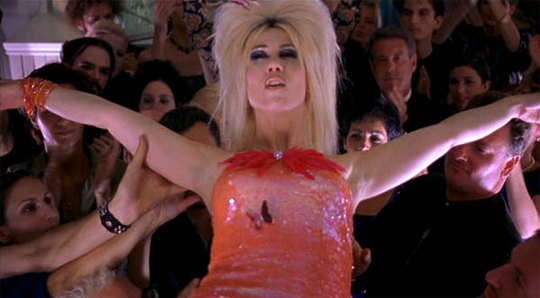 I also just wanted to touch on the character of Yitzhak. Yitzhak is Hedwig's second husband, a man who very much would like to be a woman himself (with the high pitched voice to prove it) but is relegated to a life as a quiet, bearded man living in Hedwig's shadow. In the last of the series of pictures above, you can see Yitzhak in drag.
What I really love about Yitzhak? He is played by a woman. That means the photo in drag shows a woman dressed as a man dressed as a woman… I love it. He's played by Miriam Shor in the film, and I never fail to be impressed by the expertise of the makeup artists who applied the facial hair and so on. What's especially fantastic is that Yitzhak in drag actually looks nothing like Miriam Shor really does.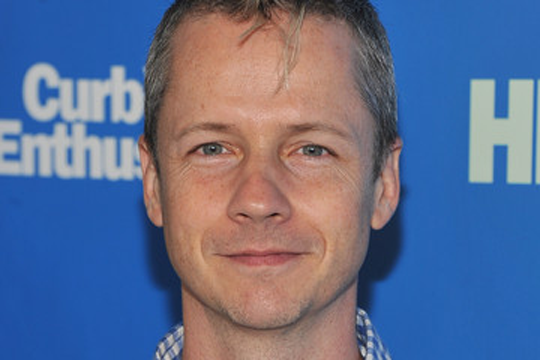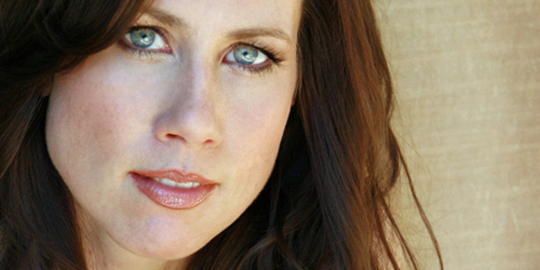 As a quick bonus – here are Jon Cameron Mitchell and Miriam Shor out of character. Tell me the makeup on this film isn't amazing?
If you've never seen Hedwig and the Angry Inch, I cannot recommend it highly enough. It's definitely in my top 3 favourite films of all time.