I'm very much of the 'if it ain't broke, don't fix it' school of thought, so it puzzled me a bit when I heard that L'Occitane were re-vamping, re-formulating and relaunching their globally award winning and internationally best-selling Divine Cream. I haven't tried the coveted original version, so I can't compare the two – but I have been using the new L'Occitane Immortelle Divine Cream* and Divine Lotion* for several weeks now so I think it's about time I penned some thoughts.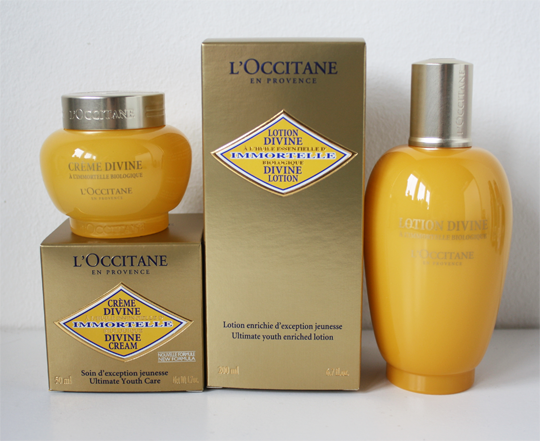 Are you familiar with the Immortelle flower? It's pretty fascinating, a bright yellow bloom which is actually everlasting – it never loses its colour or scent even after being harvested. I am quite the fan of the scent of it, so it was pretty much a given that I'd enjoy using this range – but that's not all you'll find in the Immortelle Divine range.
While Corsican Immortelle flower is the star of the show, it's boosted by a complex of 7 other naturally derived active ingredients: myrtle and honey both also from Corsica, marsh clover, bellis perennis (i.e. daisies!), evening primrose oil, camelina oil and another of my favourites, hyaluronic acid. There's a lot going on in these products!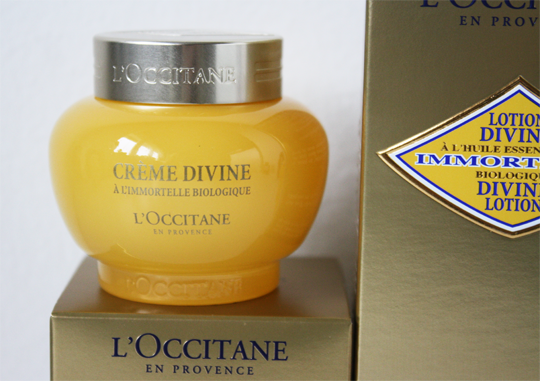 L'Occitane Immortelle Divine Cream 50ml £72)
Let's not beat about the bush – this is a lovely moisturiser. And it bloody well wants to be, at £72 a pop! It's a delight to use, beautifully scented – although it's worth noting that it's quite heavily scented if that's something you would need to avoid. A tiny bit goes a long way, it really hydrates and plumps the skin and has been slightly improving the perpetual signs of tiredness around my eyes. It's main selling point is its anti-aging properties, but with my super yoof-ful 22 year old skin I can't really speak to this. So, I like it a lot but there is one thing that's really bugging me.
In the bottom image, of the open pot – what is this all about? I'm not completely averse to moisturisers in jars, but the design of this infuriates me. Sure, it looks pretty, but the opening to the jar is so tiny it's going to be an utter pain to get any out once you get to the product around the edges of the jar. I have long nails, so I always pick up products in jars with the back end of a makeup brush anyway but this jar is still baffling me.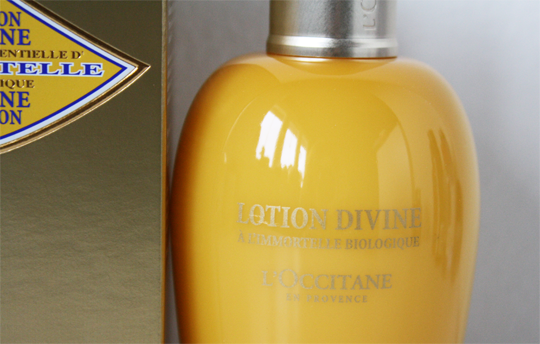 L'Occitane Immortelle Divine Lotion 200ml (£38)
Lotion is apparently a very popular step in the skincare routine in Asia. It's not something we really see a lot of here; we all seem to prefer more concentrated serum formulas. Lotion Divine is to be used after cleansing and toning, but before moisturising, so it would essentially replace serum in your routine. The Divine Cream is very rich so I've only been using it in the evening, but I've been using the Lotion on its own in the morning as something lighter and more refreshing but with the same mineral-rich formulation and gorgeous Immortelle scent. I just splash a drop onto a cotton pad and sweep it over the face – it's lovely.
So yes, the Divine Cream is very pricey – but if you have the cash to splash and you're in the market for something that addresses the signs of ageing, you could well be onto a winner. Personally, as much as I like it £74 is WAY too much for my budget.
The Lotion on the other hand, is a great way to incorporate some of the Immortelle formula to your skincare routine for what is actually a really affordable price. You only need a smidgen each time so 200ml will last forever. If you pick up one thing from this range, I'd make it the Lotion.
Have you tried L'Occitane Immortelle Divine? Or the original Divine Cream?