Ooh, an Easy Peasy Nail Art post! It's been a while, I know.
So I was browsing Pinterest the other night (I've got back into Pinterest in a big way lately – do you pin? Come follow me!) and I saw this really cute nail design from a blog I'd not heard of before called Rins Nail Files. She'd used a sparkly grey (one of the Zoya Pixie Dust polishes) and added dots with pink and white acrylic paints; it was so pretty that I just had to recreate it with what I had. It's so easy too that it doesn't even really warrant a tutorial, but there you go..!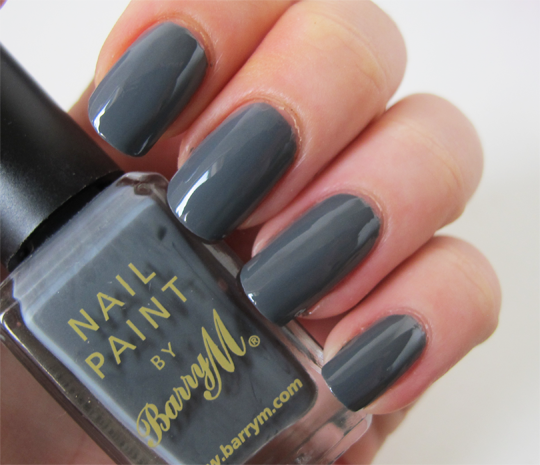 Start off with a clear base coat and a dark grey base colour. I used Barry M 293.
Add a layer of holographic or fine glitter topcoat to make the grey nice and sparkly. I used China Glaze Fairy Dust.
Grab yourself a dotting tool with a fairly large head and drop a blob of bright pink polish onto a palette. I use the lid from a tube of Pringles, it's been very well loved! The polish I chose was Illamasqua Collide. Dip the dotting tool into the polish, and apply a few dots in a vertical line up the length of each nail. Obviously the amount of dots you'll fit on here will depend on the length of your nails!
Make sure to clean the end of the dotting tool (wipe it on a cotton pad soaked with acetone) every so often as you go to stop the polish drying on and distorting the size of your dots.
Now take another dotting tool with a smaller point, and add a blob of white polish to the palette. I used China Glaze White on White – repeat the dotting process between each of the pink dots, along both sides.
Now all you need to do is tidy up the edges of your nails if needed and apply a quick-drying topcoat. Note that dots can take a little while to become touch dry, please wait for them to do so before you apply your topcoat. I never, ever do and I always end up smudging my dots, as you can see – sigh.
So there you go! Really easy, really eye catching. Will you give it a try?