I have expressed my love for Burt's Bees Lip Balms on myriad occasions on this here blog (here and here for example!). If you're an utter loser like me who gets genuinely excited over the addition of a new flavour to your favourite range – here's the brand spankin' new Blueberry and Dark Chocolate* version!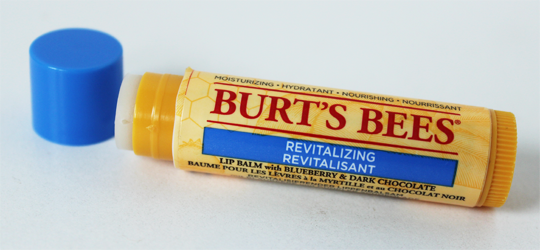 If you've read my previous musings on Burt's Bees Lip Balms, you'll know I differentiate their textures as either 'slippy' ones or 'firm' ones. Ones like Pomegranate, Honey and the original Beeswax are firmer – or, with a higher melting point – and others like Acai Berry and Pink Grapfruit are slippier. Blueberry and Dark Chocolate seems to rest somewhere smack bang in the middle of the two. As always, super nourishing for the lips and tastes delicious, too. There's literally nothing not to like about Burts Bees Lip Balms and I will extoll their virtues until the day I die.
Burts Bees Blueberry and Dark Chocolate lip balm is availale now from Boots, John Lewis and Waitrose stores carrying Burts Bees, as well as online at their website for a reasonable £3.69. They're all fab, but while you're there I highly recommend picking up my personal favourite Pomegranate too!