We're probably all familiar with The Body Shop's classic White Musk fragrance. First storming the fragrance market in 1981, and remaining a bestseller to this day, White Musk was the vehicle for The Body Shop to introduce the world's first cruelty-free synthetic musk. I remember stealing spritzes of my mum's White Musk as a child, and many years later falling in love with the fresh and light White Musk Libertine. This season sees the launch of a more sultry, sexy version of the fragrance; The Body Shop White Musk Smoky Rose*.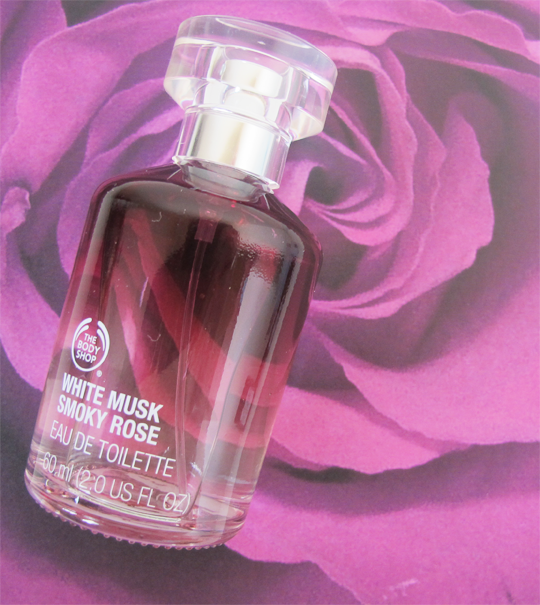 The original, classic White Musk is a fairly floral affair, with notes of lily, iris, rose and vanilla to complement the musk. White Musk Libertine is a sugary sweet incarnation that's perfect for Spring and Summer, featuring notes of Turkish delight, chantilly cream and orchid. What's really been missing from the White Musk line up is something perfect for Autumn and Winter, and the new Smoky Rose fits the bill one hundred percent.
Tantalisingly floriental, dark and seductive – I am truly obsessed with White Musk Smoky Rose and can't stop spritzing it. The scent opens with bergamot, spicy pink pepper and juicy blackcurrant before the heart comes through, full of tobacco flower and a black smoky rose accord with a hint of orange flower. The dry-down is where you'll find the cruelty-free musk, along with olibanum and one of my new favourite scents, immortelle flower. It's honestly such a gorgeous fragrance and I cannot get enough. So smoky and delicious! I urge you to head to your nearest store and give it a spray.
While it is mostly marketed as a sensual evening fragrance, I've been loving this all day every day. The perfect Autumn Winter fragrance – and of course, it's a bargain to boot. The new White Musk Smoky Rose range contains:
- White Musk Smoky Rose Eau de Toilette, 30ml (£10)
- White Musk Smoky Rose Eau de Parfum, 30ml (£13)
- White Musk Smoky Rose Bath & Shower Gel, 250ml (£6.50)
- White Musk Smoky Rose Body Lotion, 250ml (£10)
- White Musk Smoky Rose Fragrance Mist, 100ml (£7.50)
If you're thinking of trying out the new fragrance, there's currently some good discounts online – 30% off everything when you purchase 4 or more items, 40% off for 6 or more, and 50% off for 8 or more, all using the code ROSE. Check out more details here.
Does Smoky Rose sound like your kind of scent?