I've done it! I've bloody done it! I have finally achieved my ideal shade of orange hair. A fiery, reddy orange at the top fading down into a lighter, brighter orange at the ends. Enter the ginger! I am so excited. And do you know how I managed it? A bargain £7 at-home method in the form of the new Bleach London DIY Dip Dye Kit*.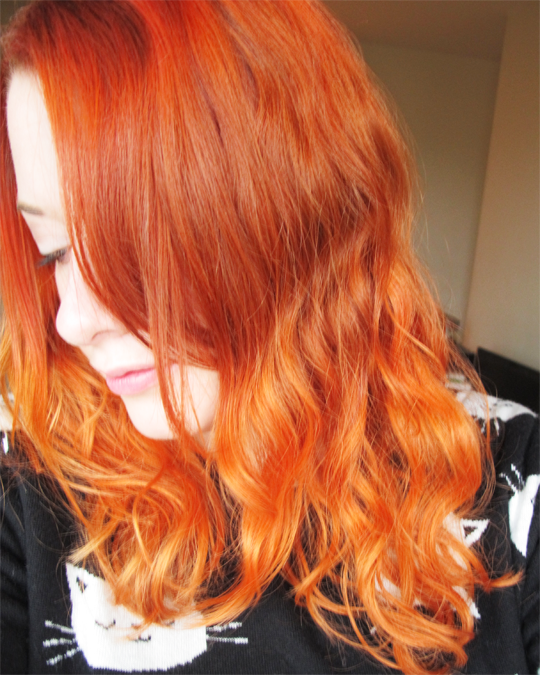 In case it had somehow escaped your attention over the last few weeks, cult colourists Bleach London (represent East End!) have launched a long awaited range of at-home fashion hair colours, colour care products and bleaching kits. When I popped along to the launch event, I immediately fell in love with the colour swatches for bright orange Tangerine Dream and the lighter Washed Out Orange. I chatted to one of the stylists about how best to achieve a graduated fade between the two colours – especially given that I'd only just refreshed my hair with my usual Crazy Colours Orange shade. Rather than use the actual colours themselves, we decided that using the Bleach London DIY Dip Dye Kit would achieve something very akin to the look I was going for.
I was a little apprehensive, not least because bleaching my hair has always been a terrifying premise but there's a lot of stuff in this kit and the instructions also clearly stated that best results will be achieved on natural hair. Repeating the mantra 'it's only hair, it's only hair' I stirred up the Bleaching Powder and Bleaching Lotion (and promptly almost fumigated myself before opening a window!) then just took a deep breath and went for it.
The real USP for the DIY Dip Dye Kit is the inclusion of Bleach London's exclusive Blending Lotion. This clever, clear and runny substance is designed to help you achieve a gradual fade between the darker colour at the top of your head and the blond at the ends. You just rub a bit of the lotion into your hair at the point you want the fade to begin, then paint the bleach mixture into your ends and massage the bleach and lotion together at the point where they meet. A lot easier than I expected it to be, it only took me a little over 5 minutes to do my whole head (and I have a LOT of hair).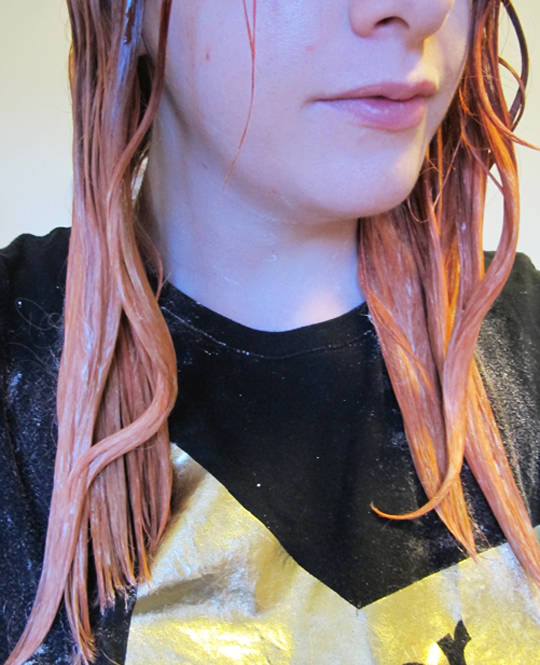 Look at it, all over my designated hair dying tshirt and even my neck… bloody amateur.
You can leave the bleach in your hair for anywhere between about 15 to 45 minutes. I left mine about half an hour – in hindsight I wish I'd left it just a little longer. As per the instructions, I shampooed twice to remove all the bleach then applied a liberal amount of the Ressurection hair mask that comes in the kit to towel-dried hair. I gave this a good 20 minutes to nourish my ends before washing out, and I'm very pleased to report that my ends aren't too dry at all. Also super pleased with myself – this is actually the first time I've ever coloured my own hair. I've always had someone else do it for me!
All in all, very very impressed with this bargain little range and would highly recommend checking it out at larger Boots stores and online if you like to play around with your hair. I'm now much less frightened of bleaching, so may very well find myself experimenting with some of Bleach London's other colours too. You can find the DIY Dip Dye Kit here.
Do you like to experiment with your hair colour? Are you going to try anything from the new Bleach London range?