Uggghhh. For the fourth or fifth or millionth time this year, I am in the midst of a horrible, horrible cold. I spent most of yesterday evening wistfully browsing online for pretty things to wear on my face when it is no longer all crusty with cold-ness. Which feels like it will be NEVER.

As you know, I'm not afraid of colour. But the products I've found myself lusting after lately are mostly of the neutral persuasion – with some nice little twists thrown in, of course.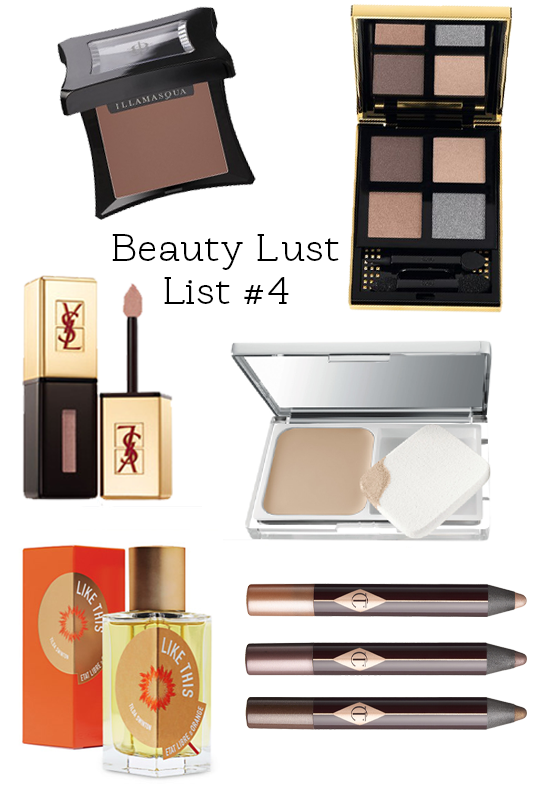 First up, something for the cheeks. I have a disgusting amount of blushers (I think more than one hundred. For reals.), but I have a real lack of any in truly neutral shades. I have plenty of neutral pinks, but a true, true nude is a gap in my collection that needs filling. Illamasqua Cream Blush in Zygomatic seems to fit the bill perfectly, so I will be heading down to a counter and giving it a swatch soon. I confidently predict it will be coming home with me when I do so!
YSL's Autumn Winter 2013 collection has been all over the blogosphere lately, and I can't get enough of the YSL City Drive Classy Eyeshadow Palette. Four universally flattering shades including 3 browns and a gunmetal grey for good measure, this is a stunning multi-use palette that is just calling my name. And have you SEEN the outside of the packaging? So, so cool. Jen over at Beauty Junkie London has some great photos of the palette you can go stare at with hearts in your eyes.
Another new launch by YSL is a selection of nude shades appropriately titled Rebel Nudes, as an addition to their extremely popular Glossy Stains range. I actually have one of the Glossy Stains, in a fuchsia shade – but as you know, statement lips are a fairly rare occurrence for me so it doesn't get nearly as much use as it should. One of the new Rebel Nudes in particular looks right up my street with a timeless, classic tone leaning towards the brown side. YSL Glossy Stain in Nude Provocateur, you will be mine!
I'm currently feeling the need for a new winter foundation, too. I actually tried Clinique Even Better Compact Makeup way back in the Spring when it first launched, but the shade I had was way, way too dark for me. The formula was absolutely fab, with serious coverage and blendability but no obvious appearance that there's anything on the skin. Its creamy formula did feel a little more suited to the colder season, so I may have to go and scout out a lighter shade.
Next up, a fragrance. There's a story behind this one. Remember before Lady Gaga's Fame fragrance was released, there were rumours that it would smell like blood and sex (this frankly left me very disappointed in its generic celebrity fruity floral nature)? Well, one of my colleagues is big into fragrance and around the time these rumours were spreading, he told me about a scent by fragrance house Etat Libre d'Orange called Secretions Magnifique. This one really does smell like blood and sex and other miscellaneous unpleastantries. Well, I haven't actually sniffed it myself (although I have an overwhelming urge to do so just to satisfy my curiosity), but every review I've seen has left the writers unanimously repulsed. Etat Libre D'Orange Like This EDP, on the other hand, sounds absolutely beautiful. It comprises some of my favourite fragrance notes, including but not limited to ginger, Immortelle flower, vetiver and heliotrope. Again, I haven't actually sniffed this yet but I just KNOW I will love it.
Last but certainly not least – in case it had somehow managed to escape your attention, Charlotte Tilbury has released her own makeup range and the blogging world is going absolutely mad for it. I wasn't that bothered at first, but last time I was in Selfridges I wandered over the counter to have a look and see what all the fuss was about. Overall I think the range is fairly overpriced and not that exciting, but there was one product – fairly reasonably priced too, at £19 – which totally knocked my socks off on swatching. Charlotte Tilbury Colour Chameleon Eyeshadow Pencils have got me well and truly hot under the collar – they are INSANE. There are three shades in particular that my mind keeps wandering back too – Champagne Diamonds, Dark Pearl and Golden Quartz. I can't even begin to describe to you how stunning these are, you need to be shown. If I only buy one thing from this wishlist, it will be one of these. I will report back!
So, what's on your wishlist right now?