Would you believe that until last week, I'd managed to get through 22 years of life without ever once having a massage? Last month, I had a little taste of a neck and shoulder massage at a Clarins launch event, where the therapist Lucy was astounded at the stubbornness of the knots in my shoulders. I'm not surprised, really – I work at a computer all day without paying much attention to my posture, I walk around with heavy bags a lot, and more often than not I'm feeling tense and stressed about something or other. The lovely ladies at Clarins were quick to prescribe me a Clarins Rebalancing Massage* at the Clarins Skin Spa in Selfridges – and to cut a long story short, it was absolutely blissful.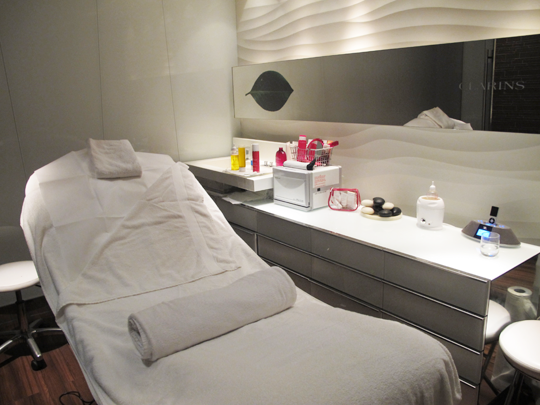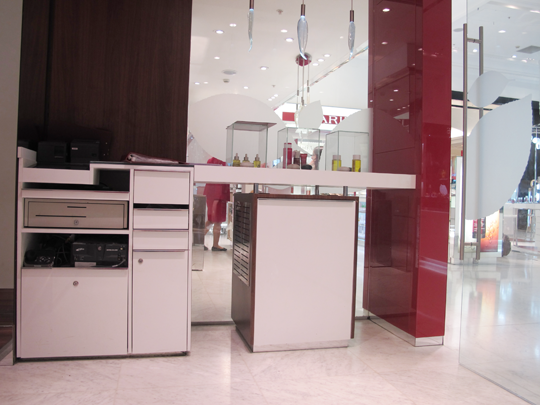 My massage was booked a few weeks in advance, and I managed to put off thinking about it for as long as possible, but last Tuesday as I headed to Selfridges after work I found myself thinking that as much as I was looking forward to it, I'm not exceptionally body confident and the thought of getting stark bollock naked in front of a stranger definitely added to my tension before I arrived!
Thankfully, I was put immediately at ease by the tranquil Skin Spa waiting room. Within a few minutes, I'd been whisked away to a treatment room by my therapist Jennifer Ngo. I wasn't too sure what to expect with regards to the getting naked bit, so I was relieved to learn I'd be left to strip off and slip under a towel without company. Jennifer and I had decided in advance that although the Rebalancing Massage is a full-body treatment, we would pay extra attention to my feet and legs as well as my overly tense shoulders.
Jennifer slipped my hair up into a sexy shower cap and began by wrapping my feet in hot towels – amazing – before working on my upper chest and the front of my shoulders with the super-relaxing Clarins Relax Body Treatment Oil. The oil smells divinely herbal, with 100% pure plant extracts of geranium, petit grain, chamomile and basil in a base of hazelnut oil. Once my feet were sufficiently warm, they got a good firm seeing-to (I had no idea how knotty my feet were!), as did the front of my legs.
At this point, I (reluctantly – so comfy!) had to shift onto my front. My calves were surprisingly tense and knotty too, and it took a lot of skill on Jennifer's part to remove those knots – with a liberal dose of the super cooling Clarins Energising Emulsion for Tired Legs to bring down the heat levels a bit. Next came the bit we'd both been waiting for – the back, neck and shoulders. I'd requested a firm, hardcore level of pressure (what's the point in having a massage if you're not going to really go for it?) and it REALLY hurt – good pain, though. I'm nothing if not a beauty masochist. There was one particular knot in my right shoulder that Jennifer spent a good 10 minutes on, and the feeling of pure bliss and relief when it finally melted away was phenomenal.
I flipped over to my back again, where my arms and hands had a good going over which concluded my epic 80 minute treatment. Jennifer allowed me a little rest and left the room for 10 minutes, at which point I definitely dozed off, feeling like I was floating several feet above the massage table. Jennifer came back and prescribed me lots and lots of water and rest, and to perform some gentle stretches of the muscles that required the most work before bed. Then I very, VERY reluctantly had to get up and dressed. I thought getting out of bed in the morning was hard, but getting up from the table after an incredible massage is about a million times more difficult.
Ever the professional, Jennifer didn't even laugh at me when I couldn't figure out how to open the door to the treatment room when I was ready to leave (note to any future visitors – they're sliding doors!) and had to call the counter to get someone to come and free me. Cringe.
After leaving Jennifer's magic hands a glowing review in the Skin Spa guest book, I floated down Oxford Street to the tube back home, guzzled some water and slipped straight into bed – not forgetting my stretches of course.
I was recommended to head back for another massage in 4-6 weeks. Whilst I absolutely loved the Clarins Rebalancing Massage and would wholeheartedly recommend it to anyone, I personally can't afford to have one that frequently but I am dying to go back. I'm thinking every 12 weeks or so should be manageable money-wise whilst also keeping excessive stress in my body at bay. The massage is fantastic value at £55 for an 80 minute treatment, absolutely worth it for the spa quality products and the expertise of Clarins' therapists so it's definitely worth thinking about for a payday treat – or even a Christmas present, it's not that far away.
If you want to book a treatment at Clarins Skin Spa in Selfridges, give the counter a call on 02073 183 772 – and ask for Jennifer if she's available! Alternatively, there are over 60 Skin Spas across the country so you can find your nearest one here.