I've never had a gel manicure before. Too much effort, too much money, too much upkeep and not enough regular colour changes! Having said that, I do love the high-shine finish a gel manicure offers, and I've never found a topcoat that replicates it just right. But, for Autumn 2013, Nails Inc have released a selection of 4 polishes with a true gel effect finish without the need for a UV lamp, regular infills and an arduous soak-off process. This one is the bestselling shade Porchester Square*.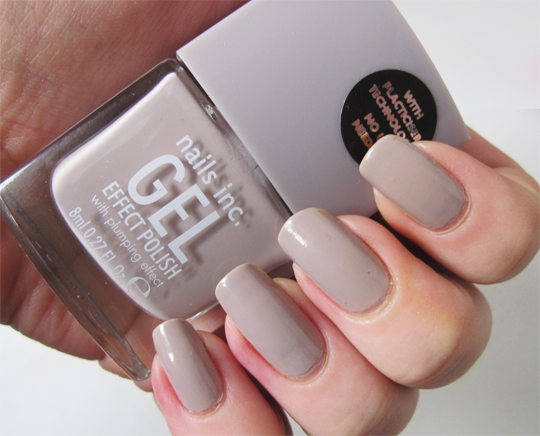 I don't often go for nude nails, but Porchester Square is always a winner and understandably a bestseller. Neither too cool nor warm toned, a perfectly balanced taupe to suit all skintones. Love it. I'm wearing two coats here, with no top coat to show off the gel effect shine – it dries quickly even without topcoat, which is always a bonus. It's lasted 5 days so far without chipping, too.
So essentially, the Nails Inc Gel Effect polishes are a standard nail polish in that they apply and remove in the same way, but its revolutionary 'plasticiser technology' creates a sort of plump-looking gloss finish that I've not seen in any other polish – just like a gel manicure. There's a chic new bottle shape for them, too, and a wider-than-usual flat brush for extra ease of application. Be aware of this if you have very narrow nails like me – it's not quite as wide as the cumbersome OPI Pro Wide brush but it's rather different to the usual Nails Inc brush.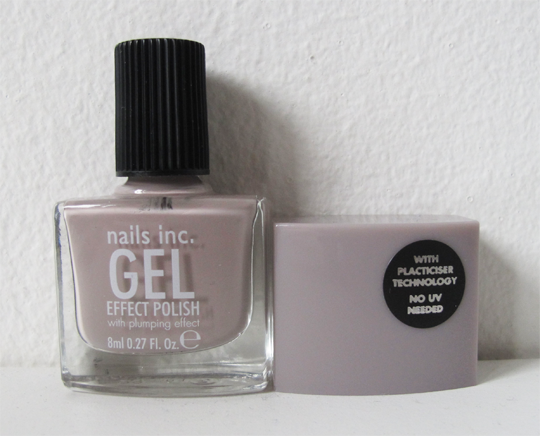 It's also worth noting that the outer cap of the sexy new square bottle can be removed, which is a relief. There's not many things more irritating than trying to neatly apply nail polish with a bulky square lid, so high fives to Nails Inc for thinking ahead!
There are currently 4 shades of Nails Inc Gel Effect Polish available, all of which are perfectly complemented by the super-shiny finish:
Porchester Square – chic muted mushroom
St James – pillarbox red (another bestseller!)
Bond Street – rich violet (limited edition)
Kensington High Street – deep mulberry (limited edition)
Nails Inc Gel Effect Polishes cost £14 each, and are available from all the usual Nails Inc stockists now.