Oh my word, isn't this the cutest nail polish you've ever clapped eyes on?! I am absolutely in love with it. Following on from my recent foray into indie nail polish, I came across a brand called Happy Hands. Cute name, insanely cool polishes. This adorable little number is Happy Hands B for Butterflies.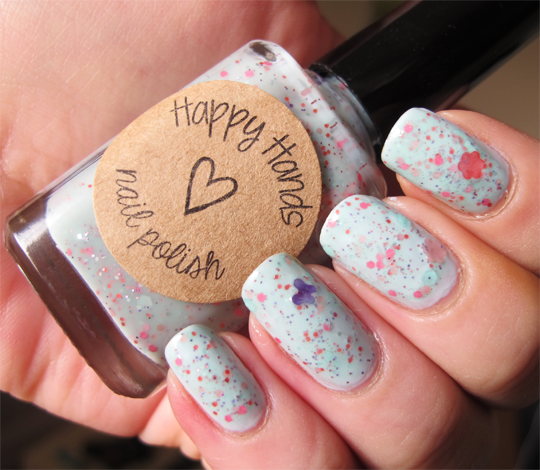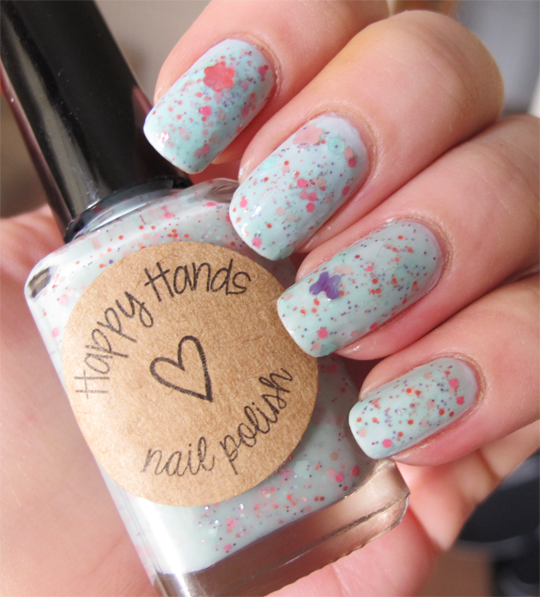 Surprisingly enough, the light blue base in this polish is actually fairly opaque which isn't something you usually find with polishes that are packed full of glitter. What's doubly impressive about it is that whilst the blue can be be built up, it doesn't cover up and drown the glitter pieces. I still chose to apply it over another light blue polish (Sky by Hard Candy) to save time and polish, but this could certainly be worn on its own.
This is super, super unique in my stash and probably the entire world of polish. Suspended in the light blue base are a variety of shapes and sizes of pink glitters, a handful of light blue glitters (which do get a bit lost against the blue base), some light and dark pink flower shapes, and frigging butterflies! Yes, butterfly shaped glitters. Amazing.
Now, it is slightly on the thick side and you do need to go fishing for pieces – I didn't manage to dig out a butterfly until I got to my ring finger – and it's definitely one that you need to dab on to get a good distribution of all the different pieces. Since you will be manipulating the position of the larger pieces like the flowers and butterflies, I'd suggest arranging them on a flatter area of the nail as they won't conform well to pronounced curves on your nail bed. So yes, I can't deny it is a bit tricky to apply if you aren't well versed in the tricks of applying difficult glitter polishes, but it's well worth the effort. IT'S SO CUTE. I love it.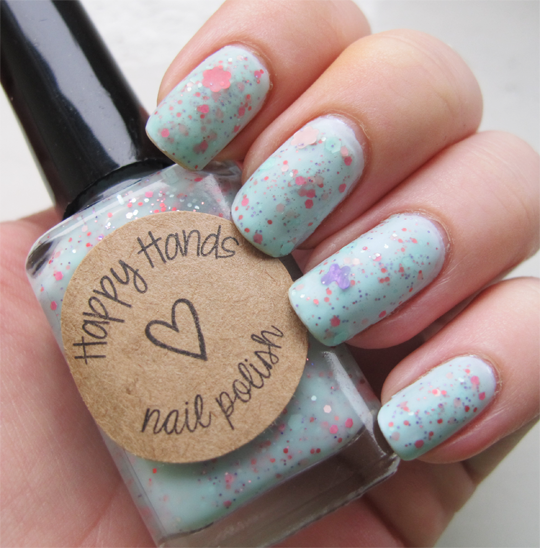 And just because why not, I decided to add a matte top coat (Illamasqua's one, if you're wondering) on the second day. I think I love it even more when its matte, the shine-free finish amplifies the pastel blue and it just looks great. I'll definitely be cracking this one out again next Spring.
B for Butterflies cost me $10 for a generous 15ml, and it took maybe 2 weeks to arrive. I picked up two more Happy Hands polishes while I was at it, and I can't wait to share those with you as well. Keep an eye out, they're all equally awesome!