Allow me to introduce you to my ultimate base Dream Team – Illamasqua Skin Base Lift concealer, Skin Base foundation and Hydra Veil. You know that I'm rather picky when it comes to foundation, but these three create a completely winning combination that has me somewhat neglecting the other bases in my stash.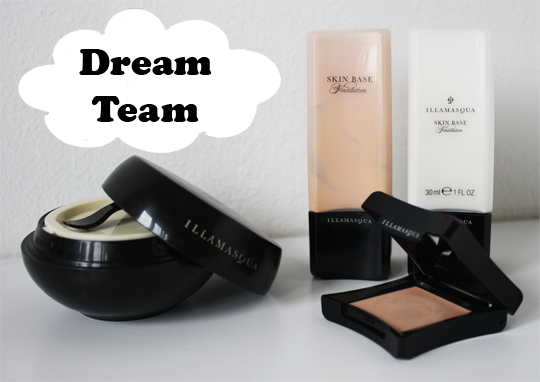 I've been using Skin Base foundation (£27) for more than 2 years, when I was matched to Shade 5. Unfortunately the overall lack of decent weather we've had in the UK for the last couple of years has left me considerably paler than I was this time 2 years ago, but adding the pure white shade of Skin Base to my arsenal has solved that problem – and the problem I have with most foundations in general! – just mixing a drop of this with another shade helps me lighten it up enough to wear.
Illamasqua Skin Base is touted as 'the ultimate skin realism foundation' – spot on. It really does look like skin – in the right circumstances. Whilst I initially loved it I definitely fell out of love with it and discovered that I needed to be having a good skin day to pull it off properly – it's a fab base but isn't very forgiving of any underlying dryness. I could never find a primer that worked perfectly underneath it, until earlier this year…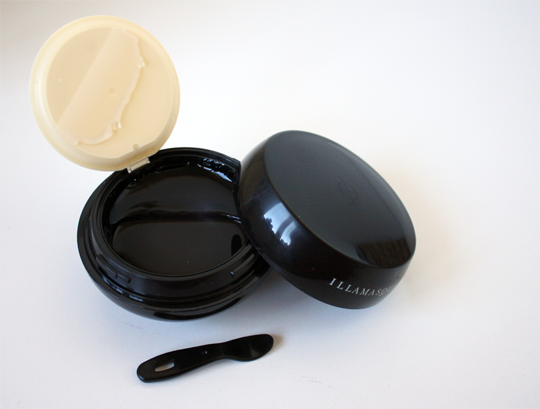 When Hydra Veil (£27) was released with this summer's paranormal collection, I finally found what I'd been searching for. This completely alien ectoplasm-like substance is the answer to creating the perfect canvas for Skin Base. Just a little speck of this bizarre formula smoothes the entire face and primes it just perfectly for an unforgiving foundation, providing a super-hydrating moisture hit to any dry areas whilst sinking in thoroughly so you're not left with a damp or tacky feel.
Skin Base just glides over Hydra Veil, and I can't even begin to tell you how much I love the finish. If I'm having a particularly oily day I'll sweep a touch of powder through the T-zone, but generally speaking I can just leave it at that and it'll see me through the day just fine. Plus, it's always fun to stir up the contents of the pot until it looks like frogspawn, and watch it settle back down to a glassy-smooth surface. Amazing stuff.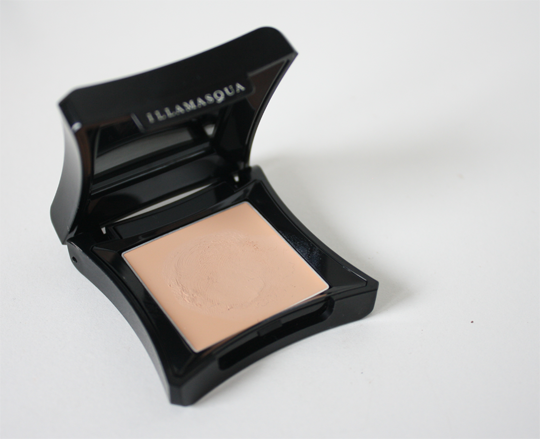 The icing on the cake came with the release of this season's Sacred Hour collection. Skin Base Lift concealer* (£16) was created as another perfect pairing for Skin Base foundation, offering some seriously effective, brightening undereye coverage. All six shades of this (with the exception of a seventh, pure white shade) are infused with warm peach tones to combat the typically blue undertones of undereye shadows, and for me just a couple of dabs of shade Light 1 under the eyes perfectly finish off my Illamasqua Skin Base routine.

Before: Bare skin

After: Using Illamasqua Skin Base foundation, Skin Base lift concealer and Hydra Veil
So whilst these products do create my ultimate foundation Dream Team, it is undeniably a fairly expensive route to go down, especially if like me you need the white Skin Base to create your perfect shade. Here's some good news, though – for a limited time only, Illamasqua are offering The Ultimate Skin Trinity – that's Skin Base Foundation, Skin Base Lift and Hydra Veil – together for just £50. That's a saving of £20 on the full price of each product! I don't know of a particular end date for this offer, and it's currently sold out but I should imagine it will be back in stock before long. I'd suggest hitting the 'email me when this is back in stock' button on the page and when you receive that email, I urge you to go go go because as you can see, it's not going to hang around for long!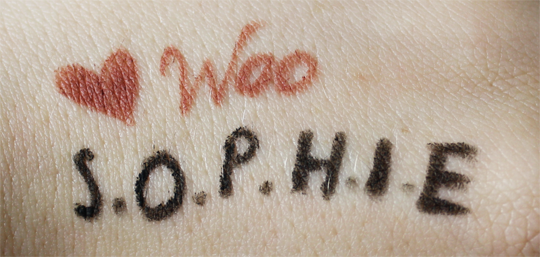 One last thing, while we're on the subject of Illamasqua – did you know they've revamped and reformulated their pencils? Compare the new ones at the top of that photo to the old ones below – they're longer, they come with black lids (which look much classier than the old clear plastic ones) and a colour drop on the end so you can find them easily among your stash. The formula is far creamier and easier to work with than before, whilst still setting to an un-budgeable finish. The two shades I have*, Woo and S.O.P.H.I.E are an absolute delight, with Woo being the ideal shade to start off a nude lip look, and S.O.P.H.I.E showing up well in the waterline for a classic black liner look. High fives on the revamp Illamasqua, these are fab.