You might remember my instant love affair back in February with The Body Shop Brazil Nut Collection. Whilst those products aren't available any more (sob), there's a new, equally sweet-toothed Community Fair Trade collection in town, in the form of The Body Shop Honeymania collection*.
We all know about honey's elite status as a natural nutrient-rich moisturiser for the skin, not to mention its delectable sweetness, and honey doesn't get much better than this. The honey used in The Body Shop's products is exclusively sourced from the remote Sheka rainforest of Ethiopia, where it's organically hand-harvested from only the purest quality honeycombs. So decadent is this particular type of honey, that it's sold by high-end brands and stores over the world as an expensive table honey.
Fascinatingly, it's not just the beekeepers in Ethiopia that put in a lot of work to produce it. The bees themselves are the real unsung heroes. To gather enough honey to make just one of every product in the Honeymania collection, it takes 95 bees, travelling 2,184 kilometres, harvesting the nectar from 48,540 flowers. The flowers themselves play an interesting part, too: Ethiopian Sheka honey is distinctive from any other type of honey in the world due to these fragrant rainforest flowers, which give the honey a unique and distinctive taste and green floral aroma. This in turn means that The Body Shop Honeymania products are less in-your-face-saccharine-sweet, and more delicately-sweet-and-floral. Honestly, you'll have to smell the range for yourself when it launches later this month to see what I mean.
The Body Shop Honeymania collection comprises the following products: the classic Body Butter (£10), Bubble Bath Melt (£8), Body Scrub (£9), Shower Gel (£4), Eau de Toilette (£8.50), Lip Balm (£3.50) and Soap (£2). So there's rather a lot to choose from for anyone with a sweet tooth!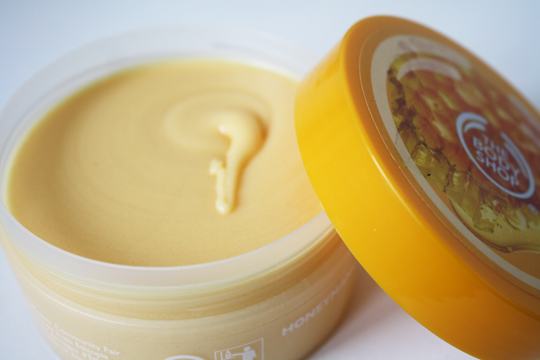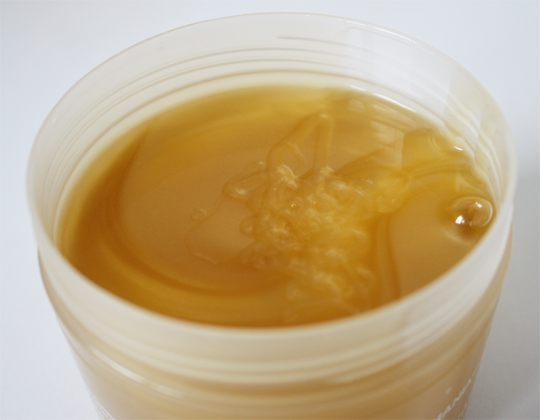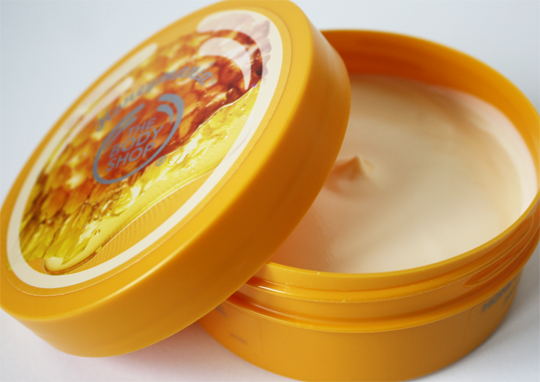 My personal favourite is the Body Scrub. This is really different to any other scrubs I've tried from The Body Shop – the base is thick, rich and creamy offering gentle but effective exfoliation with a good hit of moisture thrown in for good measure. The Bubble Bath Melt is really interesting too, the scent consistency of this in the pot really is like pure runny honey but pour it under the tap and you'll be treated to a mountain of nourishing and fragrant bubbles to soak yourself in. The Body Butter, well, it's a Body Butter – we all know and love them well and provided you like yourself a bit of honey, I guarantee you'll love the soft and delicate scent of this one.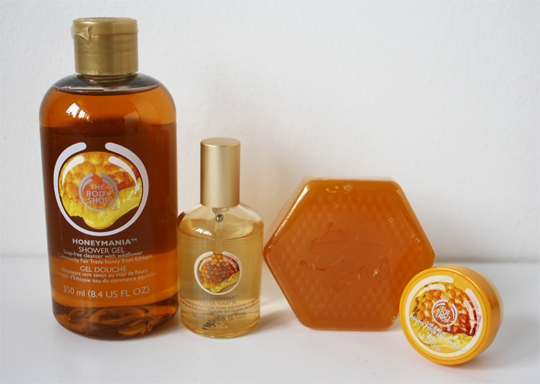 The Body Shop's Shower Gels are always worth grabbing – they're very fairly priced and of course smell delicious. I usually chop and change what I'm using in the shower every day, but I can confirm that the Honeymania shower gel hasn't left the side of my bath since I got it. As for the Eau de Toilette, I declared my love for these back in April so it's great to see a new member of the family. The EDTs are fab for scent layering – I've been lathering up with the Shower Gel, buffing away with the Body Scrub, slathering on the Body Butter and topping it all off with a spritz of the EDT for the ultimate in indulgent routines! The soap is cute, with its honeycomb imprint and sweet little bee embossed onto it, but I have to say I rarely use solid soaps these days. As for the lip balm, I have to say Nuxe Reve de Miel beats it for effectiveness but The Body Shop's version wins out for scent and taste (not to mention price). Personally, I think the only thing missing from the collection is one of their gorgeous Beautifying Oils.
The Body Shop Honeymania products will all be released in stores and online on the 18th September 2013. I highly recommend picking up some bits – it might be worth waiting around for a promotion, as The Body Shop often have great 40% off weekends.
Which pieces do you think you'll be picking up?