Generally speaking, I'm not a huge fan of London Fashion Week – mainly because it always makes me feel hideously unfashionable and perpetually underdressed – but one thing I absolutely love about it is getting to see makeup artists working backstage, creating looks to perfectly reflect the designer's garments. I checked out the backstage action for two Fashion Scout shows this season with The Body Shop, so here's a peek at what went on.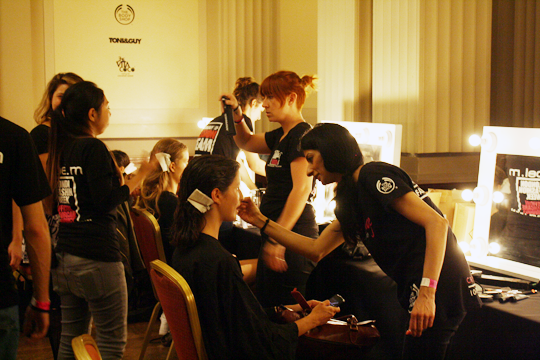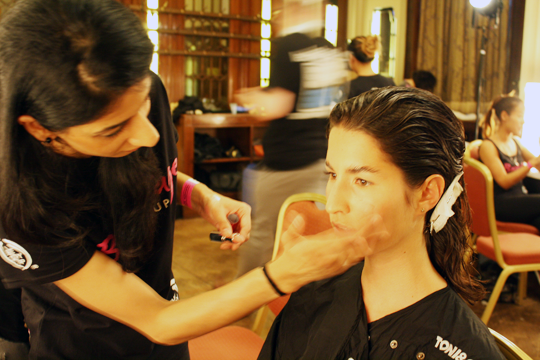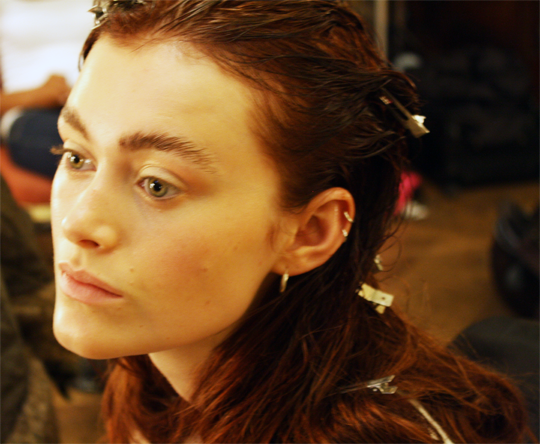 First up was the Fashion Scout Merit Award. If you've been reading Do Not Refreeze for a while, you might remember my snaps of Yulia Kondranina's designs from the Ones to Watch show last season. Well, this season, Yulia is celebrating winning the Merit Award. To complement the almost tribal feel of her garments, Lan Nguyen-Grealis and her team set about creating a barely-there makeup look with the focal point being a strong and edgy brushed-up brow. Hair, by Toni & Guy, was kept swept back at the top with natural waves.
The Body Shop's All-in-One BB Cream and Radiant Highlighter formed the base, while the eyes were kept simple and contoured with Colour Crush Eyeshadows in Oh Honey and Be My Clementine, eschewing liner and mascara. Colour Crush Lipstick in Innocent Pink was patted gently onto the lips to create a hint of nude colour, and the statement brow was brushed into place with Brow & Lash Gel (I love this stuff!).
The natural 'I promise I'm not wearing any makeup' look worked excellently with the intricate weaving techniques used in Yulia's garments, which took strong influence from her native Russia's traditional embroidered costumes. My catwalk photos all turned out like utter crap sadly, but there are some fab shots over at Fashion156 if you're interested.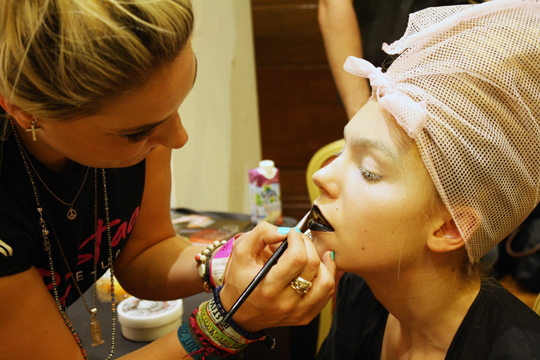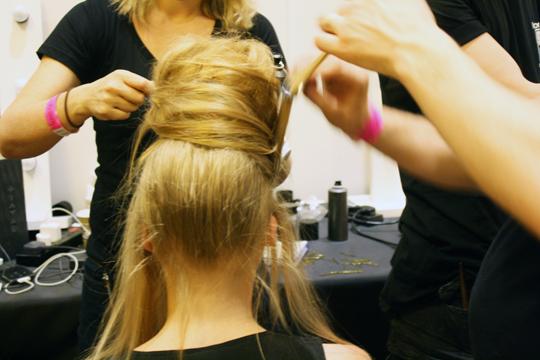 In sharp contrast to the Merit Award's look, the makeup for Chinese designer Pinghe's SS14 collection was super avant-garde and a pleasure to see in the making! Pinghe's style derives from her love of architecture, with strong and structured silhouettes taking centre stage. A lot of the garments would be wearable straight off the catwalk, if you ask me, with lots of flattering peplum pieces cropping up. Again, my catwalk photos came out terribly but do take a look over here.
The makeup look comprised a whitened face, and a bold jet-black lip with rhinestones. The face was made up with bestselling Moisture Foundation and set with Colour Crush eyeshadow in Sugar Gaze to create the shimmering white finish. Contouring the models' cheekbones was done with the Brow and Liner Kit for a strong, defined look. Eye Definer pencil in white and Sugar Gaze eyeshadow were all that adorned the eyes. The main focus was of course on the lip, which was achieved with Eye Definer in black, with a sprinkling of black glitter and a column of rhinestones down the centre of the lip.
The models' limbs were given a subtle glimmer with lashing of Coconut Shimmer Body Butter. Toni & Guy created a structured updo to complement, with coloured strips of white or black hairspray dependent on the model's hair colour, to complete the monochromatic look.
All in all, two very different but equally enjoyable shows, and I can't wait until next season when I'll certainly be spying on Fashion Scout's makeup teams again!