First of all, apologies for the two nail posts in a row but I have had the most insane week (and nail posts are easier than others.. shh). Work has been beyond crazy, I've been out every night of the week and only just now am getting the chance to sit the hell down and chill out. It is a very cool nail polish that I'm showing though, so I think it's excused! Take a look at SpaRitual HaHa*!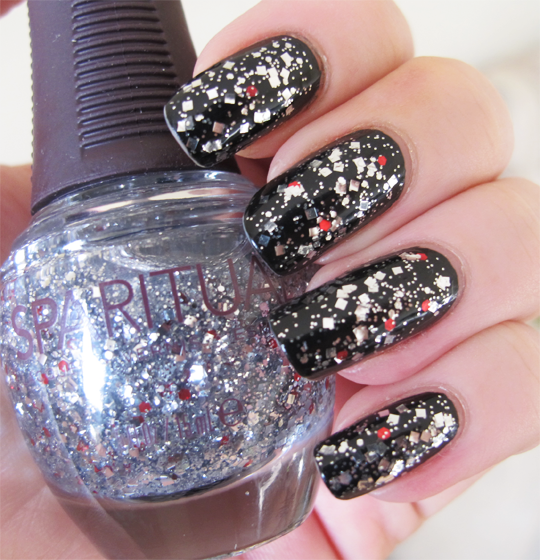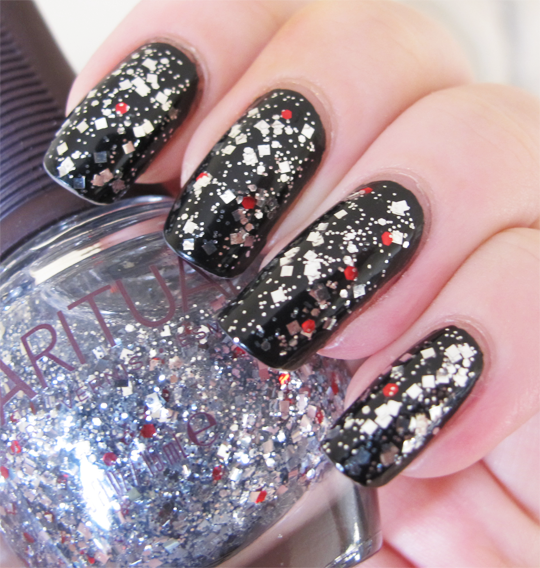 How pretty is this? HaHa is from SpaRitual's Laugh collection, and it's the first glitter I've tried from the brand – I'm already a big fan of their creme and shimmer finish polishes and now I have been well and truly convinced that their glitters are fantastic, too. I have applied one coat of HaHa over black (my favourite a-england Camelot of course), and I'm pleased to report that it applies really easily with a good, even distribution of glitters and no need to dab it on. There are silver glitters in square and hex shapes along with tiny silver glitters, and the little red hexes add something special. This is the sort of polish I'd expect to see from an indie brand, so it's fun to see something creative from a name brand.
The SpaRitual polishes I've previously tried are ones that I picked up from the Professional Beauty Show earlier this year, but I wasn't too sure where to get them otherwise. I actually was sent this one by the lovely Emma, owner of Nature's Beauties which is a UK beauty boutique stocking only cruelty-free brands. At Nature's Beauties, a full size (15ml) SpaRitual polish costs £10.89 and a mini (5ml) costs £6.89.
Do you have HaHa or any of the other colours in the SpaRitual Laugh collection? Have you tried SpaRitual polishes at all? If not, why not? Go get yourself one right now! :-)