You know, across all the many dozens of brands I've tried, I still think China Glaze is my absolute favourite when it comes to nail polish. They do a multitude of finishes so well, and it's easily the largest nail polish collection I own (followed closely by Illamasqua, of course!). I have quite a handful of China Glaze polishes I bought at the Professional Beauty show earlier this year that are still sitting untried, so I thought I'd crack a couple of them out – the first one being Keep Calm Paint On from this Spring's Avant Garden collection.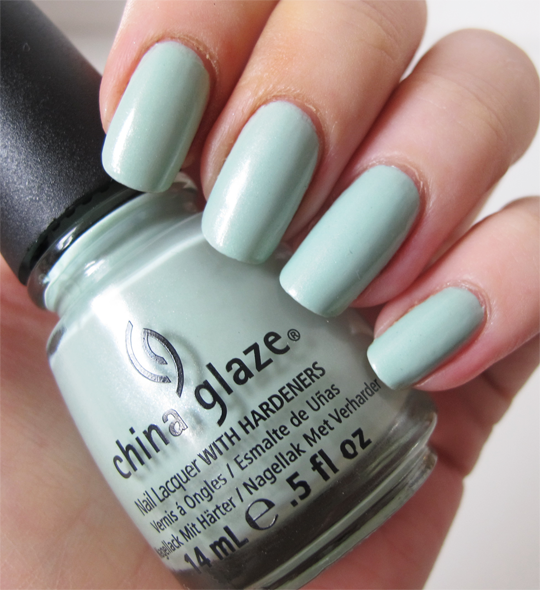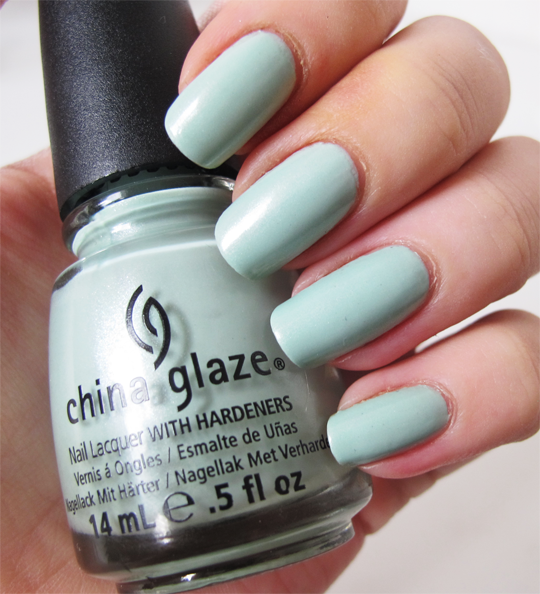 I really, really like this shade. I think I'd describe it as more of a seafoam than a mint green, but it sure is pretty and it doesn't give me lobster hands which is always a bonus. I'm not sure how well you can tell from the photos, but there is a very gentle shimmer through it which help lift it to slightly more interesting territory. Two coats and it's perfect. It dries fairly quickly as most China Glaze polishes do, to a decently shiny finish.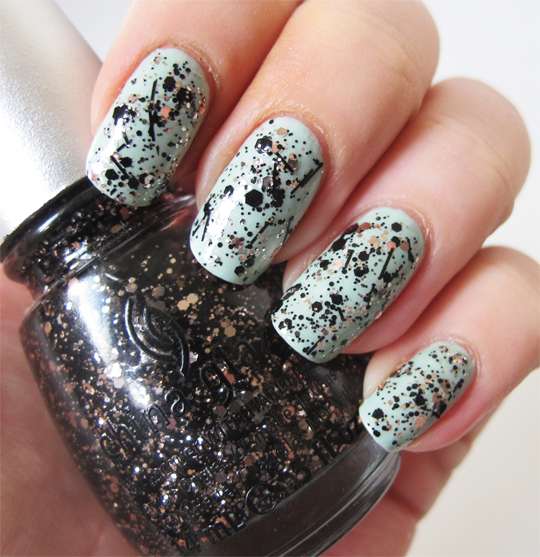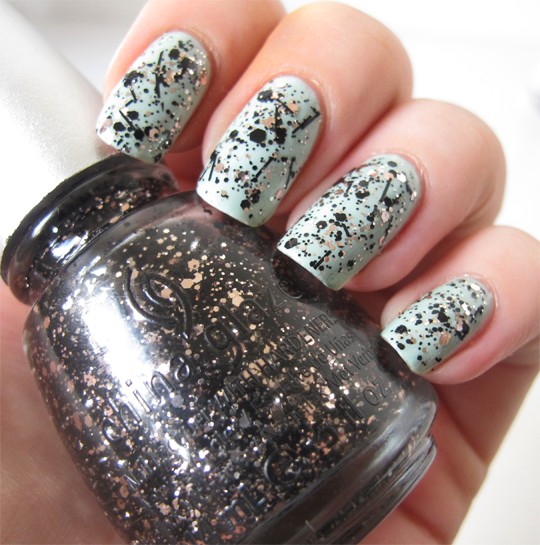 The following day I added a coat of Razzle Me Dazzle Me, from the Glitz N Pieces collection that came out early this year. I really like the Glitz N Pieces polishes, they're pretty fun to look at with a multitude of sizes and shapes of glitter. They're quite easy to apply as well, especially in comparison with other polishes of this nature. The pieces tend to stay well suspended in the clear base and are well distributed, so you don't need to go fishing too much to get the right amount on your brush. If any larger glitters are poking up, you can easily flatten them down with a very light touch as they're quite flexible.
I got a bit of a feeling of deja vu with this manicure, and then I remembered applying China Glaze Scattered & Tattered (another Glitz N Pieces) over SpaRitual Delight, which was a fairly similar look. Not sure which combo I like best!
China Glaze polishes are available in the UK from a few places, most notably Beauty Bay. On there, you can find Keep Calm Paint On for £6.95 and Razzle Me Dazzle Me for £9.75.