You probably know me well enough by now to be well aware that Illamasqua is my most favourite brand of all time ever, and there's scarcely a thing in this world that excites me more than the launch of a new collection from them. Luckily they seem to now be releasing four new collections a year rather than just two, so there's double the excitement and double the glorious product to behold! What better time to showcase my favourite brand than my birthday?! I'm twenty-two today, by the way. Just sayin'. Without further ado, allow me to introduce you to Illamasqua Sacred Hour.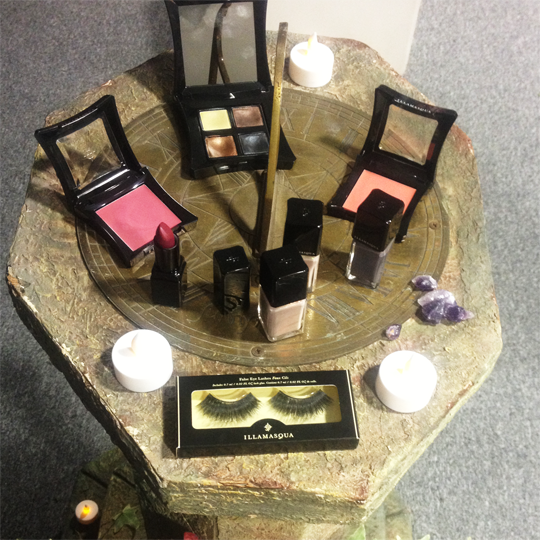 Sacred Hour actually refers to two times of day, dawn and dusk, times for inner peace and self reflection. As ever, the most stunning characters have been dreamed up by the inimitable Alex Box to represent the collection – the Dawn Spirit and the Dusk Warrior. You can get a good look at the characters in this teaser video, which is as beautifully made as the products. The products themselves are a far cry from the toxic neon hues of last season's Paranormal collection, with far more neutral, universally appealing shades so I predict that Sacred Hour will be hugely popular. Fortunately we know by now that Illamasqua do neutral just as well as they do bright, so we're definitely in for a treat with this collection.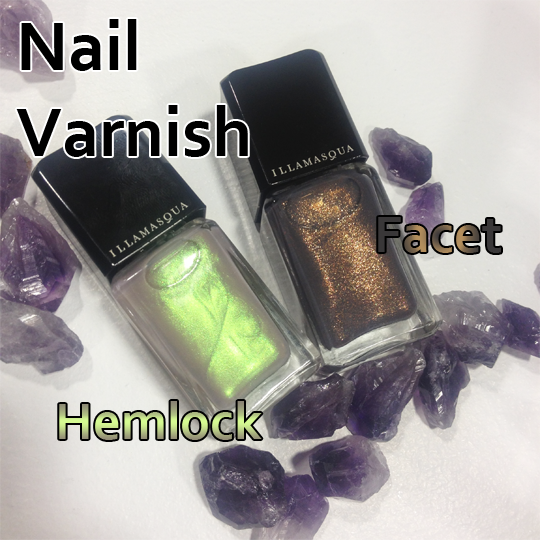 First up, two new Nail Varnishes (£14.50) in Facet and Hemlock. You might recognise the sheer opal-green hue of Hemlock – it was a limited edition shade a couple of Christmasses ago but I'm pleased they've decided to repromote it as part of Sacred Hour because it fits the tone of the collection perfectly (that, and I missed out on getting hold of it last time round!). I imagine this will be best for layering, a la Prism, but will definitely report back when I've done some experimenting. A little birdie (the fabulous David Horne) told me that Hemlock looks beautiful layered on top of Facet, which is a sight to behold in itself. The base colour is a murky, purply, dark heather-grey sort of shade, very unusual and difficult to describe! It's packed full of flecks of bronze, too.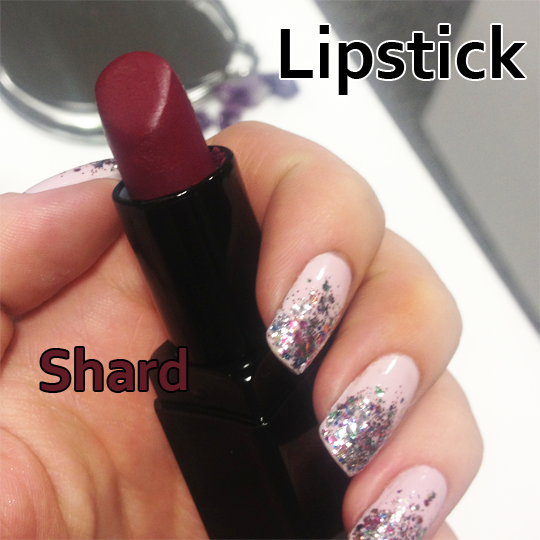 Next, a new Lipstick (£16.50) in the shade Shard. A hybrid of red and violet that's nothing short of sexy, this is a great Autumn colour and I look forward to trying to pull this off. It's not my usual sort of colour, but Illamasqua are total pros at getting people out of their comfort zone and hey, if I managed to get on with Cadbury purple ESP lipstick I'm sure I can cope with this wine-like shade!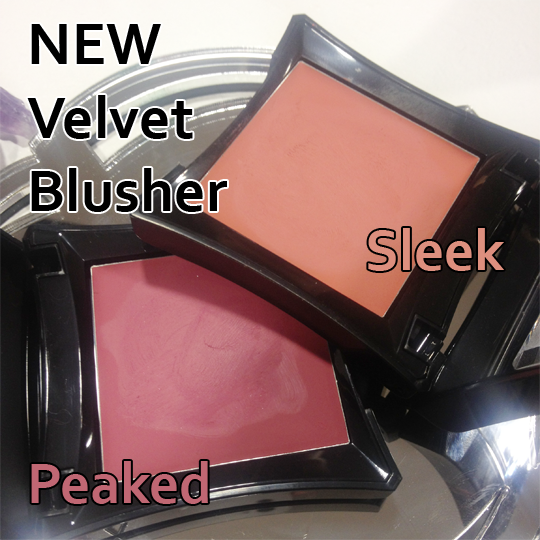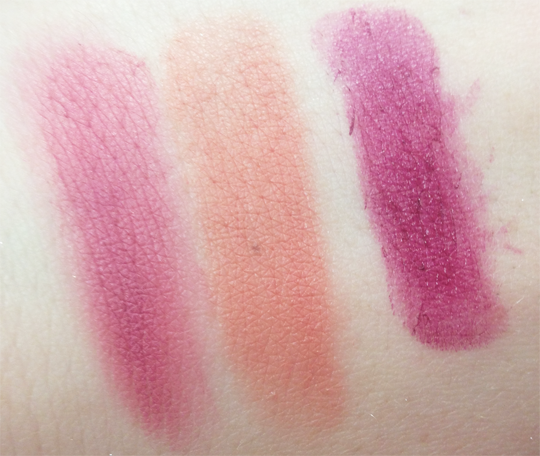 Swatches: New Velvet Blusher in Peaked, New Velvet Blusher in Sleek, Lipstick in Shard
Now these are very exciting. Like many others, I am a big fan of Illamasqua's excellent Cream Blushers. They are simply the most pigmented and creamy I've come across, but unfortunately with my oily skin I have trouble getting them to last all day unless I layer them with a powder (which sort of defeats the object if you ask me). That clever clogs David Horne has answered my prayers with these brand spankin' new Velvet Blushers (£18.50) – a cream-to-powder formula that promises to agree much more with an oily skin type. After having a good swatch I can confirm that they blend like an absolute dream, but I will put them to the long-wear test very shortly. Whilst there are only two shades at the moment, pretty much any skintone should find that at least one of these is very well suited. Sleek is a dusky coral that should flatter warmer skintones while I imagine the dusky rose Peaked will look stunning on the fairer among us.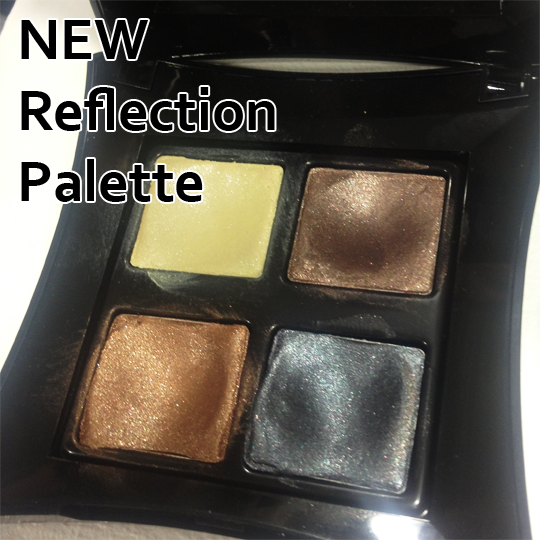 NEW Reflection Palette swatches: Precipice, Acute, Graphica, Dart
Now here is my absolute favourite, the new Reflection Palette (£34). I am a proper floozy for Illamasqua palettes and this might just be my favourite one yet (although last year's Complement Palette is still a very strong contender!). With the same bouncy, unique formula as this Summer's Paranormal Palette, you can achieve a variety of looks by smudging on a sheer wash of colour or building up a highly pigmented and dramatic eye look. Whilst the colours are neutral, they're still a little different to what can be found elsewhere – as if we would expect any less from Illamasqua, right? I seriously cannot wait to start playing with this badboy and suggest that if you only get one thing from this collection, the Reflection Palette should be it.
Also part of the Illamasqua Sacred Hour collection, but not pictured here, are a pair of False Lashes in Lush (£14.50) which offer a full and fluttery look and, in keeping with the naturalistic theme of the collection, are fairly wild and scruffy looking, but in a really demure and pretty way. Lastly (but certainly not least) there is a welcome addition to the Skin Base family in the form of Skin Base Lift Concealer (£16) designed to work in tandem with Skin Base foundation and Hydra Veil, to truly brighten under the eyes. The brightening effect is achieved by infusing all 6 shades (plus one more in pure white) with warm peach-toned pigments to colour-correct the blue tone of undereye circles. David applied a little to my undereye area, and I swear I've never looked so awake after such an exhausting day. He also showed us how you can use it to sort of reverse-contour under the cheek to create a really defined cheekbone – clever stuff.
I say it every time without fail, but Alex, David and the entire Illamasqua team have truly outdone themselves. There's not one thing here that I'm not keen on, and I will definitely be showing you some of these pieces in more detail very soon. In the meantime, tell me what you're gagging for from the Sacred Hour collection – 'all of it' would be the expected answer!
Illamasqua Sacred Hour is available NOW exclusively from Selfridges, and will launch onto all counters and into all flagship stores on the 19th August 2013. Start making your shopping lists now!
P.S. Sorry for the craptastic iPhone photos, muggins over here forgot to take her camera to work that day…