In the last few years, especially since about 2010, nail art has become an absolutely huge phenomeon (yeah, that means I was blogging about nail art before nail art was cool. Get me!). Did know know that there were over 1.8 million Google searches for nail art in just the last month? That's insane. Sales of nail products are even outgrossing sales of lipstick right now, can you believe that?! Lots and lots of brands have cottoned on to this, releasing what I call effect polishes (i.e. glitters, polka dots, sheer duochromes, crackles etc etc) left, right and centre. L'Oreal Paris in particular have capitalised on the nail art trend by snapping up what was probably a very expensive domain name, nail-art.com.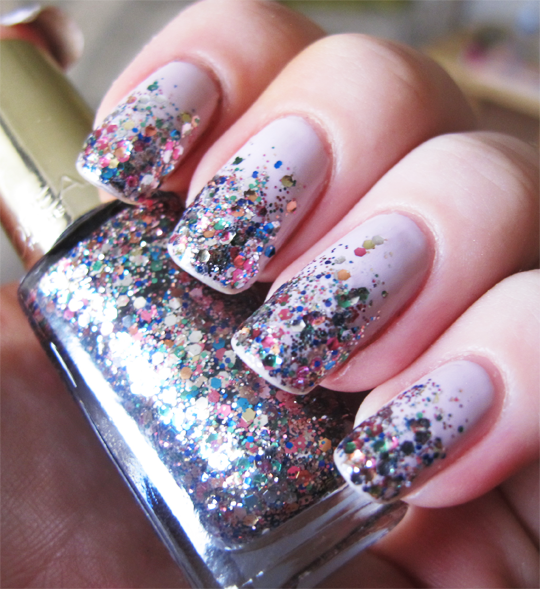 Nail-art.com is set to become a very popular resource for all things nails, with trend reports, tutorials and tons more. Whilst the site is relatively new at the moment, I'll be keeping an eye on it over the coming months for anything particularly inspiring. Speaking of inspiring, when I got my hands on this gorgeous L'Oreal Paris Colour Riche polish in Sequin Explosion* I simply had to use it to create some epically simple nail art inspired by a design from celebrity and session manicurist Grace Humphries. You don't even need me to tell you how to do this, anyone can do a glitter gradient. Even on their non-dominant hand! But the beauty of something like this is in its simplicity.
I started with a base coat and two coats of Models Own Utopia. Then I applied one coat of Sequin Explosion (great name, huh?) from about 2/3 of the way down the nail, a second coat of it from about halfway down, and a third just on the tips. A good thick layer of quick-dry topcoat – I think I used China Glaze Fast Forward – smoothed everything over and left me with some seriously glittery talons. It was pretty sunny over the few days I had this manicure on, and the glitter particles really shone in the light which was lovely. Tip-wear did set in pretty fast (which you can see in the pictures, sorry!) but that's to be expected when you've piled up so many coats on your nails. C'est la vie!
So, if you're into your nail art, do keep nail-art.com bookmarked – it looks like it's set to become the place to see and be seen for anything nail related in the not-too-distant future!