I think Good Things is a massively underrated brand when it comes to affordable skincare for young or blemish-prone skin. Every product is free from parabens, sulphates, the controversially pointless mineral oil and they're all cruelty free to boot. I've been a fan of their Miracle Mattifier moisturiser for a couple of years now, and I just love the natural superfruit goodness that's crammed into the cute lilac packaging. Historically, budget face masks and I have got on famously (like Dirty Works Vitamin C Mask and one of my favourites Amie Spring Clean) so I had high hopes for the Good Things Five Minute Facial Mask*.
Well, I'm pleased to report that this completely lives up to my expectations. As with all Good Things products, it smells divine! It's a Kaolin and green clay based mask, and you know how much I love a good Kaolin mask. The hero ingredients are willow bark which has an anti-microbial effect on the skin, avocado oil for some serious natural moisturisation, and goji berry extract (which is also the star of the Miracle Mattifier I mentioned) to soothe the skin. It smooths effortlessly onto the skin with no drag, and applies especially well with a brush. Anyone else prefer to use a brush for face masks? Minimises product wastage and gives a use for those hideous flat foundation brushes that no one actually likes for foundation! It gets to work quickly, with that weirdly pleasant tightening feeling as it dries – you know, the 'now I get to pull funny faces and watch it crack' kinda feeling? Just me? Oh, okay then…
Rather than struggle to get it all off with water and your hands, crack out a flannel for removal – this of course has the added bonus of a light exfoliation. Once it's all rinsed away, you'll reveal brighter and smoother skin for the princely sum of £5.99. Awesome.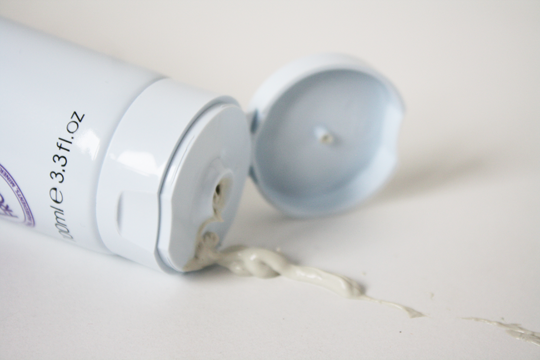 Tried to be all arty and shit, tried to squeeze out a little bit for a photo. Squirted it everywhere. Such is life, I suppose.
You can pick up Good Things products in Boots, and larger Sainsburys and Tesco stores if you're lucky. I wish my supermarkets had something to distract me from the monotony of grocery shopping. I think the next product on my Good Things hit list is the Blemish Control Gel Mask – sounds fab.
Are you a fan of Good Things skincare products? Anything I'm missing out on? At such a purse-friendly price point, I'm open to any and all recommendations!