Brows. The bane of my life. My most recent love had been Pixi's Natural Brow Duo (review here) but I was starting to get the feeling that it just wasn't doing enough for me. It's still great if I'm having a GBD (Good Brow Day!) but I've found a new saviour for days when I'm just hating on my brows. I picked up Make Up Forever Aqua Brow in Shade 10 on a whim whilst I was at IMATS a couple of weeks ago and I tell you what; Best. Impulse buy. Ever.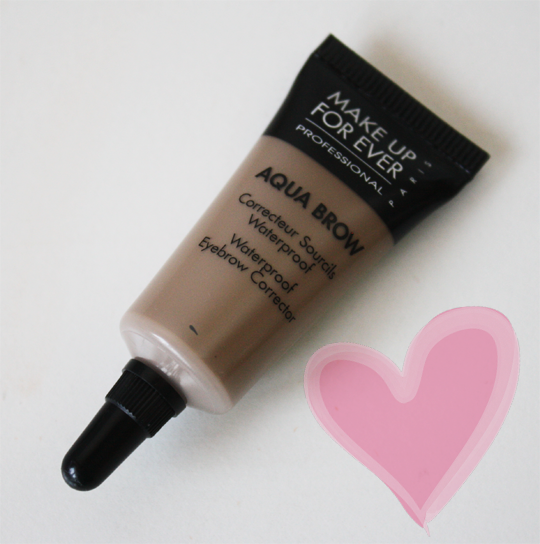 Make Up Forever Aqua Brow is simply brilliant. It's a waterproof brow colour in a creamy gel sort of texture with a moderate hold like you'd get from soft wax. It fills your brows in properly, looking a million times better than any pencil or powder (in my humble opinion!), yet still with a fairly natural looking finish. That is, your brows look even and 'done' but not necessarily filled in. The resulting look remains exactly as you applied it all day long, and is designed to hold up in all conditions from heavy rain – which I can vouch for – to extreme heat – which sadly I can't vouch for.
You only need the teeniest, tiniest pinhead-sized amount of this, too. It's got some serious pigment, so it may take a bit of getting-the-hang-of when it comes to application but it's very easy to master. You can see below the teeny speck on my hand – that's plenty for both brows.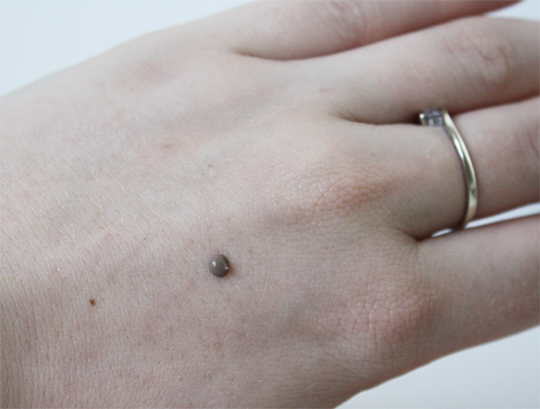 I've been applying the Aqua Brow with a Royal & Langnickel [R]evolution brush, the BX-130. I reviewed some of the [R]evolution brushes last year and I liked them a lot (bar one which was a total dud!). While perusing the Royal & Langnickel stand at IMATS, I grabbed the BX-130 thinking it looked like the perfect brush to use with Aqua Brow and damn, that was a good shout. The perfect blend of softness and stiffness, with no unwanted scratch, and great density that deposits neither too little or too much product. Looove it – best eyebrow brush ever. You can grab one from Amazon for a super reasonable £4.90.
Now, coming to the price of the Aqua Brow, it's actually a lot better than I thought it was. I paid just over £20 for mine at IMATS, and it came in a little kit – a little bag, and a mini angled brush and spoolie. I found out that this kit retails for a little over £30, which I did think was steep but I've since discovered that the Aqua Brow by itself only costs £16.95 in the UK. How they can charge pretty much double for the mini bag and brush/spoolie is totally beyond me! Skip the kit, grab the product alone and get yourself a Royal BX-130 brush!
So, this wouldn't be much of a review without a before and after. Naturally, the first photo is with a bare-nekkid brow and the second one is wearing the Aqua Brow. Try and tell me that doesn't look ten million times better?
So there you have it. I have no hesitation in boldly proclaiming that Make Up Forever Aqua Brow is my official HG brow product! For reals. It's amazing, and I love it. There are 7 shades available, you're bound to find one that works perfectly for you. YOU NEED IT. Cannot recommend highly enough *gush, swoon etc*.
Make Up Forever is notoriously hard to get hold of in the UK but you can pick it up for a decent £16.95 (especially good value when you consider how long this is going to last you!) from either PAM or Guru Makeup Emporium. DO IT. DO IT NOW!