Eyeshadow is one of my biggest vices. I have hundreds and hundreds and hundreds of the buggers, and I can never resist a shiny new eyeshadow palette. Most of the time I can't be bothered with the faff of pulling out a handful of single shades to create a look when palettes are so much more convenient and offer several well-coordinated colour combinations in one place. The newest one to take centre stage in my eye makeup routine is this gorgeous Smashbox Heatwave Palette*.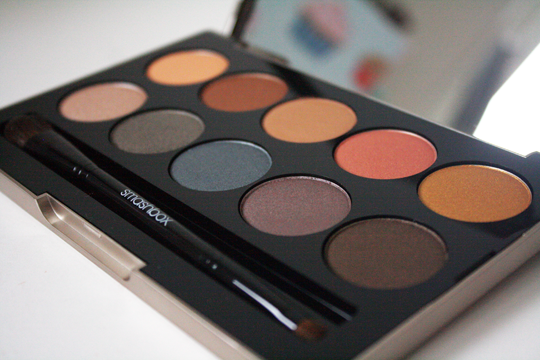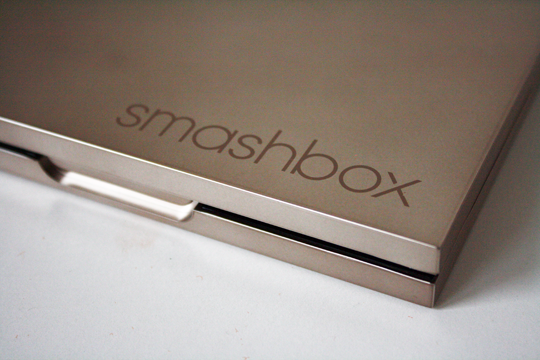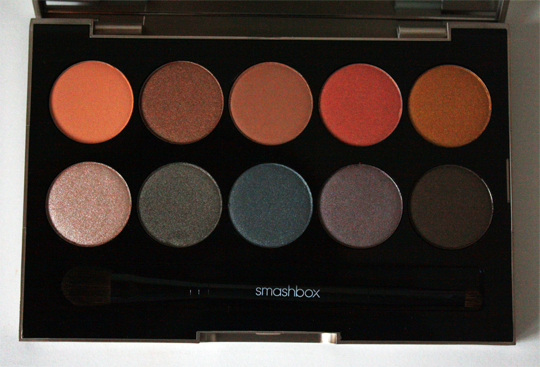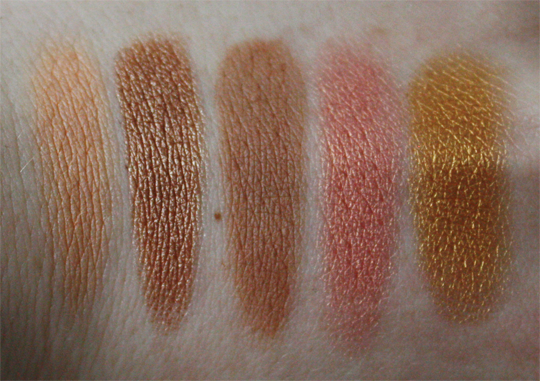 Swatches: Top row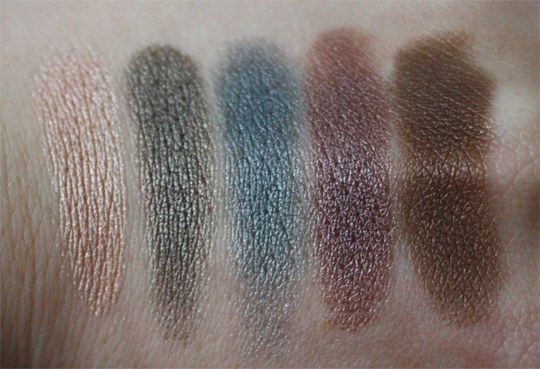 Swatches: Bottom row
Would you believe that before this palette came into my life, I was a Smashbox eyeshadow virgin? I am a convert now; the shades are super pigmented and practically blend themselves with virtually no effort on your part. Their awesome wet/dry formula is worth a mention too – many 'standard' pressed shadows (with the exception of baked colours) just aren't suited to use wet – they just become muddy and unblendable. These Smashbox shades are another story, offering an even more intense colour when applied with a damp brush and still blend together with ease. I would suggest that if you're going to use them wet, to just keep to one side of the shadow pan so as not to spoil the dry part. Whilst they do work well wet, I prefer to use them dry mostly because I'm too lazy to bother with foiling on a regular basis but it's nice that the option is there.
The colour selection in here gives some great options for a really sultry summer look, and the layout of them is pretty handy; the top row of colours are ideal for a fairly neutral daytime look and the bottom row is perfect for an evening smoky eye. To me that suggests this would be a great choice for a holiday makeup bag, if you're going away it's got everything you need for your eye makeup with the exception of eyeliner and mascara. This is especially true thanks to the double-ended brush (which is surprisingly good considering most brushes included in palettes are utter crap) and the massive great mirror.
Standout shades for me are the satin finish brown in the middle of the top row (perfect for blending out other colours, adding some warmth and makes a great crease colour too), the golden pinky-peach shade second from right in the top row (what can I say, I just love that shade – and have a billion others like it *cough*) and the grey-ish purple shade second from right on the bottom row. I'm pleased to report that there are no duds though – every shade is as good as the next one and the formula is very consistent.
Below are two looks using the palette, one with shades from the top row and one with shades from the bottom row.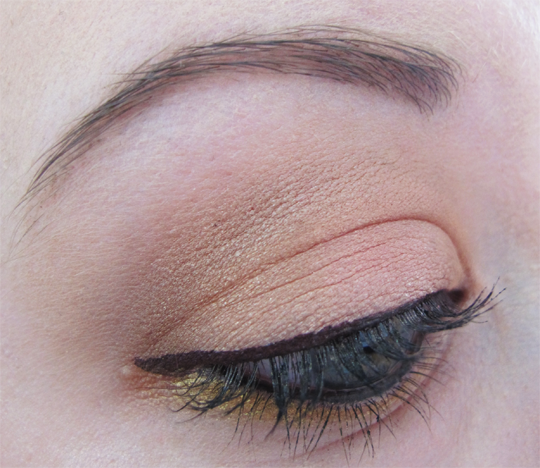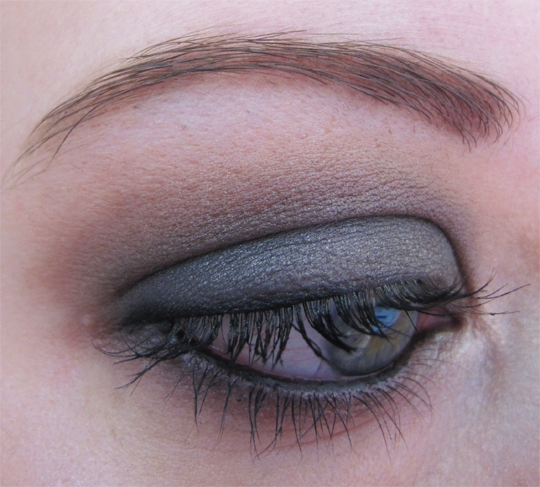 The Smashbox Heatwave palette is available now on counter and online for £36.00. Whilst this initially seems quite expensive, consider that this works out at £3.60 per eyeshadow with a free brush and a stylish and sturdy well-designed compact. Not bad really, not when this palette alone can easily see you through the Summer and happily into the Autumn/Winter season too, thanks to the versatility of the colours.
What do you think? Is this Smashbox palette creating a Heatwave on your lust list?