For the last year or so, I've been an impeccably good girl when it comes to my evening skincare routine. Without fail, no matter how exhausted I am, I will spend an indulgent 15 minutes removing my makeup, double cleansing, serum-ing (yeah alright, I know that's not a word) and moisturising, a face mask or my Clarisonic thrown in a couple of times a week for good measure. The morning however, is quite a different story. I am not a morning person, and thusly every last possible second that I can spend in bed, I do spend in bed. In recent weeks though, I've been making a concerted effort to drag myself up 5 minutes earlier to get a speedy dose of quick fix morning skincare into my routine.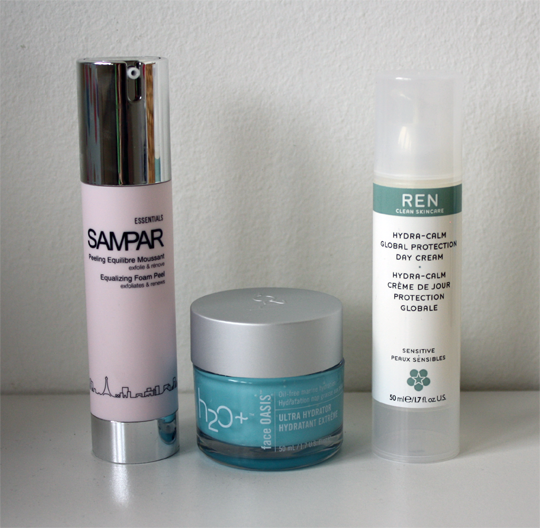 I've narrowed my daily morning routine down to just two products (with a third thrown in every now and then), but can definitely feel a difference especially in the way my skin feels under makeup. Even with the third product in the mix, I can happily get my routine done and dusted in the time it takes for the kettle to boil. Here's a bit of a closer look at the products I've got in rotation…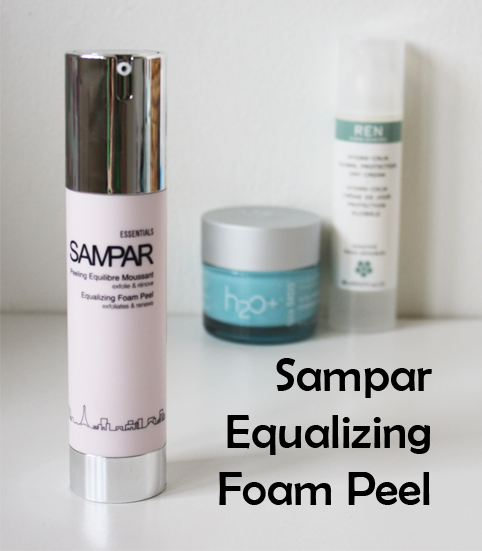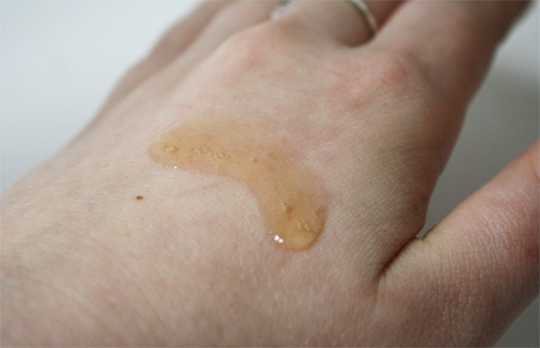 Sampar Paris is a new brand to me, but it's been a pioneer in the French high-end skincare market for years. The 'optional' product in my routine, the one I crack out if my skin is looking sluggish and full when I wake up, is this Equalizing Foam Peel*.
Essentially, you apply it like a mask, it purifies like a peel and rinses off easily like any old cleanser. This granule-free exfoliator contains probiotic enzymes and a blend of essential oils including lavender, sage, thyme, rosemary and geranium. On paper, I like the sound of that, but all those scents together create a concontion that my nose isn't too keen on – but my skin definitely is so I can put up with it. It works in a very similar way to Yon-Ka Gommage 305 (review here), but much more quickly and with a less awful scent.
It really does work quickly; I can just slap a couple of pumps of this on and in the time it takes to brush my teeth, it's rinsed off to reveal instantly brighter skin. The radiance-imparting effect isn't dissimilar to the likes of REN Glycolactic Radiance Renewal Mask (review here), but again it's a lot quicker to get to work and easier to rinse off so far more suited to a morning routine.
Now, I like this but it is flippin' expensive. The 50ml tube will set you back a massive £48. It's up to you to decide whether you think it's worth it or not; as much as I enjoy using it I doubt I'll repurchase because it's simply out of my budget. If you've got the cash to splash, you can pick it up from M&S Your Beauty or Feel Unique.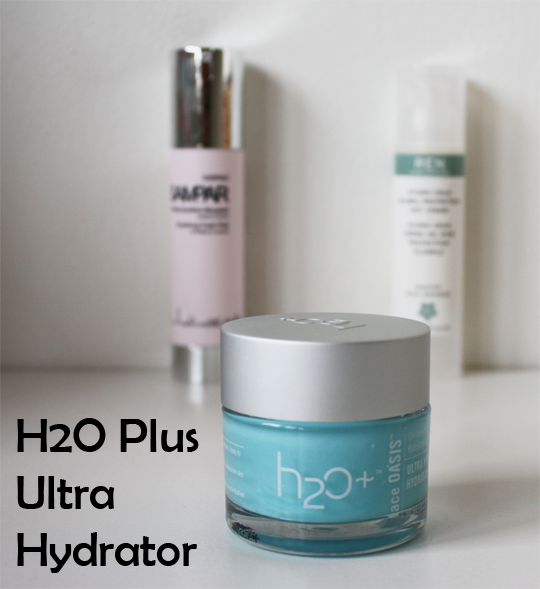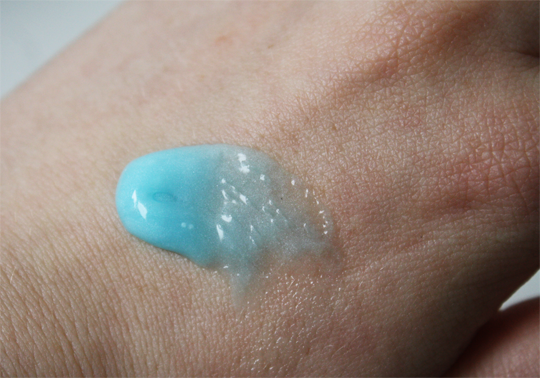 More than once, I have expressed my love for H2O Plus' Hydrating Booster. Well, this H2O Plus Ultra Hydrator* is like that, on crack. The marine botanicals in H2O Plus' products really agree with my skin, working to control oil production and actually hydrate at the same time, rather than stripping all the moisture out.
The gel-cream formula of the Ultra Hydrator is ever so slightly thicker than the Hydrating Booster, but it still has that same cool, fresh and light feeling on the skin. Whereas the Hydrating Booster comes in a pump bottle (which I generally prefer for hygiene's sake), this one is in a jar and the biggest difference is the inclusion of the little 'nutri-spheres'. These soft little beads dissolve with the heat of the skin and deliver a surge of antioxidant vitamins to the skin which helps it look more lively and protects it from the grub and grime of the day.
Rather than slap this one straight on my face, I prefer to rub a tiny amount (trust me, a little goes a long way) between my palms to dissolve the nutri-spheres first, and then massage into my face. It just feels lovely! Much like the Hydrating Booster – which I still love – I would wholeheartedly recommend this and although it seems fairly pricey at £32.50 for 50ml, H2O products last absolutely forever. You can pick it up from M&S Your Beauty.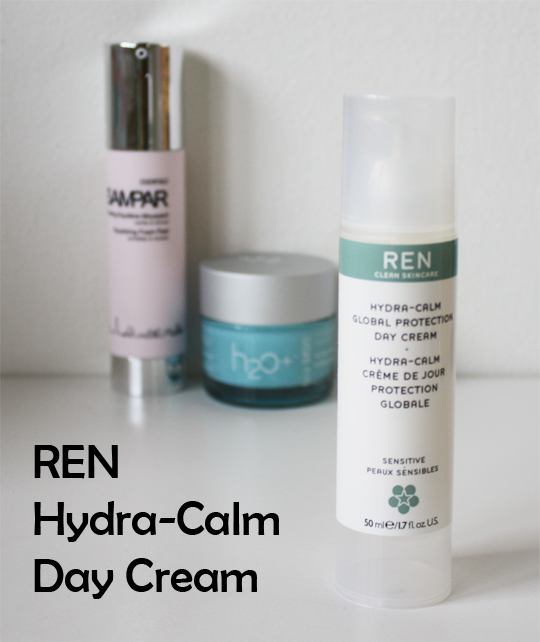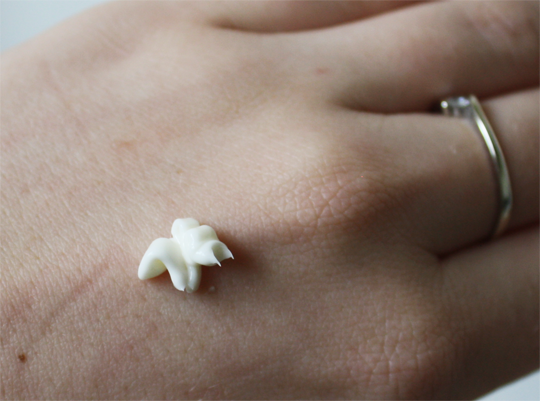 Yep, REN have still got me swooning and can still do no wrong from everything I've tried so far. The Hydra-Calm Global Protection Day Cream* is actually what kick-started and encouraged my morning skincare routine; pretty much every other moisturiser I own feels too heavy on my skin for daywear so this has filled a partcularly empty cavity for me.
I've always thought that the whole free-radical business sounds like crap and just a way to sell products that supposedly protect you against them, and I hate to say it REN but I still feel that way. But that doesn't change the fact that I love this moisturiser on my skin, and the abundance of antioxidants in the formula (including ones derived from arctic blackcurrants, cranberry seeds and other yummy things) make it feel all the more enjoyable to use. Since my skin has already been well-hydrated by the H2O Ultra Hydrator, one pump of this is all that's required to round off my morning skincare routine in a grand total of about 4 minutes. Done!
If you'd like to try the REN Hydra-Calm Day Cream, you can get it from any of REN's usual stockists including M&S Your Beauty (again!), Space NK, Liberty, John Lewis and I think Selfridges too but I can't find it online. In all of these places, it'll cost you a fairly reasonable £27 for 50ml.
So, well done if you got through my rambling essay – and please tell me, what morning routine do you follow for your skin? Do you even have one?