So my most recent post was all about the demure, staple polish shades in the Liz Earle Nail Colour range. Today's post, by sharp contrast, is all about a bunch of crazy in-your-face glitters that I'm dying to get my hands on! I seem to have a bit of a lady boner for indie nail polish at the moment…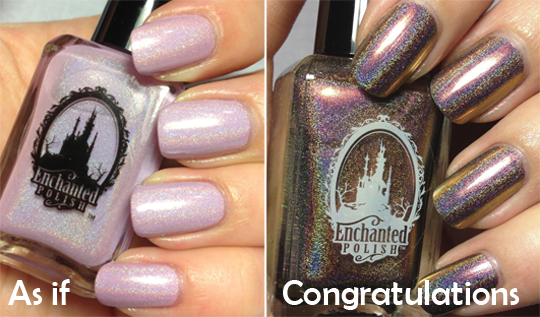 Images © Enchanted Polish
I've never really dipped my toes into the world of indie nail polish before but I think Enchanted Polish is first on my hit list. Well, it would be, but their polishes are all sold out on their own site and on Llarowe *sob*. Now that my interest in the brand as been piqued, I'll have to keep a sharp eye out for restocks! Enchanted Polish colours cost $15 a pop but I'm not sure on their shipping policy and prices.


Images © Hare Polish
I am enamoured with these two glitters from Hare Polish, especially The Teen Queen – how pretty is that? I've only heard good things about Hare Polish and they're well priced at around £6.60GBP (Etsy converts it for me, not sure what it is in dollars, I guess about 8?). I've worked out that buying these two plus shipping would set me back a little less than £20.

Images © Demelza's World
I haven't heard too much about Dollish Polish myself, but these two polishes have got me very excited. Poor Unfortunate Souls is, naturally, an homage to Ursula from The Little Mermaid and I am dying to rock this colour and sing and pretend I'm a witchy octopus woman. Say Hello To My Kitty looks awesome too, not only is it monochrome and pink (great combination) but it also features bar glitter and I can see some star shapes in there too.. amazing. One of the really great things about Dollish Polish is that they offer a choice of mini size bottles for $5, or a full size for $10. Unfortunately Poor Unfortunate Souls is sold out both on the website and on Llarowe, but Say Hello To My Kitty is available on Llarowe. I might accidentally make an order.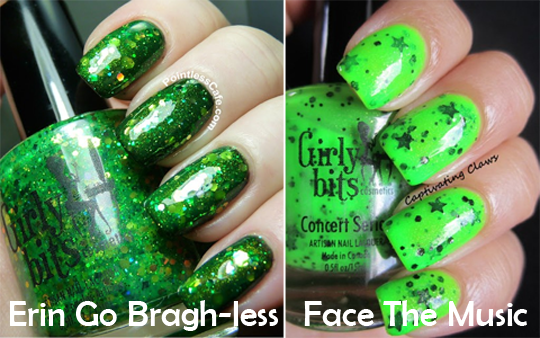 Images © Pointless Cafe and Captivating Claws
I've followed Girly Bits on Instagram for quite some time now and am always cooing over their unique creations. They seem to do greens particularly well, as you can see above! Erin Go Brag-less is so pretty, and I love the star shaped glitters in Face The Music. Really really cool, and amazingly both are in stock at $10 each.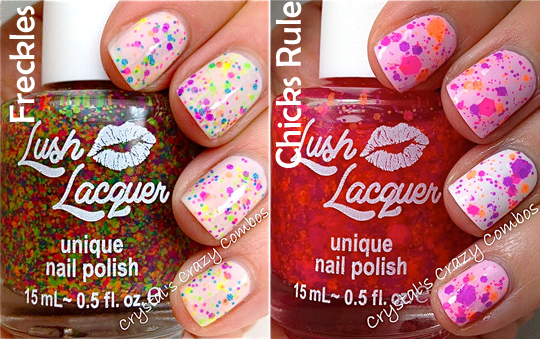 Images © Crystal's Crazy Combos
I know that Lily is a fan of Lush Lacquer and this is the brand that's been most frequently recommended to me. Whilst their polishes aren't getting me quite as hot under the collar as some of the other brands, I've definitely got my eye on Freckles and Chicks Rule, both from their new Neon collection. They're also some of the cheapest I've seen, at around £6.01 GBP for a full size bottle. I can't stop looking at Chicks Rule…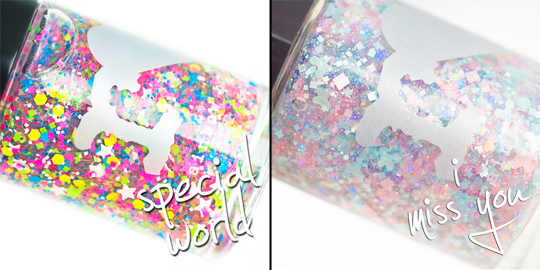 Images © Rainbow Honey Cosmetics
Last but certainly not least, Rainbow Honey. There are no swatches available on their site and I had trouble finding any at all for Special World, I think it's super new (and already sold out.. typical!). But I think you can tell just from the bottles how incredible they look! Their polishes also cost $10 each. I am lusting after Special World sooo much but it's a limited edition so I don't even know if it will be coming back. Siiigh!
I think I just need to bite the bullet and order something from one of these brands. It makes no sense to hang around, since indie nail polish companies tend to have fairly large and fiercely enthusastic followings which mean their new releases usually sell out in an instant. Now they're all on my radar, I'll be keeping an eye out for restocks and on Llarowe so I don't miss anything I really want.
Are you a fan of indie nail polish? Are there any brands you've tried not mentioned here that you think I should check out? Open to any and all suggestions!