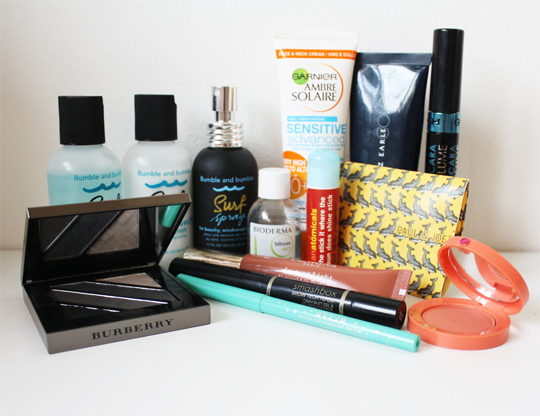 Okay, so that does look like a fair few products. But if your beauty stash is anything like the size of mine, you'll probably understand just how much this selection was whittled down and streamlined! I only had a few days to prepare for going away a couple of weeks ago, but I knew that I wouldn't be away long and that I wouldn't want to waste time applying a lot of makeup (especially since it would more than likely sweat off anyway!). The modest selection below are the holiday beauty essentials that made it into my suitcase.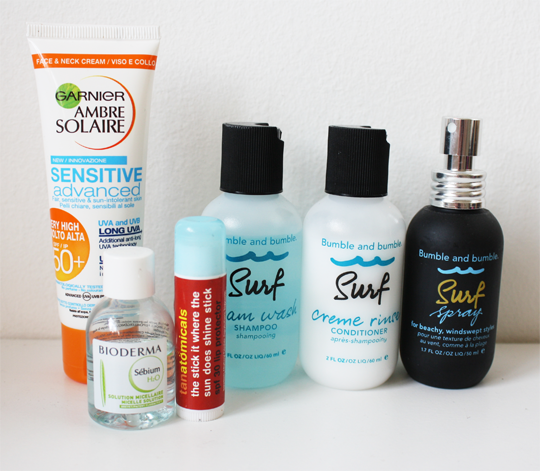 Bioderma was a no brainer, obviously, and I've had this mini trial size bottle of the Sebium H2O version lying around for a while. This is the Bioderma formula that's targeted towards oily skin. Despite being oily myself, I've always stuck to Sebsibio because it's what I know and love, but I have no complaints about this version. The slight cucumber-ish scent was nice and refreshing – especially so because I thought ahead enough to keep it in my hotel room's minibar fridge during the day for a super cooling make-up removing experience! I think I got this sample size with an Escentual order at one point or another.
For SPF, it was inevitable that I'd need something high factor (I'm a bit of an English Rose!) and a dedicated facial SPF because no one likes clogging their pores with a heavy body cream. Garnier Ambre Solaire SPF50+ Face & Neck Cream* fit the bill perfectly with its non-greasy, lightweight and quick-absorbing formula. Since I returned without the slightest tinge of unwanted pink to my skin, it definitely does its job. You can grab it for half price at Boots right now, at £6.49. Speaking of SPF, I also threw the Anatomicals Stick It Where The Sun Does Shine Stick (review here) in my bag for some hardcore lip protection.
Hair wise, all I took was a brush and the new Bumble & bumble Surf travel set*. I am lucky in that my hair naturally has the 'surf chic' look anyway (if you want to be an optimist, anyway. Pessimists would say it looks like a birds nest, but beauty is in the eye of the beholder) but I often amp it up with a little salt spray. Whilst I have to admit I actually prefer the much cheaper Charles Worthington salt spray, you can't go far wrong with this little trio of shampoo, conditioner and salt spray for a low-maintenance holiday hair solution. You can find it here for a reasonable £18.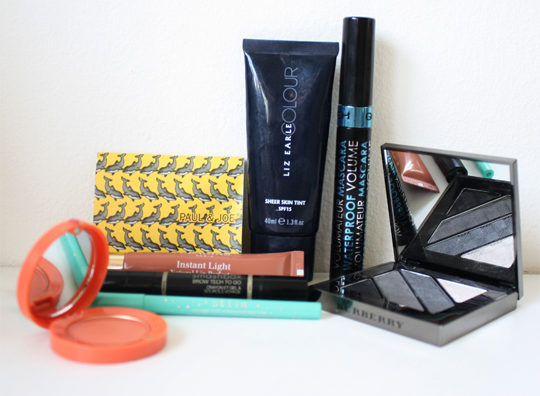 I still can't get over how meagre this selection seems when compared to my usual slap, but this handful of products served me really, really well.
After suffering a few months of neglect, my Liz Earle Sheer Skin Tint (review here) got to come along, thanks to its light coverage and bonus SPF15. I forgot how much I love this, and it applies really nicely with the hands which make it ideal for a streamlined makeup bag. Whenever my skin started veering more towards shiny than glowing, I just had a quick mop up with these cute Paul & Joe Blotting Papers* which work nicely at absorbing excess sebum without moving your base around.
For a touch of summery colour, Stila Turquoise Smudge Stick (review here) was just the ticket and once its on, it doesn't go anywhere until you tell it to. Also for the eyes, this new GOSH Waterproof Volume Mascara* got its first outing. I prefer waterproof mascaras as they hold a better curl in my lashes, not to mention they'll stay intact in the heat. The rubber wand on this one helps to separate the lashes well and whilst it doesn't offer much in the way of extra length, it does make the lashes appear a bit thicker and fuller. This will be out in Superdrug starting from next week, so keep an eye out.
If it wasn't for the Orient Express part of the journey, I wouldn't have taken any eyeshadow at all (I know! Shock horror!) but since you really need to dress up for dinner on the train I slipped this Burberry Smokey Grey Eye Palette (review here) into my bag. It comes in a pouch with a little brush so a good selection for travel, and the classic monochrome shade selection meant I could create a quick, timeless smokey eye. Lastly for eyes was Smashbox Brow Tech To Go* – loving this. Very similar to the Pixi Brow Duo but just better. It's a good choice for well-groomed brows in double-quick time, you can find it at Boots for £19.
Just one product each for lips and cheeks. Bourjois Cream Blush in 02 Healthy Glow (review here) meant I could continue with the ol' hands-only application theme, providing a natural looking flush of colour. Lips were obviously going to be adorned with one of my holy grail lip products, Clarins Natural Lip Perfector in Rosewood Shimmer (review here). There's not much I can say about it that I haven't previously gushed over in the full review, but hnnngghh I love it so much.
So, those were my holiday beauty essentials. What products always come with you when you go away somewhere?