Nope, I don't think I will ever get over how much I love holographic polishes. This time, I felt the need for some simple (real simple) but eye-catching nail art that would take next to no effort but still look cool. Out came the Color Club Halo Hues again!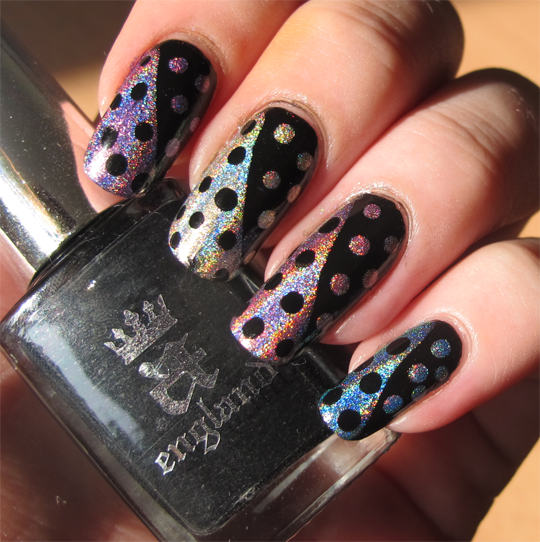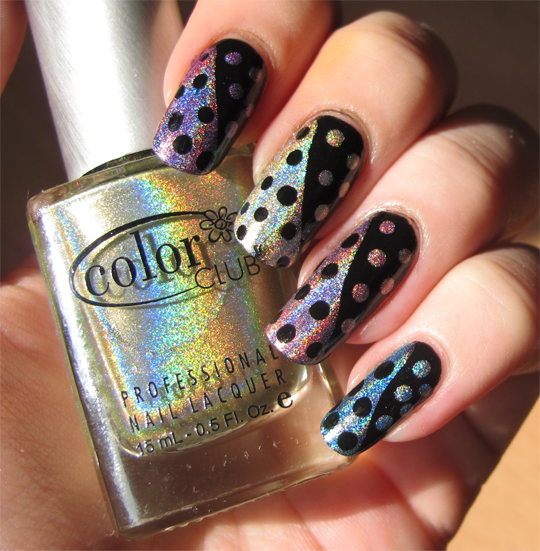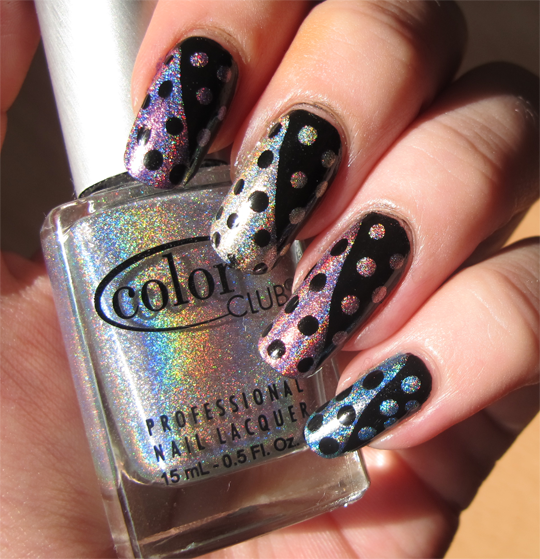 The black is a-england Camelot – basically the best black creme in the history of polish, a genuine one-coater. Once I'd applied the black, I painted one half of each nail diagonally with one of the Halo Hues then added black dots to the holo side, and holo dots to the black side. That's it!
The purple holo (index finger) is called Eternal Beauty. The light green one (middle finger) is Kismet, pink (ring finger) is Miss Bliss, blue (little finger) is Over The Moon and silver is Harp On It (thumbnail, although that's stupidly not visible in the photos). How pretty are they though?!
For the dots, I used Bourjois' new dotting tool*. I have to say, I'm not sold. It is, of course, exactly the same in function as the ones I already have (which cost me about £2 for 5 on eBay) but it costs £3.99 singularly. Insane! I thought that was reasonable though, assuming it would be available in Boots and Superdrug – I wouldn't mind seeing a mark-up like that if it helped bring nail art to the mass market, but apparently it's only going to be available on Amazon or something. Well then, what's the point? They've just priced themselves right out of the market. *Sigh*
What do you think to the seventies-ish holographic polka dot design?