Now, I know you know that I can't go anywhere without a tube of hand cream on me. I am an obsessive hand-moisturiser, so the Balance Me Super Moisturising Hand Cream* was bound to be something I loved.

It doesn't leave much in the way of residue on the hands after rubbing it in – maybe a tiny bit, but not a problematic amount, and it smells divine, of patchouli most noticeably. It's packed full of extra moisturising ingredients to help even the driest hands discover their smooth and soft potential. Two of my favourites, shea butter and almond oil, play a big part in the formula along with less common ingredients like benzoin (an enbalming agent used by the Ancient Egyptians!) and yarrow (which, according to legend, was Achilles' treatment of choice for wounded soldiers in the Trojan war). Little beauty history lesson for you there!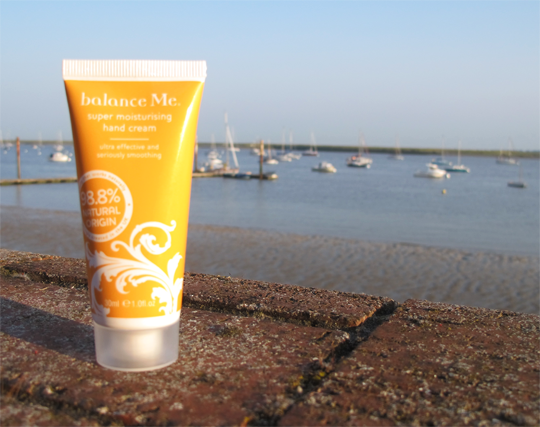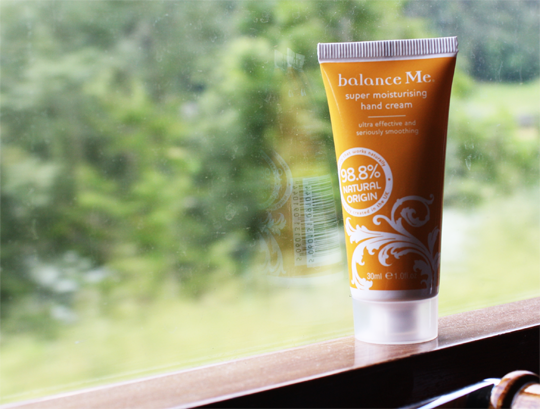 The coolest thing about the Super Moisturising Hand Cream though, is the 'Take Me Away With You' campaign that Balance Me are running this summer. The hand cream conveniently comes in a travel friendly 30ml size, and Balance Me love to see photos of the product coming along with us on our travels. You can see my tube above in my little seaside hometown of Burnham on Crouch, and balanced on the windowsill during my trip on the Orient Express!
If you take the Super Moisturising Hand Cream away (or even just out and about!) with you this summer, be sure to snap a pic and send it to Balance Me via their Facebook or Twitter pages. Their favourite snaps each week will win some fabulous Balance Me prizes. Even if you don't win something, you'll still have a cute and handy tube of hand cream in your possession which doesn't sound like the short straw to me!
If you fancy taking part (or even just getting your mitts on the cream anyway!), you can find it in loads of places including John Lewis, Harvey Nicks, Waitrose and Look Fantastic. There are three sizes available, with 30ml costing £7.50, 50ml costing £10 and 100ml costing £14.50. Pretty fab value, pretty fab product and pretty fab competition if you ask me!