Speckled nails are still a pretty hot trend among brands at the moment, and I for one am happy about this as it's a nail trend I am totally on board with! Shatters and magnetics were very short-lived, but speckles seem to be having a bit of a longer lifespan. Recently, I've found a cute new combination for speckled Spring nails that I'm absolutely loving!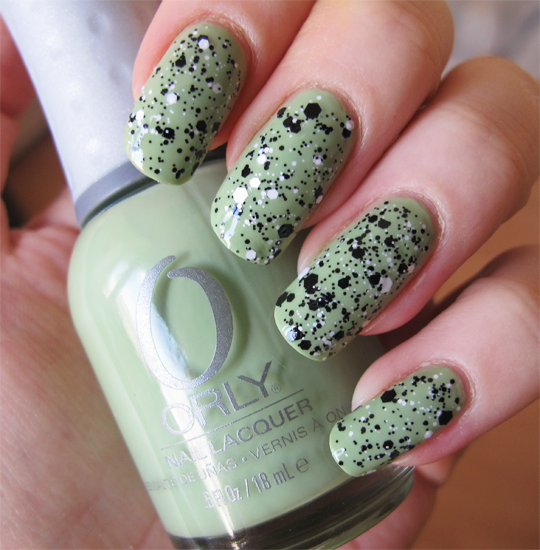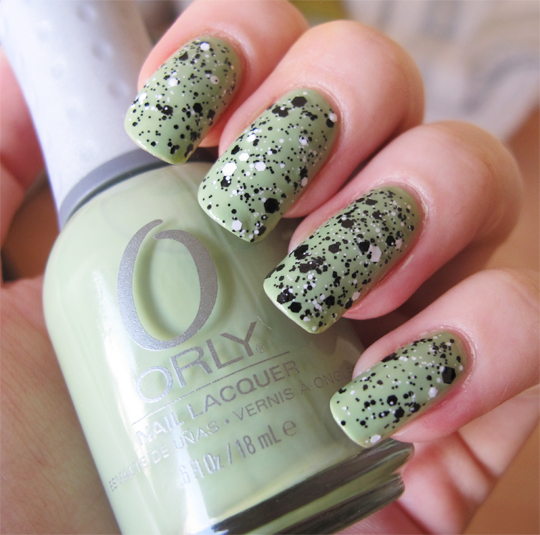 The base colour is Orly Coachella Dweller*, from their Spring 2013 Hope & Freedom Fest collection. Utterly unique in my stash of greens, this is more of an apple green shade than your typical mint. I really, really like it. Don't get me wrong, I love a nice turquouise-y mint green, but it's just great to see something a little different. The formula on this was slightly irritating though, with bald spots and a bit of pooling. It took 3 reasonably thin coats to reach perfect opacity. I think that Hope & Freedom Fest is the last collection to be housed in this well-loved Orly packaging; look out for a new, streamlined bottle design and even more grippy cap later in the year! Sadly the classic O logo will be disappearing too. :-(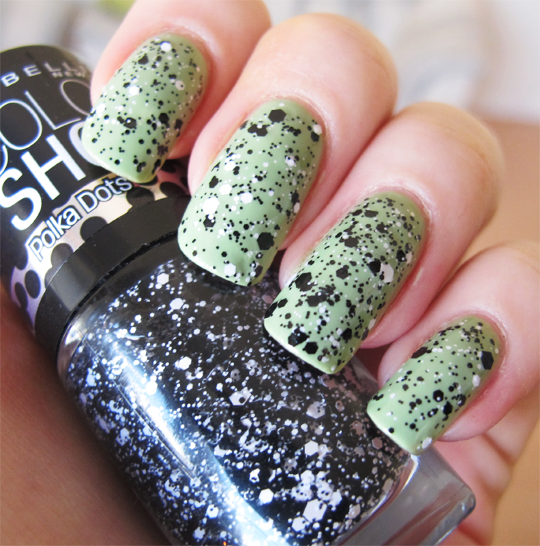 If Illamasqua's mini-egg-like offerings were too pricey for you, and you still haven't got hold of L'Oreal's Confetti topcoat (I hear it's notoriously hard to track down due to its popularity!) then Maybelline have got a really good – and super affordable – dupe for you. Maybelline Chalk Dust comprises a few different sized black and white glitters suspended in a clear base. It's really quite easy to apply actually, unlike many polishes of a similar nature which require 'dabbing' to evenly distribute the particles. Chalk Dust looks great over pastel and neon shades. It's also quite reminiscent of Nails Inc Brick Lane without the bar glitters and with more opaque white pieces.
Maybelline Chalk Dust costs just £2.99 and is available now in Boots and Superdrug. The Polka Dot collection also features pink, blue and deep jade green speckled polishes so I'll definitely be checking those out as they're such good value. Orly polishes are available for £7.50 on BeautyBay – and while you're there, I highly recommend Orly Bonder; it's my all-time favourite base coat!