Here's something a bit weird; I don't have much of a sweet tooth when it comes to food. Don't get me wrong, I love me some chocolate and ginger biscuits are probably one of the greatest inventions ever (Ikea's Pepparkakor biscuits are the ultimate). But generally, I get more excited about savoury food porn than saccharine sweet desserts. When it comes to scents though, I'm all about the sweet stuff – Vanilla and Tonka are my favourite notes in a fragrance, and when it comes to shower products give me anything that smells sweet, chocolatey or fruity and I will be a very happy bunny. Today, I just wanted to share some of my favourite shower sweet treats!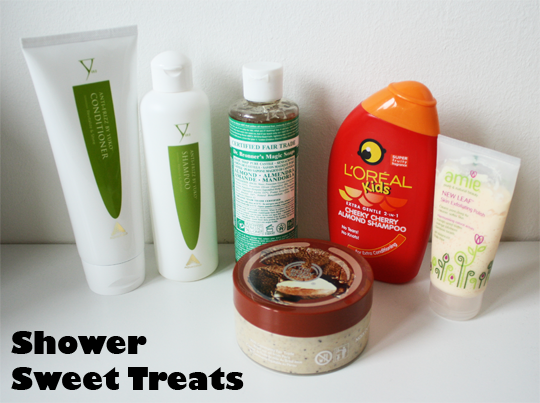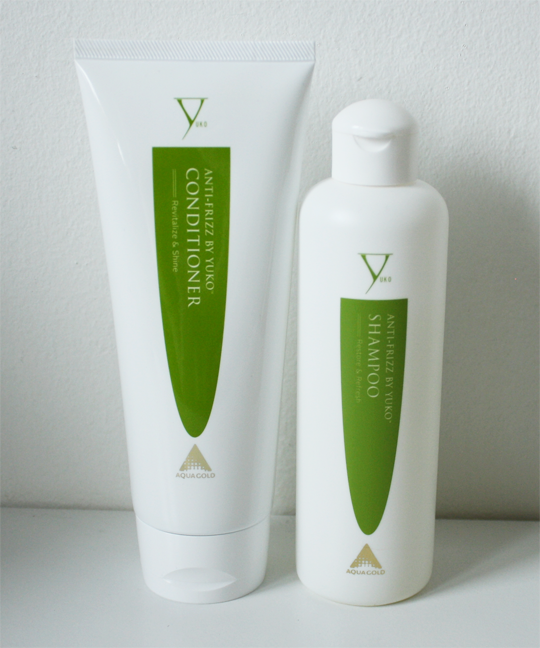 Hair
Yuko is a Japanese brand now trading in Western countries too, offering many straightening and relaxing treatments in their salons along with plenty of haircare products to use at home. I hadn't even heard of them until I was gifted this Yuko Anti-Frizz* shampoo and conditioner to try, but I'm glad I have now. You probably know by now that my hair is thick and frizzy, so I'm up for trying anything that claims to tame it. To be honest it's not blown me away, it does tame my hair a bit and leaves it nice and shiny but nothing too spectacular – it's the scent that I'm enamoured with. It smells like apples and grapes. Gorgeously fruity and refreshing! These have been my go-to for a good couple of months now, and they haven't been stripping my hair colour too much either which is a plus – but I've recently started trialling another colour care hair range lately which I'll share soon! The Yuko Anti-Frizz range is available here.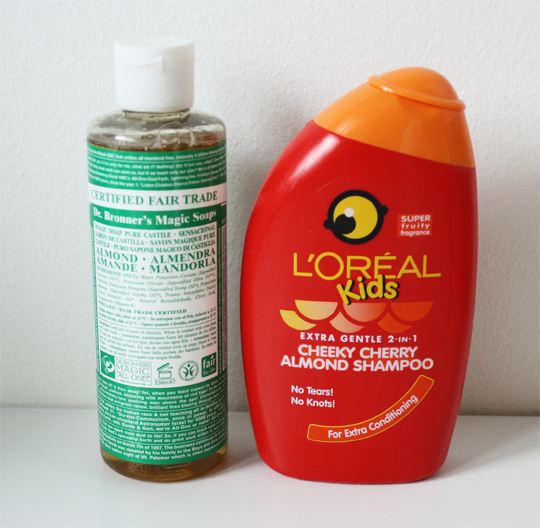 Wash
Almonds. Oh my god, almonds. Give me bakewell tart, marzipan, sugared almonds, anything like that. Almonds are something that get my tastebuds itching for something sweet more than anything else. So it comes as no surprise that my two favourite shower products are almondy! The first is Dr Bronner's Magic Almond Soap. This stuff is glorious. I first tried Dr Bronner's Magic Soap a couple of years ago when a sample size was included in a Glossybox – I wasn't much in love with the smell but it cleaned my makeup brushes fantastically. When it ran out, I promptly purchased a full-size bottle of the almond version. It smells exactly like marzipan, so delicious. I originally bought it for brush cleaning, but it didn't take long for me to be drowning myself in it in the shower. These days, I prefer the London Brush Company Brush Shampoo for cleaning my brushes but the Magic Soap is still excellent for that purpose and I now feel less guilty about going through gallons of it in the shower. I think this is my third bottle? You can pick up a 236ml bottle of Dr Bronner's from FeelUnique for £5.49 – do it now!
Now this is probably the weird one. L'Oreal Kids Cheeky Cherry & Almond Shampoo. I can't even begin to tell you how much I love using this stuff as a shower gel. It's just like bakewell tarts, I'm salivating a little bit just thinking about it. Please, at least just go into Boots or Superdrug and sniff it, even if you don't buy it. You should buy it though, it's delicious and it's only a couple of pounds. Mmmmm.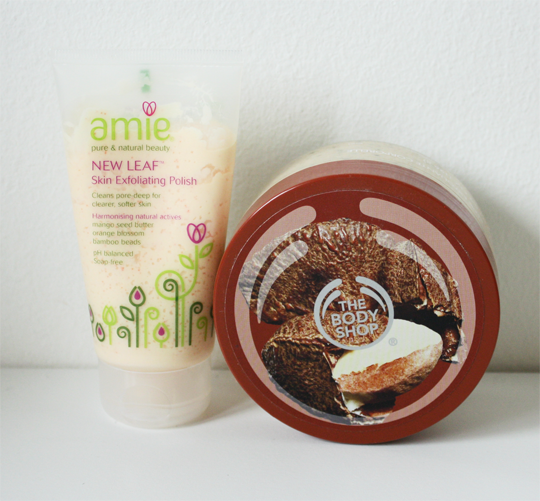 SCRUB
I've already extolled the virtues of Amie skincare in my recent rave about their wonderful clay mask, and I'm also a big fan of this New Leaf Exfoliating Skin Polish*. Along with the Spring Clean clay mask, this is another definite repurchase (how could they not be? Absolute bargains) – mango and cocoa seed butters soften and inject moisture while you're scrubbing away at your dry bits with bamboo and jojoba beads. The mango gives it a deliciously edible fruity scent. I mainly use this on my face, which is what it's meant for after all, but I have used it on my body a couple of times when I want a gentle scrub. You can pick it up for a bargainous £4.95 in John Lewis and Waitrose, as well as at a few online retailers.
If I want something a touch more, well, this-means-business, I reach for arguably the single most delicious thing in my shower. It's The Body Shop Brazil Nut Body Scrub – I am utterly in love with the Brazil Nut range (I've already raved about it here). It seriously smells like creamy milk chocolate, and I don't always feel the need to moisturise after using it as it feels like it does a good job by itself. Don't forget that the Brazil Nut range is limited edition though, so be sure to pick up anything you want in store or online sooner rather than later! The Body Scrub costs £12.50, and I'd also really recommend the Beautifying Oil for a bargainous £9.
Well, those are the sweet and tasty things I've been enjoying in the shower lately. How about you, what products are never too far from your shower?