It's quite a different story now, but a few years ago my blog was focused almost entirely on nails. I still love painting my nails, it's one of the most therapeutic things ever, but I just don't have time to do it as often as I used to. There was a point (whilst I was unemployed, and employed part-time) when I was painting my nails every day, sometimes more than once. These days, I'm lucky to find the time to sit down and do it once a week but I don't love it any less. Despite nails not featuring so heavily on Do Not Refreeze as they did once upon a time, a lot of people I know still know me as 'the nail blogger', which is kinda nice. So, rambling aside, I thought I'd put together a selection of my ultimate nail essentials.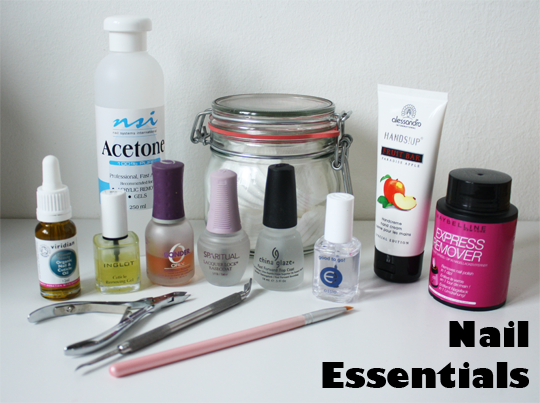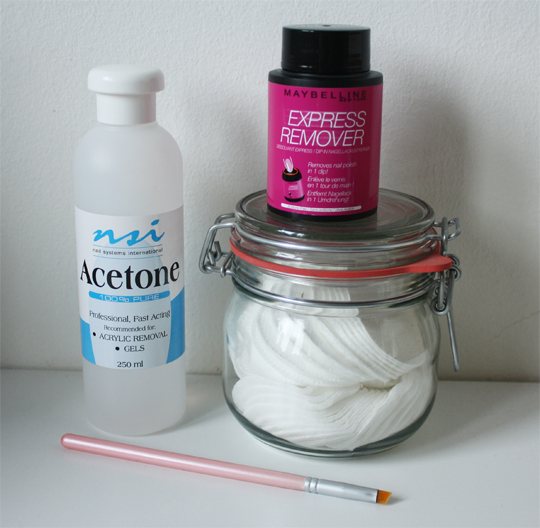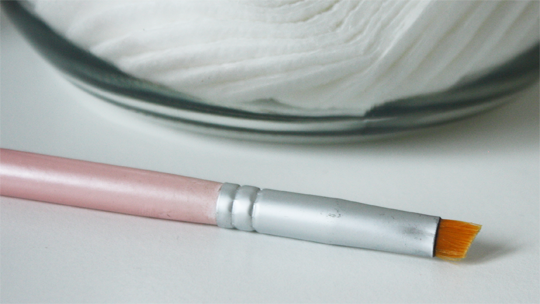 Removal
:: Cotton Pads – Bit of a no brainer, really. I prefer double-sided ones that have slightly different textures on each side. I keep mine in a kilner jar (just because it looks a bit nicer than the plastic packet), and I tend to stock up when Boots are doing their double-sided ones BOGOF or BOGO 1/2 price.
:: 'Magic' Polish Remover – The world and his wife rave about the Bourjois 1 seconde remover, which is fab and smells lush but I find that the sponge starts to disintegrates too quickly, leaving little black bits of sponge all over your fingers which is beyond annoying. I'm also not keen on the oily residue left behind after using it, so this Maybelline Express Remover* is much more up my street. I couldn't live without a 'magic' remover these days for super speedy removal of a regular creme/shimmer/holographic polish.
:: Pure acetone – Seriously, everyone needs pure acetone in their lives. Not only do I use it religiously after every manicure to tidy up the edges (I can't tell you how much I HATE it when people don't do this), but I also use it for the foil method when removing glitter polish or anything too stubborn for a 'magic' remover, and I also always give my nails a quick once-over with it before applying a base coat at the start of a manicure to remove any natural oil from the nail plate. This means the base coat, and later the polish itself, will adhere better and last longer. I bought this particular bottle at the Pro Beauty show in February, but I have previously bought 15 litre job lots of it from eBay (WAY cheaper, and I used to share it with my dad who uses it to clean motorcycle parts, etc). Anyway, acetone can be pretty dangerous so be careful with it, and with excessive use it will dry your nails/cuticles/skin out to high heaven so moisturisation is key.
:: Synthetic angled brush – I mentioned cleaning up around the edge of my nails with acetone; this is the tool I use to do it. It's from Crown Brush, I've been using it for years. I can't remember the exact model number or anything, but it only cost a couple of pounds and it's probably the single most invaluable tool in my nail arsenal. Any synthetic angled eyeliner brush will do!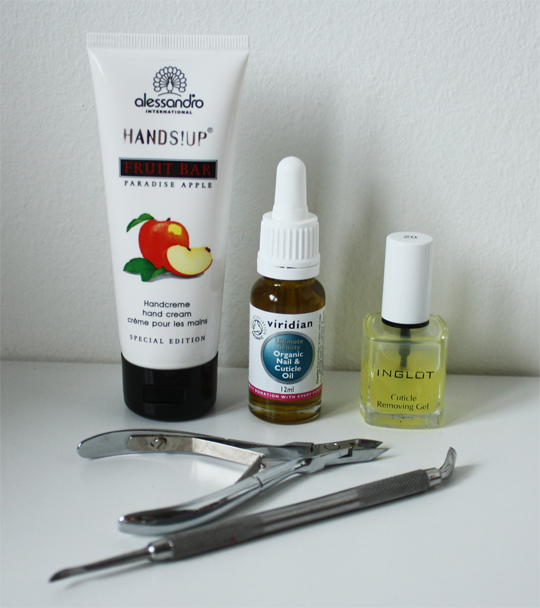 Cuticle Care
:: Cuticle Remover Gel – I bought this one from Inglot more than 2 years ago and its still going strong. Just paint a tiny bit of this over each of your cuticles a few minutes before pushing them back, it really helps remove the dead bits of skin from underneath/on your cuticle which makes for a neater manicure.
:: Cuticle Nipper – I will say this; if you have never trimmed your cuticles before, PLEASE don't ever start. Once you start, it's something you have to keep up constantly because they grow back jagged, dry, ratty and frankly gross. I wish I'd never been introduced to it (I started on encouragement during a very short-lived beauty therapy internship – great frigging advice that was!). But, if you've already found yourself on that slippery slope you can't get any better than the Tweezerman cuticle nippers. These have served me well for years and are still as sharp as the day I bought them; plus there's the added bonus that Tweezerman will sharpen their beauty tools for you as part of the lifetime guarantee. But like I said, if you've never done it before, just don't do it. Trust me on this one!
:: Cuticle Pusher – I can't remember where I got this one, I may have even stole it from the aforementioned nightmare internship (screw 'em, they were all bitches). Either way, unless your cuticles are annoyingly perfect they will probably need pushing back in order to get the neatest manicure you can. Many people use just a wooden orange stick for this, but I prefer metal tools.
:: Cuticle Oil – Although I'm an advocate for using plain old olive oil on the cuticles, sometimes it's nice to use something a little more luxurious! This Viridian Ultimate Beauty Nail & Cuticle Oil* is certified organic and although it's kinda pricey at £12.95, you only use a tiny bit at a time so it should last a fair while. Definitely worth checking out if you like herbalish scents, the lavender and rosemary in this are lush. Cuticle oil should be rubbed in as often as you can, but most of the time I can't be bothered and use hand cream! Oil is really important for rehydrating the cuticles and nail beds though, so definitely use it if you've been using pure acetone.
:: Hand Cream – Not too long ago I featured three of my favourite hand creams for massaging into the nails and cuticles. Shortly after that post, this Alessandro Hands Up! cream* came into my life and it smells like apples. Apples! Delicious. Seriously though, any hand cream will do – get into the habit of using one, paying particular attention to the nail beds, as often as you can; on trains, watching TV, and so on.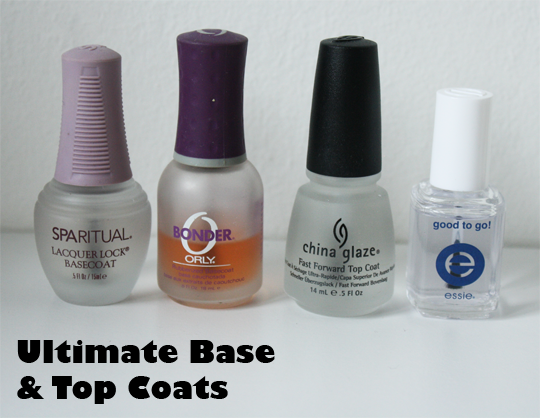 Underwear and Raincoats
You could spend a mint on a really expensive designer nail polish, but without a good base and top coat I can almost guarantee you it will be crap. Similarly, a £2.99 job from Boots can blow you away with a good base and top coat surrounding it. These four are my absolute favourites – I flirt with others, but these, I will always come back to.
:: SpaRitual Lacquer Lock & Orly Bonder – I prefer base coats that remain a little tacky and don't ever dry; to me, this tends to create a stronger bonding layer between the nail surface and the colour polish. Both are good at preventing staining in general, although there will always be pain-in-the-arse colour polishes that stain no matter what you use underneath!
:: China Glaze Fast Forward & Essie Good To Go!* – Just gonna put this out there: I hate Seche Vite. I honestly don't understand why everyone loves it so much, as if it's the only fast-drying topcoat in the world. Open your eyes! Sure, it dries fast, but no faster than these two badboys. Seche gives me terrible shrinkage too (as in, when it dries it shrinks the layers beneath leaving it looking like I have a week's worth of tipwear right after applying it) – these China Glaze and Essie ones don't. Also, they don't become treacle-like and unusuable after a couple of months like Seche does. Basically, what I'm saying is bin your Seche and buy one of these. Just do it!
Well, that ended up a little longer than I intended it to be – sorry! Well done if you managed to get all the way through it, and I hope some of it was helpful. Let me know what your essentials are!
Edit: You know, after I proof-read this post I realised I totally forgot to include nail clippers and a file. Duh! But for anyone who's interested, I just use a generic metal nail clipper (NOT nail scissors!) and a 180-grit file from Orly. How could I forget that in the pictures? *Sigh*