Despite being something of an old-timer on the beauty blogging circuit, I've somehow managed to go all this time without ever having written one of those ever popular 'What's In My Bag' posts. There are a couple of reasons for this: no one wants to see a bag lined with tobacco crumbs and old receipts, and I've never owned a bag worthy of sharing. Until now, I'd never bought a bag whose price tag was in triple figures (and I can safely say I will definitely never own one with a four-figure price tag).

So anyway, I recently had a Zalando voucher* to spend but had no idea what I wanted. I've shopped at Zalando a few times in the past, mainly for Anna Field boots which I absolutely love but I didn't need another pair. During my deliberation, I bumped into Jen from A Beauty Junkie in London who had just bought this glorious little number and I instantly fell in love. I usually carry a black bag, so I was very excited to get a light coloured one that's much more appropriate for Spring/Summer. That night when I got home, I promptly ordered the very same one, paying the outstanding balance myself (what can I say, I just loved it). A few days later I was swinging it gleefully from my arm, happy as Larry!
It's from an Italian brand, L.Credi, which I'd not heard of before Jen introduced it to me. There's just nothing not to love about it – I choose to use the short handles but there is also a detachable strap if you'd prefer to carry it on your shoulder. 100% leather outer, gorgeous cream and turquoise colours, plenty of zip pockets and extra compartments and my word is it roomy! I can get SO much extra stuff in here in addition to the crap I lug around on a daily basis, including a DSLR. Can't say that for many bags – it's a bit of a TARDIS/Mary Poppins type thing, much bigger on the inside!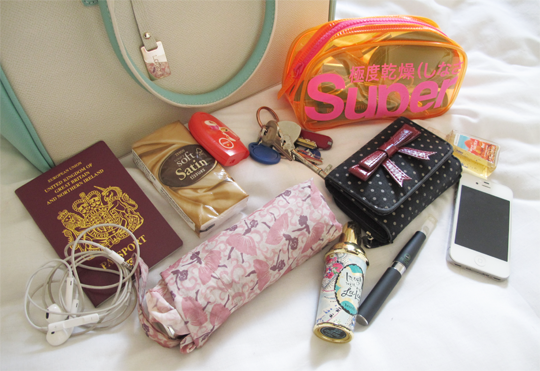 And, well, since it's not littered with tobacco crumbs and old receipts (yet…) now seems a good a time as any to show you the things I NEVER leave the house without.
My passport is something that's always safely zipped away but always on me. I actually hardly ever get ID'd for anything, but sod's law the day I don't have it on me is the day I get asked for it. I don't drive, so haven't got a driving license meaning it's the only proof of age that I have! Then headphones, just the bog standard iPhone ones, because who wants a life without music? Tissues, because no one likes to be caught short with a runny nose, and sweeteners, because if an impromptu cup of tea situation presents itself I don't like to be forced to have real sugar!
Keys are something I always double-check for before leaving the house. Colin and I had an unfortunate incident a few weeks back where we left the flat to go food shopping and both of us forgot our keys. Dropping an unexpected wad of cash on a locksmith is not something I want to have to do again! Then an umbrella, because you never bloody know in this country. Benefit's Laugh With Me LeeLee perfume is always on me in case I feel the need for a fragrance top-up, I've been wearing this one for years and like to think of it as my signature scent. My little purse from New Look years and years ago – I can't be dealing with big, long purses thanks. My on-the-go makeup bag, whose contents are rotated regularly according to what I'm wearing that day but the items that never leave it are a black pencil, a mirror, eyelash curlers and my favourite Clarins Instant Light Natural Lip Perfectors. Oh, and there's a bottle of antibacterial hand gel from Bath & Body Works for any hygiene emergencies.
Last but certainly not least – my electronic cigarette. I have finally started to take steps towards quitting smoking! So, hopefully a bag littered with tobacco will no longer be a blight to my life – I haven't yet quit completely but I've stopped taking tobacco out with me during the day, and just have a couple of 'real ones' of an evening. The rest of the time, this Tornado Tank e-cig is my new best friend and I've been loving experimenting with mixing different flavours (currently toking on a cocktail of Butterscotch and Banana for a cheeky banoffee pie experience!). It's like carrying a mini shisha pipe with me at all times! Awesome.
So, those are the things I don't go anywhere without. If you're liking the look of the L.Credi tote, you can find it here for £125.
What do you always carry in your bag without fail?