Would you believe it's been a century and a half since the debut of high street favourite Bourjois' iconic Little Round Pot blushes? Well, if you want to get pedantic it's 145 years – the pioneering cheek colour was originally released in 1868. I think that Bourjois have remained frontrunners in the blush market ever since, and whilst many brands have already adopted a cream formula Bourjois have spent quite some time perfecting theirs before release. 2013 sees the launch of their brand new (and rather wonderful) formula; introducing Bourjois Cream Blush*!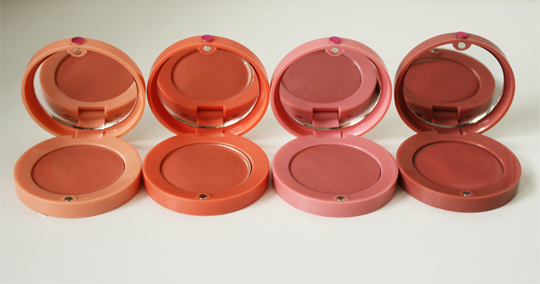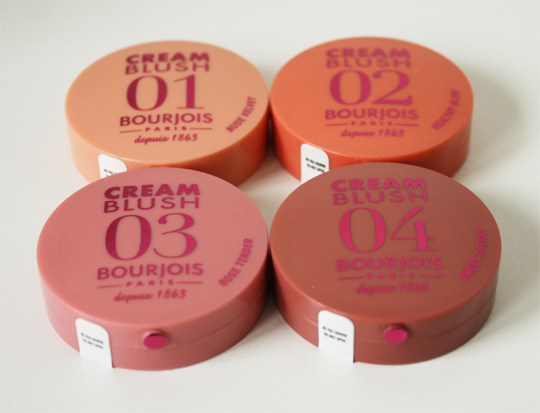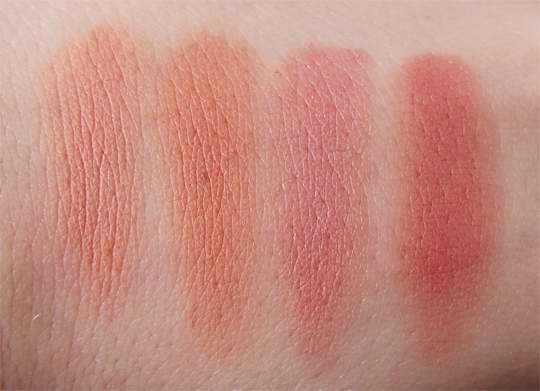 We've seen cream-to-powder blush formulas before, most notably in Topshop's universally adored cream blushes. The Bourjois offering is fairly similar in texture, but just better. I really like the Topshop ones, don't get me wrong, but the Bourjois ones literally melt on contact with the skin and instantly transform to that classic Bourjois silky powder finish. I find it much easier to apply these with the fingers than a brush due to how quickly the formula alters on contact with the skin, and the heat from your fingers helps to blend the colour more effectively.
Bourjois Cream Blush is, as to be expected from the brand, insanely well pigmented and much like the powder blushes they last an awfully long time on the skin. With most cheek products, even if I apply quite liberally in the morning, I find that the colour has faded significantly by the time I get home in the evening but with Bourjois Cream Blush my cheeks looks as fresh and flushed as they did at 7am. Top marks for longevity! They also have that classic rose scent that is synonymous with Bourjois blushes, and the formula is enriched with poppy, apricot and mango extracts which offer a more comfortable wear, a healthy glow and a really soft touch.
Let's talk packaging for a moment – I love it. An ultra slimline version of the traditional Little Round Pots with a mirror inside (handy for on-the-go touch ups – not that you need to since it lasts so long!); I'm particularly enamoured with the little pink diamante catch that replaces the gold one on the powder blushes. Its so cute! Not flimsy either, nice and sturdy so I wouldn't be afraid to travel with them. In fact I think they're an ideal choice for a holiday/festival/travel makeup bag for their ease of application and longevity.
Although there are only 4 colours in the Bourjois Cream Blush range so far, the available shades are a good selection from which anyone of any skintone should find at least one colour to suit. I actually love all four of them on my skintone, but I think my particular favourite is 02 Healthy Glow. This pinky apricot shade has a hint of a pearly finish which sets it apart from other cream blushes I have since they're usually quite matte, or leave a dewy finish – it's nice to see some shimmer in a cream-to-powder formula. 03 Rose Tender also has a pearly finish which is a little more noticeable against the soft neutral pink shade. 01 Nude Velvet is an ideal choice for a natural summery look with its peach hue and barely-there subtlety. If you want something with a little more punch – or you have a very deep skintone – you might like 04 Sweet Cherry the best thanks to its rosy brown tones. What I really want to see is a lavender/lilac shade added to the range!
These Little Round Pots of creamy deliciousness will launch in Selfridges on the 8th May 2013, where they will cost a rather bargainous £7.99. Boots, Superdrug and Asos will follow suit on the 15th May 2013. Which shade is calling to you the most – will you be picking any of them up?