It's pretty much definite that our long, cold Winter is finally over so now's the time to shelve our musky Winter fragrances and try out some new Summery scents. Enter L'Occitane La Collection de Grasse – a veritable feast for the senses!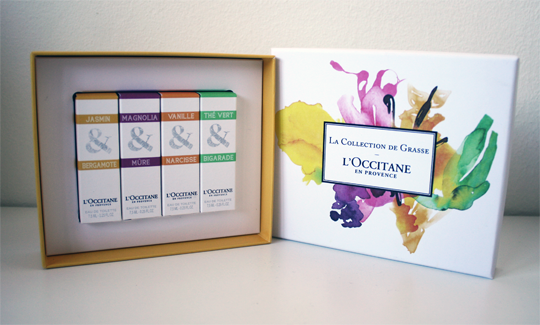 Created under the expert guidance of French perfumer Karine Dubreil, La Collection de Grasse unites a host of beautiful ingredients from all over the world, taking your olfactory senses on a worldwide journey culminating in the Southern French village of Grasse, known as the fragrance capital of the world.
Jasmin & Bergamot Eau de Toilette is a no-brainer choice for warm Spring and Summer days, with heady Jasmine absolute from both Grasse and Egypt leading the way. A hefty shot of Bergamot in the form of an essential oil from Italy combined with mandarin orange gives the perfect amount of freshness. Cedar and sandalwood in the base make for a fruity-floral that's quite noticeably more sophisticated than many. I really like this one!
Next, there's Magnolia & Mure Eau de Toilette – this one really evokes an image of long, al-fresco summer evenings! Definitely a night-time scent in my opinion, top notes of bergamot and extra fruity, almost musky blackberry infusion start the fragrance off powerfully. Middle Eastern magnolia and rose make up the heart for a hardcore floral hit, with a woody green base of moss and patchouli. I like how this one smells on other people, but it's definitely not one for me.
The most unisex scent in La Collection de Grasse is without a doubt The Vert & Bigarade Eau de Toilette – I find this refreshing and aromatic blend of green tea and bitter orange to be quite sexy! Sparkling citrus notes of both orange and Tunisian bitter orange open it up, leading to a very green accord at the heart with Japanese green tea extract and yerba mate (a spanish evergreen, not dissimilar to holly). The deep, aromatic base of cedar, thyme and musk is what makes it so appealing to me, it's just sexy.
My personal favourite, unsurprisingly, is Vanille & Narcisse Eau de Toilette*. Vanilla absolute and tonka bean are my most favourite fragrance notes, so the base of this one was pretty much made for me. The heart is spicy and untamed, with gardenia and French narcissus absolute. The top notes are quite surprising in combination with the base and heart – blackcurrant and bergamot – but it really, really works to create a stunning oriental scent.
The packaging of La Collection de Grasse is simple, minimalist and very chic. The thick, clear, square glass gives a fresh and modern feel, still with a nod to the traditional perfume flacons of Grasse. The fragrances look, feel and smell expensive – more so than they actually are. At first glance, the Eau de Toilettes seem pretty pricey at £49 for 75ml, but let's consider that's far more product than your standard 30 or 50ml perfumes and no expense has been spared on the packaging or fine ingredients. One of these is definitely worth adding to your collection as a payday treat.
My only complaint is that they don't last on the skin quite as long as I'd like them to – since they're only Eau de Toilettes rather than Eau de Parfums. If you wanted to extend the wear time of the fragrance, one also has matching shower gels (£11), body lotions (£16) and solid soaps (£7) available so you can layer up. To save a bit of dollar, you can grab a fragrance along with its matching shower gel and body lotion (all full size) in a gift set for £65.
You may have noticed the bottles in the photo at the top of this post are miniatures – the Petit Grasse Fragrance Collection* is a really great way to try out all the fragrances in La Collection de Grasse, or really ideal to give as a gift thanks to the beautiful presentation. Four 7.5ml fragrances will set you back £28. Plus, if you take out the cardboard insert the box makes a great home for all your fragrance samples!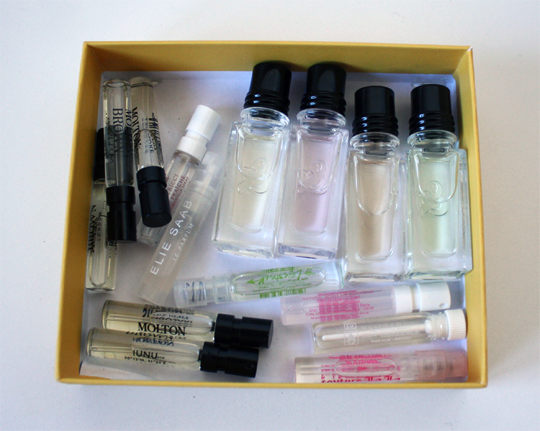 Which of the La Collection de Grasse fragrances piques your interest the most? I urge you to get down to your nearest L'Occitane store and give them a sniff – but I take no responsibility if having to choose between them causes you unimaginable stress! La Collection de Grasse is available now in store and online.