Laura Mercier is a brand I've never tried before. I'm quite interested in taking a look at the Tinted Moisturiser and Silk Creme Foundation, but at the moment I've been trying out this Creme Smooth Lip Colour in the shade Angelic*. I'm a bit on the fence, to be honest!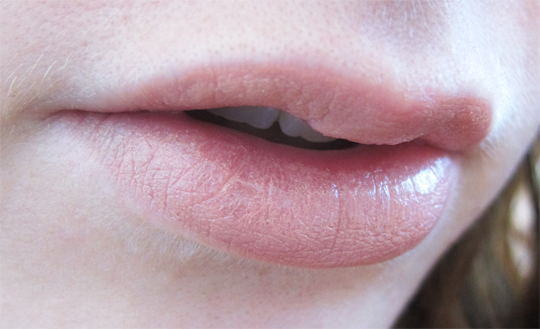 For a £20 lipstick I can't say I'm blown away. The Laura Mercier Creme Smooth Lip Colours have a long list of claims that make them sound pretty much wonderful: a cushiony, lightweight texture that feels comfortable ont he lips, a long-wearing formula with 6 to 8 hours wear time, rich colour with one swipe, no skipping or dragging, no bleeding, feathering, drying or fading. Olive Oil, Vitamin E and Rose Seex Extract for nourishing the lips and even 'Hyaluronic Filling Spheres' (whatever they are) for some subtle plumping. You get the picture – it's given itself a LOT to give up to.
Sadly, I can't say that it really does, at least not in every area. It's not bad by any means – it really is long-lasting, and I like the colour a lot. Angelic is a definite nude shade, and I mean a proper nude's nude. When I call a lipstick nude, I'm usually referring to a 'my lips but better' natural sort of shade, but this one is a proper nude. I like it more than I thought I would, although it's worth noting that it applies a fair bit lighter to the lips than it looks in the bullet.
Speaking of application; I would agree that it glides on, but it seems to dry out as the day goes on despite the inclusion of olive oil and Vitamin E. That's probably down to whatever it is that makes the formula so long-wearing. I wish companies would stop trying to claim their product is both moisturising and long-lasting; improving a lipstick in one of these areas will almost certainly always compromise it in the other. It's quite forgiving of any minor dryness already present on the lips, which is good to see since many lipsticks make rogue flaky patches look a million times worse, but even so it's worth letting a good lip balm sink in for 10 minutes before you apply one of these Creme Smooth Lip Colours.
Again, it's not a bad lipstick. I quite like it – just be aware that it doesn't live up to all of its claims and I'd expect a little more 'wow' for its £20 price tag. There are other high end lipsticks in a similar price range which feel like they're worth the cash, but I've tried better ones than this which only cost a quarter of the price. The choice is yours!
Laura Mercier Creme Smooth Lip Colours are available from House of Fraser, Space NK and the like.