A few weeks ago, I bought a lightweight summer jacket from Forever 21 in a gorgeous khaki green colour. I've been wearing it to death (swear down, I've barely taken it off) so I thought I'd be an absolute loser and match my nails to it with a khaki studded manicure!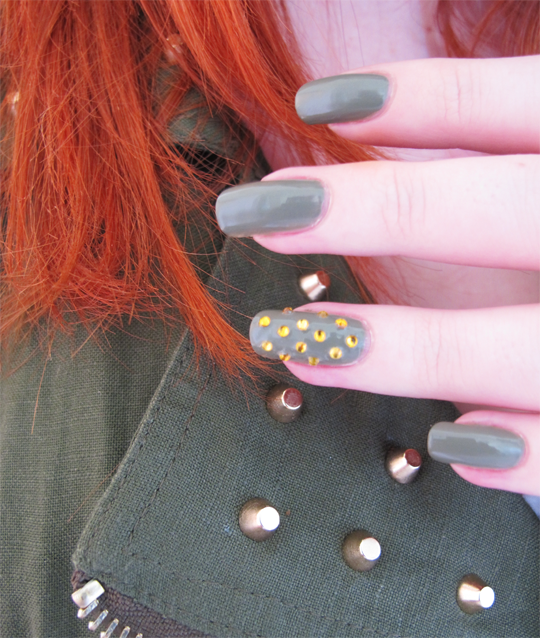 It's not quite an exact match, but the closest I could get to the colour of the jacket was GOSH Lazy Green – this was part of the AW12 collection which had some really great colours so do check them out if you haven't already. Lazy Green is one of my favourites from the collection, a real neutral khaki shade leaning neither too warm or too cool.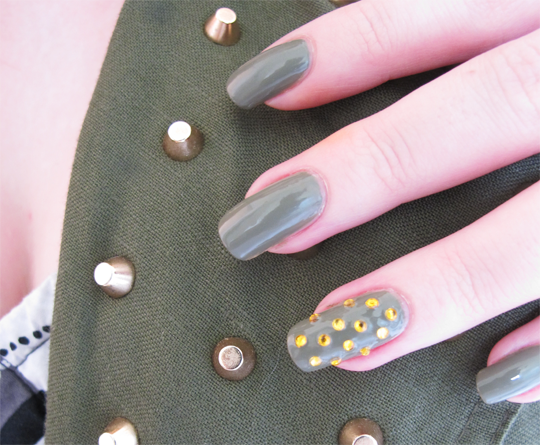 Another reason I wanted to do this design (is it even right to call it a design when there's not really any nail art involved at all?) is because I was dying to use some rhinestones. I have thousands of the things but never use them any more! Again, the colour of these isn't perfect next to the studs on the jacket – the rhinestones are a bit too yellow/amber gold but they'll do.
To apply them, I just applied a (non quick drying) topcoat to the ring fingers after the green and added the rhinestones one by one with a damp plastic orange stick. To seal them, you just need a good thick layer of a quick-drying topcoat and provided you don't bash your hands around too much, they'll last at least a week. Make sure you wear gloves when cleaning or washing up – you should always do this anyway! – and you'll be golden.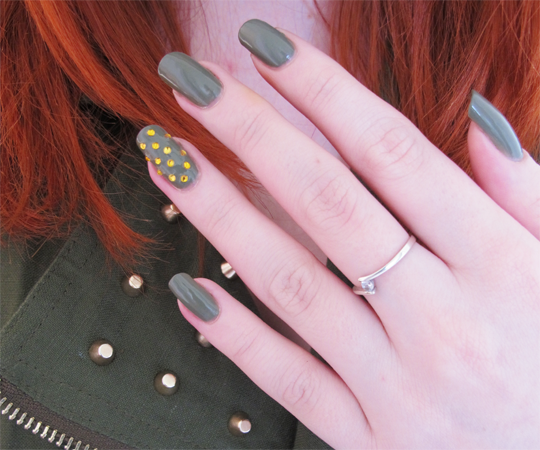 So what do you think of my studded manicure look?