You know what they say about not judging a book by its cover, right? That definitely applies to the Illamasqua Paranormal Palette. Though it admittedly looks a little frightening, especially to devotees of neutral shades, you'd be really surprised at how wearable these uniquely textured, water-resistant eyeshadows are.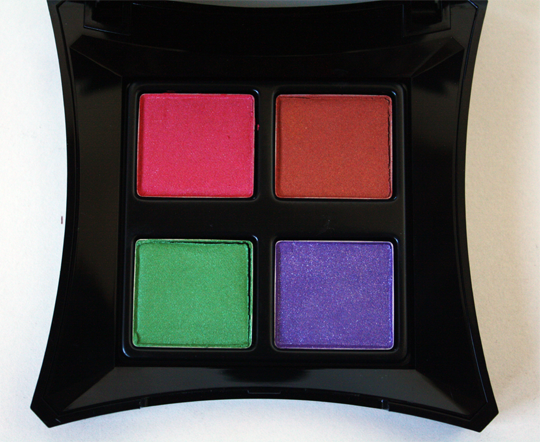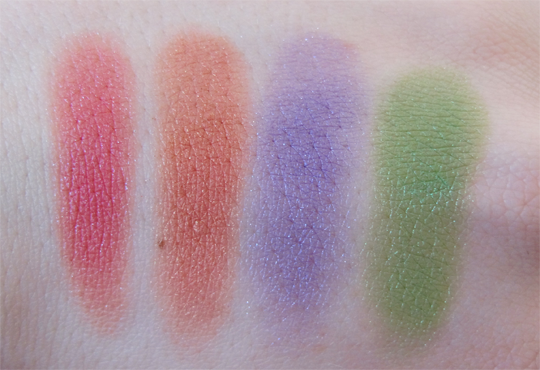 These shades are definitely having a bit of an identity crisis, and never has that had such cool results before! They can't quite decide whether they're a cream or a powder, you really just have to feel the silky, silicone-rich texture for yourself to understand how unusual these are.
In terms of colour, I know it looks scary. But as you can see from the swatches above, they're not quite as terrifying as you think at first glance with a soft-focus, blends-like-butter finish and a slight silvery shimmer.
When I bought this, I knew instantly that my favourites were going to be Paranormal and Aura (the cerise and copper colours). I wasn't expecting to love Trance or Possession (violet and green) quite as much as I do, but I've decided they make for a really cool and unusual pop of colour in an eye look.
In the look below, I've added Trance along most of the lower lashline with just a touch of Possession on the innermost part of it. I love the way these colours look against the surprisingly almost neutral look of Paranormal and Aura on the lid.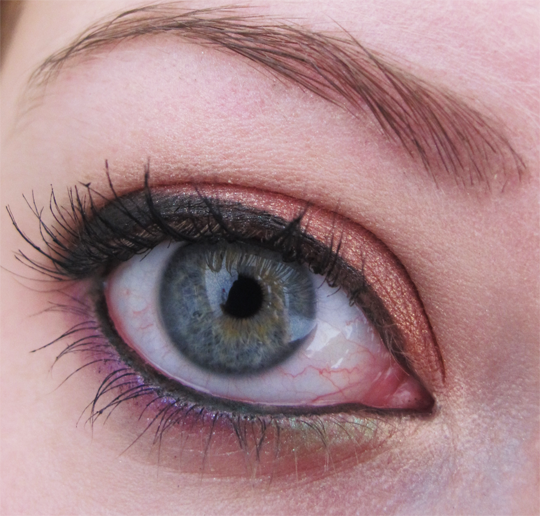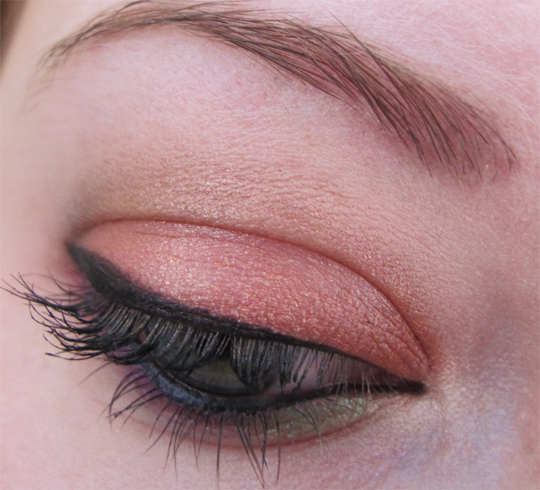 One little niggle I do have is that I seem to be getting through the colours at an alarming rate despite only having used the palette maybe four or five times so far. I think it's down to the extremely soft texture, and the way it's so pliable – the colours move around a little in their pans and if I use a brush, I tend to pick up more colour than I actually need which leads to wastage. I've found the best way to get my value out of the shadows is to use my finger to apply them where I want them, then go in with a brush to blend.
Overall though I am in love with this new formula from Illamasqua, and would really love to see them bring out some more palettes (perhaps in some shades with a more universal appeal – I like these colours but I know not everyone will!), or even some single eyeshadows so people can try out the new formula extensively without dropping the dollar for a whole palette, particularly if you don't like the look of every shade in a palette. Fingers crossed!
The Illamasqua Paranormal Palette costs £34 and is available on counters, in standalone stores and online.