Whilst I can't resist trying out new skincare products whenever the opportunity arises (what can I say, I'm a bit of an addict. Aren't we all?), I have now reached a point where I'm really happy with this certain selection of products and they are the ones I always come back to. Allow me to introduce you to my favourite skincare essentials!

Actually, before I begin, do you know what I COMPLETELY forgot to include? Bioderma. Yep, I'm a sucker for hype but Bioderma's hype is very well deserved. Before starting any other part of my skincare routine, I take my eye makeup off with a cotton wool pad and Bioderma Sensibio H2O. Just pretend it's included in the pictures. Okay? Good.
There's quite a lot there to be in regular use, I guess it's a bit excessive but I centre my routine around where I use certain bits on the days I wash my hair (on average every 3 days) and the other bits on the in-between days. Let's talk about the in-between stuff first.
The Nuxe Reve de Miel Cleanser* is like, my ultimate holy grail cleanser. I love this stuff so much and relish using it every night. The honey ensures moisture retention in my skin and I couldn't be without it. I just squeeze a couple of pumps into my hand, add a drop of water, rub between my palms then all over my face. Removing with a flannel gives an exfoliating effect, leaving my skin perfectly cleansed for the next steps of my routine. £12 for 200ml at Escentual, this is a bargain and I will repurchase it for-evaahh. I've been using it daily for the best part of 2 months and you can see how much is left.
Next up is serum, and on my in-between days I prefer L'Occitane Fabulous Serum*. Rich in moisturising shea butter and natural hyaluronic acid, it has an exceptionally smooth and creamy texture and just feels glorious to apply. Two pumps is pretty much the perfect amount, and again despite having been using this almost daily for 3 months there's still a ton of product left. It's a fair bit more expensive than the Nuxe cleanser at £33 for 30ml, but I'm so happy with it that I would most likely repurchase. Available from L'Occitane online and in stores.
My previous daily moisturiser of choice was La Roche Posay Effaclar H, but as I came to the end of that tube I decided to switch to La Roche Posay Nutritic Intense. I have previously reviewed La Roche Posay Nutritic Intense Riche and loved it, but this is a slightly less hardcore version which lends itself better for daily use. At least it does for my skin anyway. Rich and sumptuous, and a good price too at £15.50 for 50ml – a little goes a long way so it'll last a long time. Available from Escentual – where it's currently 15% off!
Now whilst I'm a really good girl with my skincare routine in the evenings, I'm not quite so virtuous in the morning. I am invariably always in a rush, but a quick spritz of Balance Me Skin Bright Hydrating Face Mist* ensures a freshened-up feeling and a gentle hit of hydration (as the name would suggest!) with hyaluronic acid. This seems a bit pricey at surface level, at £20 for 60ml, but it lasts forever. I've been using a couple of spritzes of this every morning for about 6 weeks and as you can see, I've barely made a dent in it so it's more than worth it. Available online from Balance Me, and in store at John Lewis.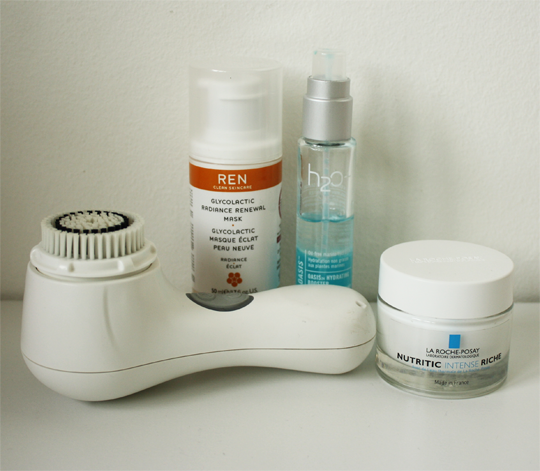 And now we move on to the more hardcore stuff, reserved for hair-washing days! I still use the Nuxe cleanser on these days, but I give it a buzz with my beloved Clarisonic Mia 2 instead of just removing with a flannel. I don't think I could live without my Clarisonic now, I've had it almost a year and it has improved my skin overall in unprecedented amounts. It's true what they say – once you go sonic, you never go back! Well, they don't say that. But I do. The Clarisonic Mia 2 costs £125 and is available at SpaceNK.
Before I jump in the shower on these days, I like to slather my scalp with coconut oil and this is the ideal time to use a face mask, too. I only use the REN Glycolactic Radiance Renewal Mask* once a week as directed, but it's a feat of willpower not to use it more often because I absolutely love this stuff! The first time I used it, I was so impressed because whilst it was on it didn't feel like it was doing anything but the results speak for themselves. It costs £30 for 50ml and is available online from REN, and in-store at John Lewis and M&S Your Beauty.
My serum of choice on hair-washing days is H2O+ Oasis 24 Hydrating Booster*. I've reviewed this one before, and I still can't get enough of it. It leaves my skin feeling so plump and hydrated. I'm a little over halfway through it now, and I've been using it since December so I'd say that's pretty good going. It costs £25 for 25ml and you can get it from M&S Your Beauty.
Last but certainly not least, £16.50 for 50ml, and again available from Escentual.
So there you have it, my favourite skincare essentials. I don't think I could be without any of these any more, and every single one will more than likely be purchased. My skin is thanking me too – despite being a bit of a mismatch of a bunch of different brands, these combinations seem to be working really well for me.
How about you? What are your skincare essentials?