When I saw this gorgeous manicure on the lovely Really Ree I knew instantly that I would have to recreate it. Sophie of The Illustrated Nail has been working exclusively with Dior and Harrods to produce six nail art designs inspired by Dior creative director Raf Simon's SS13 runway collection. They're all stunning designs, but this is the one that I fell in love with for its block colours and its simple yet bold and eye-catching shapes. So here it is, my recreation of some exclusive House of Dior nail art!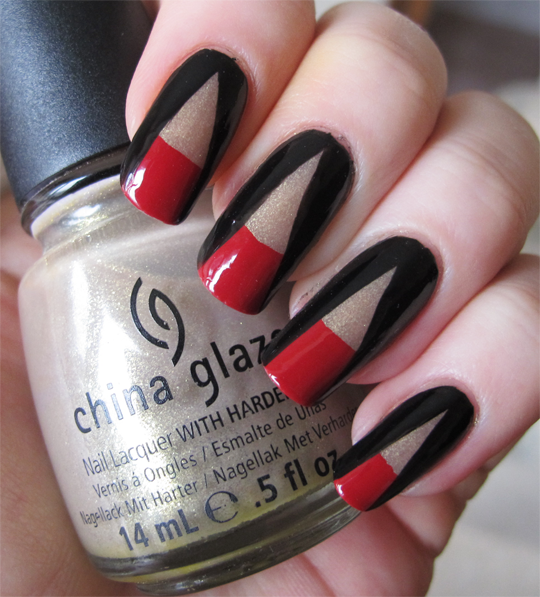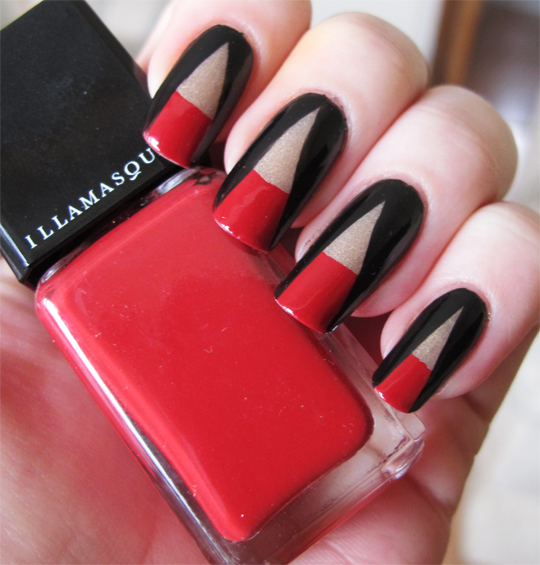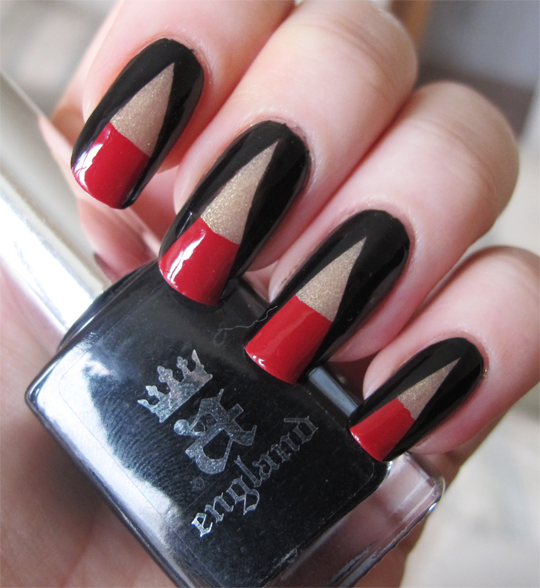 Unfortunately I don't have any Dior polishes in my collection, so naturally I had to give it a whirl with shades I already have. Despite rooting through my collection of almost 500 polishes, I couldn't find a SINGLE one that was a dead ringer for the flesh toned triangle in the centre of the design. In the end I went for China Glaze Fast Track, from the Capitol Colors collection and actually quite liked the hint of shimmer this added to the look.
The red tips were done freehand with Illamasqua Throb*, and the black parts were also done freehand with a-england Camelot and a nail art brush. I did try doing it with a black striper polish from LA Colors first, but it just wasn't opaque enough over the red tips.
What do you think? I just love how a simplistic approach and some choice colours can create a really noticeable but classy looking design.
If you're a fan of Dior, you can pop into Harrods for the House of Dior exhibition until the 14th April 2013. A celebration of some of the brand's most famous pieces along with a limited edition makeup collection on sale, and the chance to have your own Dior nail art applied by The Illustrated Nail's Sophie herself, it sounds like an event not to be missed. If I can find the time I might have to pop down myself as Dior is a brand I should probably familiarise myself with a bit more, if this is anything to go by!