Generally speaking, I'm a fan of colour on the eyes. I like experimenting with eye makeup and I'm quite happy to wear colours and looks on a daily basis that a lot of people would consider too much for daytime. Even so, sometimes there's days where I've stayed in bed 5 minutes longer than I should have and these are the days where neutrals are my best friend – a neutral eye look is much quicker and easier to put together in a rush, and much more forgiving of mistakes. This is where the new Benefit World Famous Neutrals: Most Glamorous Nudes Ever* comes in!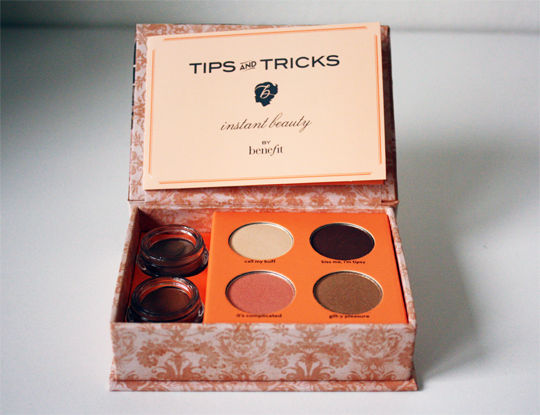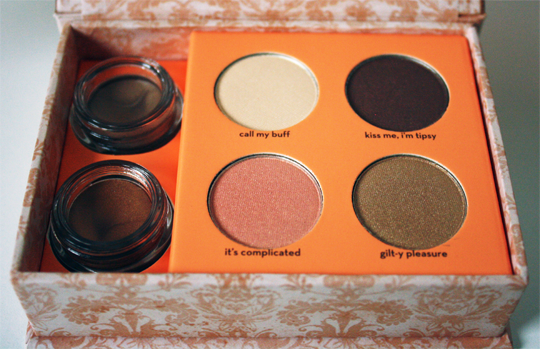 In case you've been living under a rock for the last several weeks, Benefit have released 3 brand spankin' new all-in-one eye look palettes as part of the World Famous Neutrals collection. Along with Most Glamorous Nudes Ever, there's also Easiest Nudes Ever and Sexiest Nudes Ever – and as the names would suggest these are designed to make glamourous, easy or sexy neural eye looks, well, easier than ever. Each features four new Longwear Powder Shadows and two of the old favourite Creaseless Cream Shadows, making for a plethora of looks available to you in one cute little box.
I'm a big fan of cream shadows as you probably know, so the inclusion of the Creaseless Creams excites me quite a bit. The Creaseless Cream shades in Most Glamorous Nudes Ever are Birthday Suit, a darker-than-champagne colour that leans neither too cool or too warm, and My Two Cents which is a warm bronzed copper. Despite their Creaseless moniker, I find that if you apply these in too thick of a layer or fail to set them with powder eyeshadow they can be crone to creasing – but my eyelids are pretty oily. These are also a fair bit smaller than the full-sized pots, which is obviously fair enough in a kit but it does make it a little difficult to get your finger in there (I generally prefer to apply cream shadows with fingers rather than brushes) without getting it all under your nails. To combat this I've taken to scraping a tiny bit of product out with the back end of a makeup brush, transferring it to the back of my hand and going on to apply them that way.
The Longwear Powder Shadows are beautiful shades, too – Call My Buff is the perfect highlight shade for this kit with the smallest hint of shimmer. Kiss Me, I'm Tipsy is quite a warm toned chocolate brown shade which looks gorgeous in the crease. It's Complicated is a pretty good name for its colour, a complex hybrid of pink, peach and golden highlights – probably my favourite. It makes a great lid colour, as does Gilt-y Pleasure which, funnily enough, is a gilted golden sandy sort of colour.
In the look below, I've worn Birthday Suit over the lid set with It's Complicated. A light dusting of Kiss Me, I'm Tipsy is worn in the crease and along the upper lashline for a subtle hint of liner, while Gilt-y Pleasure is worn on the lower lashline and the look is completed with Call My Buff on the browbone.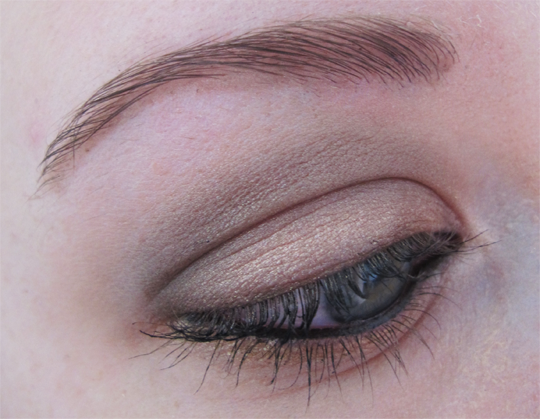 I really like this kit. I don't think I'd pick up the other two colourways because I prefer the colours in Most Glamorous Nudes Ever but that's obviously a personal preference thing. The World Famous Neutrals kits cost £23.50 from Benefit Boutiques, on counters and online. Not exactly cheap, but we don't go to Benefit for bargains – we go to them for luxury products with a hint of fun and cheekiness and this doesn't disappoint in that respect. It's the perfect little palette for those mornings when you need to get ready fast but still want to look polished.
What was the last Benefit product you tried? Have you got your hands on any of the World Famous Neutrals yet?