The time I've had to write and schedule blog posts in advance (something that I am usually really good with!) has been rather thin on the ground recently, so I hope you don't mind me doing something that's a little less time-consuming and a little more verbose! I really enjoy reading these wishlist type posts, so I thought I'd start my own Beauty Lust List :-)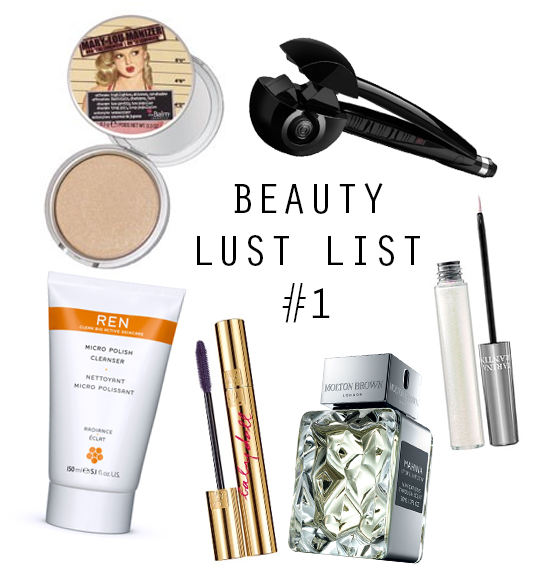 First up – theBalm Mary Lou-Manizer. This thing is STUNNING. It looks quite tame and unassuming in the pan, but on swatching it I was thrilled to discover the most buttery soft, densely glowing highlighting powder I have ever seen. It's absolutely glorious , and it MUST BE MINE.
Next, the much-talked-about BaByLiss Pro Perfect Curl Styler – what is this witchcraft?! I don't know how it works, but if you haven't seen the demonstration video definitely check it out. The mind boggles! Just a shame it's massively out of my budget at the moment.
I'm quite the fan of REN Skincare, particularly the Radiance range (anything with the orange band on the packaging!) and the Micro Polish Cleanser is next on my hit list. A cleanser/exfoliating scrub hybrid, I imagine its results are as efficacious as my beloved Glycolactic Radiance Renewal Mask and Satin Perfection BB Cream.
I've never tried a YSL mascara before, but I'm dying to get my hands on their latest launch, YSL Babydoll Mascara. I've seen this worn by a few bloggers, and it looks insane. I particularly love how it comes in different blackened shades to enhance eye colours and add some interest to your look – I want the plum version! It's not out until late next month, so I have some time to decide whether I'm willing to part with the cash for it considering my lashes ALWAYS look rubbish no matter how much I spend on mascara…
Molton Brown Mahina is a fragrance that, on paper, I don't really get excited by the sound of but on my skin, I think it's glorious. I have a generous sample size of this (I think 10ml), but have almost used it all up which depresses me – at £60 for the full-size it might have to wait until my birthday! The vanilla and cedarwood base is pure deliciousness, but it's the top notes of ylang-yland and orange blossom that took me by susprise as I'm not usually mad for those kind of scents. Likewise with jasmine and frangipani at the heart – I'm not sure why I like it so much when the notes aren't what I usually go for, but I really really do.
I've searched high and low for a UK stockist of this, but it appears that Tarina Tarantino Eyelicity Liner in Glitter Mist will have to continue to be something that I admire from afar. It's a white/pink opal duochrome glitter liner – it just sounds like pure sex before you even see swatches of the bugger. I want it SO BAD. It reminds me a bit of Make Up Store's Glitter Liner in Queen, just more pink and less gold.
So, those are the things that are getting me hot under the collar at the moment. You know what I'm totally not getting the hype about, though? & Other Stories.

Raw image from Marie Claire
If you haven't heard about the new (to the UK) fashion store on Regent Street, you must have been hiding away in a convent or something. Everyone's been going mad for this brand from the H&M group, so when I was up Regent Street way last week I naturally had to check it out and see what all the fuss was about.
Not a lot, as it turns out. I really, really don't understand the hype! As Jennifer Rosellen put it, "the clothes look like final year fashion degree pieces" which is no bad thing by any means, but it certainly doesn't reflect the price. It's bloody expensive in there man!
Slightly more reasonably priced are the beauty products, but I REALLY don't get the fuss about them AT ALL. I've seen so many people praising the packaging, but I think it's hideous – it's all cheap clear plastic with a white sticky label noting the name of the product. This isn't nice packaging in the slightest, it looks like sample/prototype packaging! Admittedly the products swatch okay, quite soft and nicely pigmented (I played with the blushes and a couple of eyeshadows) but I have an issue with the smell of them. Did you ever get a big set of cheap, nasty makeup from the Argos catalogue when you were a kid? That's what these & Other Stories products smell like. So whilst comparatively, the prices on the beauty products aren't terrible (e.g. £10 for a blush), they're also way inflated for something that seems so cheap.
I know a lot of people are raving about & Other Stories, and I'd urge you to check it out for yourself if you're curious as this is only my opinion and it seems to be different from everybody else's! I will say one thing for them, they're obviously doing something right – they've got all the bloggers talking without even having undertaken a blogger outreach campaign.. at least to our knowledge!
Have you been to & Other Stories yet? What did you think? How about my lust list – anything on there you've tried, or what are you craving lately?